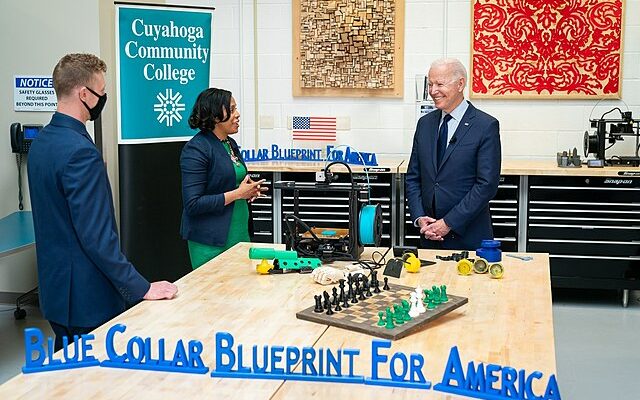 When Joe Biden left the White House in 2017, he did not expect to ever go back, but he wanted to keep his options open. The current president also became determined to stop being "middle-class Joe" and went on a campaign of cash grabs. 
The AP has noted that "Biden and his wife, Jill, took in more than $15 million since leaving the Obama White House, according to newly released documents, catapulting the Democratic presidential candidate into millionaire status and denting the working-class aura he's developed over decades.
Long fond of describing himself as "Middle-Class Joe" while he took in little more than his government salary, the former vice president stressed his working-class roots from the very beginning of his bid for his party's 2020 presidential nomination. But federal tax returns and a financial disclosure released Tuesday show that since Biden left public office, his income has surged thanks to a lucrative book deal and constant publicity tours that brought in more than $4 million."
Biden earned $540,000 as a professor and namesake of the University of Pennsylvania's Penn Biden Center for Diplomacy and Global Engagement. Jill Biden made at least $700,000 in her own speaking engagements, the disclosure shows." Unmentioned at the time was that the president was hiding classified documents in his "professor" office. 
When not grifting from universities or cashing in on "book deals," the president, as we already know, was also receiving tens of thousands of dollars a month from his shady son Hunter's "businesses." Hunter has long been viewed as a national security threat by some. 
Most investigations into the Bidens cash grabs and sweetheart deals were always performed in a way that shielded the president from direct connection. He was either "the big guy," or he claimed he didn't know what Hunter was doing. His son merely paid him "rent." Joe got his alleged kickbacks through implication, it seemed, that is, until now. 
The Daily Mail has dropped yet another bombshell report on the president's sordid business practices, and this time he's directly named as a participant. 
The newspaper writes, "Joe Biden was named in an email found on Hunter Biden's laptop discussing a 25 million-ton gas deal with China, DailyMail.com can reveal exclusively.

In October 2017, Hunter and his uncle –Joe's brother Jim Biden — were brokering a multi-million dollar deal to supply gas from Louisiana to the country on behalf of their business partners, Chinese energy giant CEFC.

At the time Joe Biden had finished his term as vice president and had yet to announce any plans to run for president in 2020.

A Louisiana-based lawyer on the other side of the deal wrote in an October 27, 2017 email that he had arranged 'a call from Joe Biden and Hunter Biden on Monday morning to discuss the purchase of the 5 million tons of gas.'

While it's possible the Baton Rouge lawyer, Robert Fenet, mistyped 'Joe' instead of 'Jim,' other emails and whistleblower testimony suggest Joe was involved in Hunter's business dealings with the Chinese."
"Although Biden has repeatedly denied involvement in his ne'er-do-well son's Chinese business dealings, records from Hunter's laptop and witness testimony suggest he was aware of, if not directly connected to, the transactions," according to The New York Post.
In emails the president's brother, Jim Biden, mentioned the Biden family's total involvement in the project, "which involved supplying millions of tons of liquid natural gas (LNG) from Louisiana to Chinese state-backed conglomerate CEFC Energy."
"We Biden's [sic] often fraught with problems," the president's brother stated, "that they can can [sic] come from working with family members, are of a different mind. It's all about family, and people we choose to do business with."
The newspaper said that week after the message, one of the partners warned that Joe Biden's involvement should never be mentioned in writing that could be traced back to him. 
"Don't mention Joe being involved, it's only when u are face to face, I know u know that but they are paranoid." Hunter referred to his father in a group text as "my Chairman."
One of the business associates, Tony Bobulinski, "later alleged that he met with Joe Biden to discuss the China deal on May 2, 2017, in the lobby bar of the Beverly Hilton with Hunter and Jim."
The Daily Mail report comes on the heels of Biden fighting another scandal, this one taking documents related to Ukraine after he left office. NCP wrote, The Presidential Records Act states that all presidential and vice-presidential material must be turned over to the National Archives after following special protocols to keep classified information safe. The finding occurred right before the midterm elections but was conveniently not disclosed until January after Democrats had won by campaigning against Trump, using the Mar-a-Lago raid as a cudgel against Republicans. 
'Among the items from Joe Biden's time as vice president discovered in a private office last fall are 10 classified documents including US intelligence memos and briefing materials that covered topics including Ukraine, Iran and the United Kingdom, according to a source familiar with the matter," according to CNN.
Documents related to Ukraine especially raised eyebrows.
Update: Do you believe in coincidences? CNN reports that the material related to Ukraine … which is where Hunter Biden was cutting deals at the same time. https://t.co/LmSEMHmAkd

— Ed Morrissey (@EdMorrissey) January 10, 2023
Republicans have already stated that they intend to use their power in the House to investigate the president's shady dealings. It looks like they're going to have even more fodder. 
They better be ready for a fight. Hunter has already said he intends to sue Republicans for trying to uncover the truth about his connections with Communist China and Ukraine. 
Democrats, for their part, have responded to the news by saying, "Hey, have you met the new governor of Maryland?"
On the bright side, if Joe Biden does get removed from office, President Kamala Harris will be ready to explain how electricity works:
Thank you Kamala for explaining how electricity works pic.twitter.com/Af8hybtJpM

— Daily Wire (@realDailyWire) January 20, 2023
[Read More: Nikki Haley Readies To Take On Trump For White House Run]