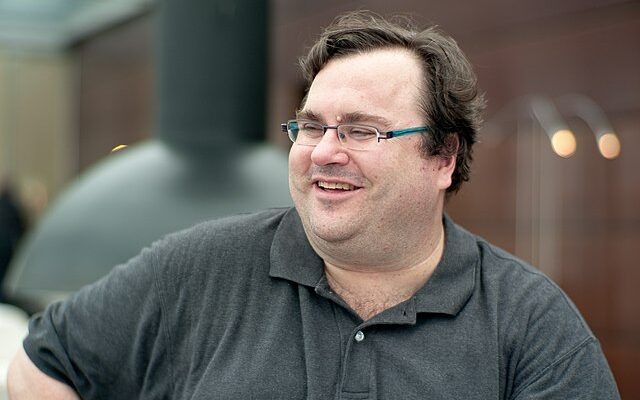 Last week we reported that The Wall Street Journal revealed a private calendar showing several prominent leaders, including the director of the CIA, meeting with the infamous child sex trafficker. 
Now the newspaper has proven that a liberal megadonor, Reid Hoffman, has become wrapped up in the scandal. 
The Daily Caller writes, "A longtime Democratic donor, Hoffman was one of the party's largest funders in the 2020 and 2022 election cycles, according to nonpartisan campaign finance watchdog OpenSecrets. He spent more than $15 million supporting Democrats in 2022 and $14.5 million in 2020, OpenSecrets found.
Hoffman built a big-money fundraising machine to defeat then-President Donald Trump, Vox reported in 2020. He built a large Silicon Valley fundraising network to aid the party and reportedly looked into what a donor could do to assist the party with collecting mail-in ballots.
Before that, Hoffman funded online disinformation campaigns aimed at conservative voters. He apologized to the New York Times in 2018 for financing a project by tech firm New Knowledge to create fake online personas designed to influence conservatives in the 2017 Alabama Senate special election. He funded a similar project in 2018 to create misleading Facebook advertisements to suppress Republican voter turnout ahead of the 2018 midterm elections.
Additionally, Hoffman is funding journalist E. Jean Carroll's ongoing rape lawsuit against former President Donald Trump, and told podcaster Kara Swisher he would "spend as much as I possibly can" to destroy Trump."
It appears that Hoffman may have been spending his money to do other things, as well. 
Mr. Hoffman, the LinkedIn co-founder, has apologized for his interactions with Epstein, including inviting him in 2015 to a dinner in Palo Alto with Silicon Valley leaders. After Epstein was arrested in 2019, Mr. Hoffman said he had met with him to help raise funds for MIT at the request of the then director of MIT's Media Lab, Joi Ito, reports The WSJ.

The documents reveal that Epstein had plans for Mr. Hoffman and Mr. Ito to visit his private island in March 2014 and in November 2014. On the second date, Epstein planned to travel with both men from Palm Beach to the island for a weekend and then fly together to Boston.

When the venture capitalist had a flight scheduled to land late at night in New York on Dec. 4, 2014, Epstein arranged for Mr. Hoffman to stay overnight in his townhouse, the documents show. The following morning, Mr. Hoffman was scheduled to attend a "breakfast party" with Epstein, Mr. Gates and others, according to the documents.

Mr. Hoffman told the Journal he only once visited Epstein's island residence, Little St. James, for an MIT fundraising trip with Mr. Ito. He said he regrets ever meeting with Epstein and his last interaction with Epstein was in 2015.

"It gnaws at me that, by lending my association, I helped his reputation, and thus delayed justice for his survivors," Mr. Hoffman said in an email. He said he met with Epstein to discuss science projects at universities. "While I relied on MIT's endorsement, ultimately I made the mistake," he said, "and I am sorry for my personal misjudgment."
One thing is for sure, however. Hoffman is not a huge fan of voting. Politico reported last year that his adviser was trying to get Democrats to move away from a voting rights bill.
"The top political adviser to one of the Democratic Party's biggest donors privately urged fellow Democrats last week to abandon the push around federal voting rights legislation in favor of legislative items with better chances of passage.
Dmitri Mehlhorn, a key confidant to Democratic funder Reid Hoffman, the billionaire co-founder of LinkedIn, made the case to advisers to other Democratic megadonors that the attention being placed by activists and lawmakers on the For the People Act was setting the party up for failure, according to people involved in the discussions and emails obtained by POLITICO.
Specifically, Mehlhorn said people working on the legislation — which would give the federal government much more control over elections, change campaign finance laws, and reduce voter ID requirements — were "dragging me and my country off a cliff." He suggested he would "counter mobilize" against their efforts to build support for the bill in and out of Congress.
Mehlhorn's emails are perhaps the first and most vivid indication of a strategic fissure within the Democratic ranks over how much to emphasize voting rights legislation. From President Joe Biden on down, lawmakers and activists have framed the debate as existential for the future of democratic governance, arguing that the failure to move a bill (let alone prioritize one) would irrevocably harm the country."
The Washington Examiner recently noted that Hoffman intends to meddle in the Republican primary in order to shape the 2024 race for the White House. Hoffman is obsessed with beating Trump, which is surprising since he and the former president could have bonded while they visited Epstein's island. 
He's not the only liberal megadonor to get in trouble recently. Sam Bankman-Fried, a cryptocurrency billionaire who bragged about "buying" Democrats, recently got into trouble for fraud. 
Many Democrats were forced to give the donations given to them by Bankman-Fried back. No word yet on whether Democrats think they shouldn't accept money from one of the visitors to the creepy sex island.
[Read More: Comer: We Have Found Proof That Biden Took Bribes]