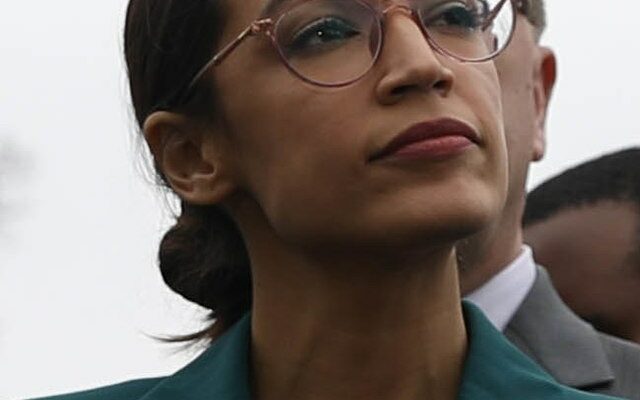 During her time in Congress, Rep. Alexandria Ocasio-Cortez has become known for the way she stirs supporters to attack her political enemies, whether they are Democrats or Republicans. In 2018, for example, Politico reported that she sicced 200 youth activists to Nancy Pelosi's office to demand they pass her Green New Deal.  
The outlet wrote, "More than 200 youth activists, flanked by Rep.-elect Alexandria Ocasio-Cortez, flooded House Minority Leader Nancy Pelosi's office this morning urging Democrats to act more decisively on climate change.
Capitol Police said they arrested 51 protesters for unlawfully demonstrating outside Pelosi's office in the Cannon House Office Building. The arrests began a few hours after the demonstration began, when protesters refused to leave the area. Pelosi said she welcomed the protest and called on the police "to allow them to continue to organize and participate in our democracy."
Ocasio-Cortez, who left before the arrests began, said she was there to support the protesters and encourage Pelosi to listen to them. Ocasio-Cortez has not made clear yet whether she'll back Pelosi for speaker when Democrats hold leadership elections later this month, though noted today she's 'looking forward to us working together.'
'We need a Green New Deal and we need to get to 100 percent renewables because our lives depend on it,' Ocasio-Cortez told reporters. 'The IPCC themselves, they say we have 10 years left and I — not just as an elected member, but as a 29-year-old woman — am thinking not just about what we are going to accomplish in the next two years but the America that we're going to live in in the next 30 years.'"
Ocasio-Cortez loves a good protest, especially when she can mug in front of the camera. Last year, she and the rest of "The Squad" were "arrested" as they protested the Supreme Court over abortion.
Soon after the protest ended, pictures revealed that Reps. Alexandria Ocasio-Cortez, Ilhan Omar and other Democrats faked being put in handcuffs as police officers escorted them away from the Supreme Court. Video showing the two pretending to be in handcuffs went viral on social media.  
Now it looks like the New York congresswoman has gotten a taste of her own medicine from constituents who are tired of no longer feeling represented by how the progressive lawmaker acts in DC. 
Fox News reported that "U.S. Rep. Alexandria Ocasio-Cortez was shouted down and faced a partially hostile crowd during a Friday town hall where some participants were upset about the Democratic socialist legislator's positions on immigration Ukraine funding and the debt limit.
Speaking to constituents in Corona, Queens, The 'Squad' member was disrupted several times as some heckled and booed her, and in turn, her supporters shouted down those protesters.
'American citizens before migrants,' one man shouted as he walked toward Ocasio-Cortez holding small American flags. 'Where are you on the migrant issue? You're a piece of s–t.'"
New Yorkers have seen a deluge of immigrants coming to their city. The National Review noted, "New York governor Kathy Hochul (D.) declared a state of emergency in New York after the expiration of Title 42 earlier this month. The state has roughly 60,000 asylum seekers relying on social services. New York City has gotten so overwhelmed with the influx of migrants that the city has begun sending them to the suburbs. Hochul said she is "looking at all state assets to help ameliorate the problem that is at a crisis level here in the City of New York," which could includes housing migrants at SUNY campuses, closed psychiatric centers, large parks and parking lots."
In January, Mayor Eric Adams of New York City hammered Joe Biden for his failures to handle the southern border and the rising number of illegal immigrants entering the United States. 
When Adams was asked about the migrant crisis, he called is "a real embarrassment, I believe, on a national level, and we must have an appropriate response. We have had conversations around the issues on migrants for decades. This is a national issue. It must have a national response."
AOC has long been a proponent of undocumented immigrants crossing the southern border. Unlike her may, the member of Congress criticized Biden's immigration policies as too harsh. She said, "This administration is making it effectively impossible to seek refuge at our border."
This, however, didn't stop her from also saying that she didn't want those migrants to move to New York City, just like the rest of her fellow Democrats. She received ridicule after attacking conservatives calling for tighter border security while also demanding that Mayor Adams remove a tent city built by undocumented workers in her district. 
The protestors of the congresswoman did not stop with immigration, however. They also demanded she answer for the billions of dollars given to Ukraine. The National Review continued, "Protesters at the town hall held signs concerning a number of issues: 'America First. Vetted legal migrants only,' 'Stop funding Ukraine,' 'AOC: An Obvious Criminal,' and "'OC: Stop pushing drag queen story hour.'
More protesters came forward throughout the evening, including a woman who was critical of Ocasio-Cortez's support for U.S. funding in Ukraine. The New York Democrat voted to send $40 billion in military and humanitarian aid to Ukraine last year.
'Stop funding this war, there's a lot of communities that need help and need that money,' another woman said as she was removed from the event."
[Read More: Dystopian Future: Lefty Billionaire Funding "Defund' Police While Pouring Money Into Private Security Companies]