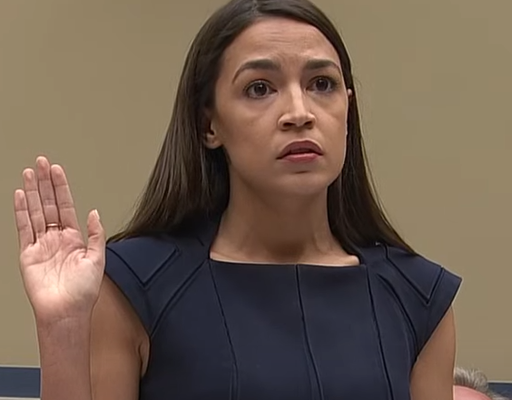 Earlier this week, several Democrats were "arrested" as they protested the Supreme Court, "including members of 'the Squad' and House leadership." They were protesting the recent decision to overturn Roe v. Wade and empower Congress, along with state legislatures, to draft laws to regulate abortion in the United States.
Soon after the protest ended, pictures revealed that Reps. Alexandria Ocasio-Cortez, Ilhan Omar and other Democrats faked being put in handcuffs as police officers escorted them away from the Supreme Court. Video showing the two pretending to be in handcuffs went viral on social media. 
Newsweek reported, "Both Representatives were led away peacefully but seemed to be feigning being cuffed, walking with their hands clasped behind their backs, only to raise their fists defiantly a few moments later….The arrest consisted of being led by police to a shady area and fined $50."
Stephen L. Miller wrote about the absurdity in The Spectator. "Of course, politics is just one big propaganda play, staged for the voters in pursuit of power. The media is supposed to apply scrutiny to the political theater, and separate nuggets of truth from hackneyed bluster for the audience's benefit. But what happens when members of the media are not just complicit in the agitprop itself, but find themselves the mark?

This was the case on Tuesday as members of Congress staged a protest in front of the Supreme Court. Capitol Police were called in to disperse the crowd that included the congressional "Squad" of Representatives Ilhan Omar, Cori Bush, Rashida Tlaib, Ayanna Pressley and Alexandria Ocasio-Cortez.

Once cameras arrived at the scene, the performance started. Police helped move the protesters out of the street and over to a shaded area. Omar and Ocasio-Cortez drew attention and ridicule online when they appeared to clasp their hands behind their back, as prisoners do once they have been handcuffed. Ocasio-Cortez even took a brief break from her pose to pump her fist in the air and give her hair the Neiman Marxist flip. Omar was filmed leading herself away in the same "cuffed" pose, before turning back to have a laugh with the crowd.

Even CNN Biden stenographer Edward-Isaac Dovere and back-at-it Washington Post reporter Dave Weigel couldn't help but highlight the silliness. No protesters were detained or taken away in a police car. None were processed at a station and held. Not a one spent eight hours in a holding tank, nor did any see a judge. All were released after a gaggle with the press."
Other members of the media, of course, fell for the stunt. Yahoo News documented those who were fooled: "ABC News shared two photos to Twitter with Ocasio-Cortez and Omar pictured with their hands behind their backs as if they had been handcuffed." 
 "The Guardian and The Hill were also accompanied by photos in which Ocasio-Cortez pretends to be handcuffed. Neither mentions that she is not.
A reporter for Minnesota-based WCCO-TV shared two clips of Omar's arrest on Twitter, suggesting the congresswoman had been handcuffed."
According to Axios, "U.S. Capitol Police said that it started arresting demonstrators after they failed to follow their three warnings to stop blocking a street in Washington, D.C. near the Supreme Court. USCP said they made "a total of 35 arrests for Crowding, Obstructing or Incommoding" including the lawmakers."
The New York representative has been obsessed with abortion ever since the Supreme Court ruled that "The Constitution does not prohibit the citizens of each State from regulating or prohibiting abortion. Roe and Casey arrogated that authority. We now overrule those decisions and return that authority to the people and their elected representatives."
Taking the idea from Massachusetts Senator Elizabeth Warren, she petitioned President Joe Biden to turn national parks into abortion clinics, but Biden "shot down an idea."
AOC and The Squad may be failing to move policy or convince the American people, but at least they're winning at Twitter, which for many liberals is all that matters. 
Angie Speaks, cohost of the Low Society Podcast, hit the nail on the head. "It would all be quite astonishing—if it weren't quite so commonplace. Performative duress is now a common mode of operation for a new generation of politicians who have been shaped by social media and are armed and ready with the toolkit of the digital influencer. Moments like this serve as a reminder of how the advent of social media and the impact it has had on the attention economy is now enabling our politicians to reframe their political aims in emotional terms, recasting what should be politics as little more than careerist sentimental posturing.
The Congresswomen's antics perfectly encapsulate how the performative conventions of social media—with staples like virtue signaling and self victimization—are infecting the way our politicians conduct and aggrandize themselves in public. Every moment is now a potential performance to an imaginary audience, their hands willingly held behind their backs to perform for the cameras and their fists raised in the air to signal to their fans."
The New Yorker received plenty of mockery, including from the satirical website The Babylon Bee, which ran the headline: "AOC Sits In Invisible Police Car Awaiting Transport To Invisible Jail."
Reps. Carolyn Maloney, Nydia Velazquez, Jackie Speier, Bonnie Watson Coleman, Cori Bush, Ayanna Pressley, Madeleine Dean, Barbara Lee, Katherine Clark, Sara Jacobs, Rashida Tlaib, Andy Levin, Alma Adams, Veronica Escobar, Ilhan Omar and Jan Schakowsky, all Democrats, were also detained by law enforcement as they blocked the street. None of them missed a day of work. 
[Read More: Pence Finally Confronts Trump]