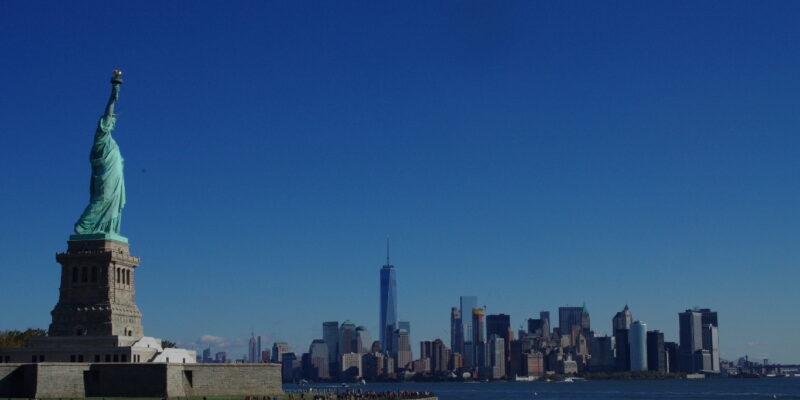 Joe Biden's nonexistent immigration policy received harsh criticism from an unexpected source earlier in the week. New York City Mayor Eric Adams, a Democrat, held back no punches when talking about the ongoing migrant crisis that he claims is overstretching his city's services. 
Fox News reported, "Adams was asked about the migrant crisis that has reached into New York City as tens of thousands of migrants have made their way — including by bus — to the city in recent months. 
"It's a real embarrassment, I believe, on a national level, and we must have an appropriate response. We have had conversations around the issues on migrants for decades. This is a national issue. It must have a national response," he said on WABC's "Sid & Friends in the Morning" 
Mayor Eric Adams is increasingly critical of President Biden on the migrant crisis.
"It's a real embarrassment on a national level," he says on WABC. "The president has an obligation to deal with the immediate concerns… We've done our job. There's no more room in the inn."

— Emma G. Fitzsimmons (@emmagf) January 3, 2023
The news channel noted, "The border has been hit by a historic number of migrants under President Biden's administration, with more than 2.3 million encounters in FY 2022, and a FY 2023 so far on track to outpace those massive numbers. The White House has responded to criticism of its policies by pointing to record levels of funding for the Department of Homeland Security, as well as enhanced smuggling operations and cooperation with Western Hemisphere countries – and has called on Republicans to support its efforts to secure extra funding and to pass a sweeping immigration reform bill, which includes a pathway to citizenship for millions of illegal immigrants." 
Liberals have long pointed to Eliza Lazuraus's poem, "The New Colossus," that is emblazoned on the Statue of Liberty to criticize those who believe there should be immigration reform. That trick may be more difficult to play when it's the New York City mayor hitting back at Biden.
The WABC radio host pressed the mayor: "When you say it's a national issue, it's a Biden issue because I know, Mayor Adams, you're well aware that before people like DeSantis pissed you off or Abbott pissed you off, Joe Biden was flying in these migrants to Stewart Airport, Westchester Airport in the middle of the night…This is a Biden issue, a Democrat issue that now folks like you have to deal with. To be specific and fair, that's just the truth."

Adams responded, "Well, when we think about the immigration reform, we're going to need the help from Congress as well. I think the president has an obligation to deal with the immediate concerns. But when we talk about immigration, it is going to take a combination of the executive and the legislative body. We have to address this. El Paso should not be going through this. Chicago should not be going through this. Houston, Washington, New York, no city should have to make a decision if they're going to provide for their citizens, particularly coming out of Covid or if they're going to deal with an onslaught of migrants and asylum seekers.

We received over 30,000 asylum seekers that are in need of not only shelter or food, education for children, healthcare, some of the basic items that are needed, and this is really impacting on the quality of life in New York and our ability to provide for every day, long-term New Yorkers on the needs that they have during this difficult time. This must be addressed.

Now, I said we were notified yesterday that the governor of Colorado is now stating that they are going to be sending migrants to places like New York and Chicago. This is just unfair for local governments to have to take on this national obligation. We've done our job. There's no more room at the [inn], but we are compelled by local laws here that we must provide shelter…"
Just a few weeks ago The New York Times reported that the city "has unveiled a variety of programs to receive the nearly 32,000 migrants that have come so far, opening 60 emergency shelters, mostly in hotels, as well as other centers to help direct people to services and aid. It was a response to newcomers unlike any in recent memory, prompted by the sheer number of migrants who arrived this summer, most from Latin America, with many from Venezuela.
But with the specter of thousands of people crossing the border this week if a pandemic-era immigration rule is ended, Mayor Eric Adams said that the city would require state or federal aid to carry on such efforts. A recent report estimated it would cost the city $1 billion a year to continue sheltering and offering other services to migrants.
While Mr. Adams has repeatedly touted New York City's reputation as a beacon for immigrants, he expressed frustration on Monday that the city was left to deal with the federal immigration system's failures.
The city has established intake centers offering free and confidential help for asylum seekers at the Red Cross on West 49th Street, three hotels in Midtown and through nonprofits around the city. They are providing information and referrals for health care, schooling, legal services and enrollment in the municipal ID program. The city offers access to homeless shelters, education and medical care regardless of immigration status."
The mayor's worry over the continued arrival of migrants to New York City comes at a time when even liberal governors are sending migrants to the Big Apple. Politco wrote, "Colorado Gov. Jared Polis plans to send migrants to major cities including New York, Mayor Eric Adams said Tuesday, warning that the nation's largest city is already struggling to deal an influx of people sent from Texas and other Republican-led states.
However, the Democratic governor told POLITICO shortly afterward that the state has been helping asylum seekers reach their final destinations — including New York City — for weeks. The only change has been a recent winter storm and ensuing travel catastrophe that created a backlog of migrants wanting to leave Denver, which is now being cleared.
Like many major cities around the country, Denver has been struggling to provide services for a surge of people who have fled their home countries in Central and South America, crossed the southern border and sought asylum in the United States. Last month, Denver Mayor Michael Hancock declared a state of emergency and later appealed to the local Catholic archdiocese for assistance. He and Polis — both Democrats — also launched a fund to raise money to support services for migrants.
Thousands of migrants have attempted to cross into the U.S. from the southern border in recent weeks, in part because a Trump administration border policy, known as Title 42, was set to expire in December. The Supreme Court last week blocked the lifting of the policy, which allows the U.S. to expel migrants to stop the spread of Covid-19."
Earlier in the winter, Florida Governor Ron DeSantis was attacked by Democrats for sending migrants to places like New York City and Martha's Vineyard. 
New Conservative Post noted last week that the Biden Administration "seems ready to pin its complete ineptitude at solving the ongoing crisis on the southern border on Harris. Whipple has said that Biden aides have never seen the president so angry as was over the pouring of illegal immigrants into the country from Mexico during his first six months of office."
Presidential insider Chris Whipple has said that the president has been "furious" about Kamala Harris's failures to handle the problem. He wrote, "Illegal immigrants kept arriving. And Biden was furious," Whipple wrote, according to a copy of the book obtained by The Hill. 'From all over the West Wing, you could hear the president cursing, dropping f-bombs (he'd always apologize when women were present).' 
'It was just the frustration of a lack of solutions,' a senior adviser said, according to Whipple. 'It's like, 'how would you feel if you were me and these were the solutions you had?' It's the weight of the presidency, right?'  
Biden had already tasked Vice President Harris with tackling root causes of the crisis, but she received brutal reviews after a visit to Guatemala and Mexico in 2021. The vice president was also bashed for an answer she gave to NBC's Lester Holt after being asked about the crisis, she said, 'I haven't been to Europe' when he pointed out that she hadn't visited the border."
How many more Democrats will join Adams in recognizing reality? Only time will tell. 
[Read More: Kamala Harris Has 'Deep Insecurities' And It Might Cost Her Job]