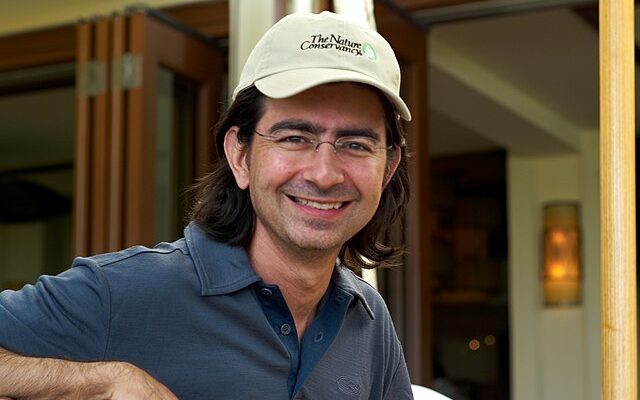 It appears that the leftwing billionaire class has begun slouching toward dystopia.
One of the leading financial backers of the movement to defund, or in some cases even abolish, the police may have an ulterior motive than simply promoting "social justice." Pierre Omidyar, the billionaire founder of Ebay, has been pumping money into a company that calls itself "Uber for bodyguards" and owns an AI-driven security camera company. He's given millions to leftwing activists who want to dismantle public law enforcement. 
Lee Fang reports that foundations connected to Omidyar have lavished financial support on anti-police activists in recent years. In June 2020, in response to protests over the police killing of George Floyd, funds tied to Omidyar's philanthropic network announced donations of $500,000 to organizations supporting the protest movement.

The Movement for Black Lives, an "abolitionist" coalition of activists seeking to eradicate public policing, was one of the recipients of Omidyar money that year. Disclosures show that the Omidyar Network provided $300,000 to the group.

"When we say 'defund and abolish the police,' we mean exactly that," the Movement for Black Lives stated in a press release.

In Chicago, the Movement for Black Lives partnered with a local group, Equity and Transformation, to "defund police." Omidyar Network gave the partner group $100,000, tax records show.

The website DefundPolice.org, which provides legislative and communication tools for activists to advocate for cutting police funding, is a collaboration between Omidyar-funded groups. The sponsors of the organization include PolicyLink, which received $700,000 from Omidyar Network and Law for Black Lives, a group that received $600,000 from the Democracy Fund, another Omidyar foundation."
Worth nearly $9 billion, Omidyar has invested heavily in a company called Bond, which The New York Post calls "a personal security app that offers trained bodyguards you can book by the half-hour on demand." 
The company was founded in 2017. In a press release in 2020, Bond stated, "The company has received a total of $72 million in funding, including investments from the investment firm of eBay billionaire Pierre Omidyar and from Jerusalem Venture Partners. 
The preventative platform has already attracted more than 150,000 users, called members, and has handled over 30,000 cases. In addition to immediate access to the 24/7 Bond Personal Security Agents via the app, it offers a rich spectrum of services that include monitoring members on the go or during encounters with strangers, as well as on demand security checks. If need be, the agents at one of Bond's Command Centers liaise with authorities and precision-orchestrate first responders to a scene.
The platform is designed for the large and growing number of situations ordinary people find themselves in – walking alone at night, getting the car in a dark parking garage, encountering strangers with no one around, worrying about unsupervised children. The expansion of services comes at a time where public safety is top of mind. In a recent Harris Poll conducted October 2-5, 2020, 47 percent said public safety will become worse in the next three months, and a YouGov survey showed about 55 percent of registered voters feel violence will rise after the November election." 
The Post also reported that "Omidyar's investment portfolio also includes a stake in Deep Sentinel, an AI-powered security camera system that is used to identify intruders….Both the Bond app and Deep Sentinel have used the nationwide surge in crime — much of it attributed to the Defund the Police movement — to offer their products as alternatives."
When he's not promoting the dissolution of police forces while supporting a private security company, Omidyar also funds liberals media outlets like The Intercept and ProPublica and views himself as a nemesis to Tesla and Twitter owner Elon Musk.
The Washington Free Beacon revealed in February that Omidyar was "behind the dark-money group that has kept its donors secret for nearly a year and is leading a corporate boycott campaign against Twitter owner Elon Musk.
Omidyar also gave $2 million to at least six other organizations that targeted Musk, criticizing him in letters and op-eds as 'uniquely ill-suited for the job of running a social media platform" and warning that he would turn Twitter into a "free-for-all of hate and harassment.'
The news reveals one of the primary forces behind the anti-Musk campaign. Accountable Tech has been dodging questions about its donors for months. Over the past year, Accountable Tech and other groups bankrolled by Omidyar organized campaigns to pressure corporations to boycott Twitter and issued statements and op-eds denouncing Musk and calling for government investigations into the billionaire. "I wonder who funds them," wrote Musk in May, in response to a Washington Free Beacon report about the organization's secretiveness.
Omidyar's ties to the anti-Musk campaign is notable due to the personal history between the two billionaires. The eBay founder helped launch Musk into the ranks of the super-wealthy by buying PayPal for $1.5 billion in 2002. Over the next two decades, Musk multiplied this fortune and climbed his way to the top of the Forbes billionaire list.
But the two tech moguls now find themselves on opposing sides of the political debate. Omidyar has poured millions into pro-Democrat dark-money groups such as the Sixteen Thirty Fund, while Musk has praised Republicans like Florida governor Ron DeSantis and rolled back Twitter's speech restrictions targeting conservatives."  
[Read More: Bob Menendez Caught Again With Hand In Cookie Jar]