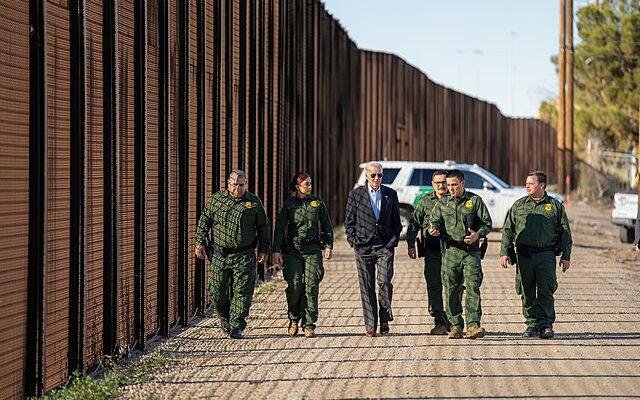 Biden's border crisis is about to get much worse. At least that's what agents are saying as they prepare for one Donald Trump's policies to finally end next month. 
PBS explained that "Title 42 was created to address public health and social welfare and grants the government the ability to take emergency action in numerous ways, including to "stop the introduction of communicable diseases." While the code has been in place for decades, it was used widely beginning in March 2020 by the administration of then-President Donald Trump in order to regulate border crossings under the premise of increased COVID-19 precautions.
The Trump administration used Title 42 to "essentially to override immigration law that allowed people to ask for asylum after entering illegally and said we could send them back" across the border, arguing that taking migrants into custody in federal facilities would create more of a public health risk, Theresa Cardinal Brown with the Bipartisan Policy Center told the PBS NewsHour's Nicole Ellis in a conversation."
As Title 42 ends, border agents are fretting that an already difficult situation, in part made by the Biden Administration's approval of nearly all Title 42 exceptions, will get worse. 
Border Patrol agents are being given limited word on how to prepare for a flood of illegal immigrants when Title 42, a major Trump-era expulsion order, ends May 11, according to two agents who spoke anonymously with the Daily Caller News Foundation and an internal Department of Homeland Security (DHS) memo.

President Joe Biden set the expiration of the COVID-19 emergencies, including Title 42, for May 11. The agents working the frontlines of the southern border had said they had very limited instructions about handling an expected surge of illegal immigrants come Title 42's end and basically were just being told to mentally ready themselves for the worst in conversations with the DCNF.

One agent working along the southern border, who requested anonymity because they weren't authorized to speak, told the DCNF that the extent they were told about preparations was just to "brace for f***ing impact" and to prepare to "weather the storm."

The Biden administration is ignorant to the issue of an impending influx of illegal immigrants, the second agent explained.

"There are thousands and thousands just waiting for Title 42 to end. I would say a fear is that the Biden Admin has no clue just how bad it's going to get. We can barely actively patrol the border now. When Title 42 ends, all of our resources, all of our little manpower that we do have, are going to be focused on processing. Field work will nearly cease to exist in my opinion," the second agent said.
The ignorance of the Biden Administration regarding the border is purposeful. The president visited El Paso, Texas, in January, one of the slowest times of the year for border crossings, to argue that there was no illegal immigration problem happening in the town. In preparation for his official visit, authorities "cleared the streets" of the typical groups of migrants, essentially creating a Potemkin Village for which the White House could get a photo op. 
The Border Patrol Union lambasted Biden for his cynical move. 
El Paso being cleaned up as if nothing unusual ever happened there. Just in time for Biden's "visit to the border".

We suggest just landing in Des Moines, Iowa and telling him it's El Paso. He'll never know the difference.

— Border Patrol Union – NBPC (@BPUnion) January 6, 2023
El Paso has been one of the hot spots for border crossings over the past few years. Last December, for example, the Democratic mayor had to declare a state of emergency due to the influx of migrants flooding into the city during a cold snap. Some agents have been using the experience of dealing with mass border crossings to prepare for the end of Title 42. 
"When more than 1,000 people came across the Rio Grande in a short period of time on March 29, El Paso Border Patrol agents were ready for them," according to one outlet.
"The agents quickly interviewed the asylum seekers, placed them on buses to the nearest processing center and, when space and manpower began running low, flew the rest to other cities along the Southwest border.
'That (March 29 mass crossing) allowed us to really test our capabilities. That is our ability to move them from the field into our facilities quickly and safely,' said Fidel Baca, a spokesman for the El Paso Sector of the Border Patrol.
In years past, such a contingency would have caused some migrants to wait at the border wall for hours and possibly lead to overcrowding at Border Patrol stations and processing facilities. But lessons learned since last year's record surge in a region that is still the epicenter of irregular migration into the United States are now being applied diligently."
Immigration policy is one area where liberals are often way out of step with the rest of the country. "As the number of people apprehended for illegally crossing the southern border has reached record annual levels, about three-quarters of Americans (73%) say increasing security along the U.S.-Mexico border to reduce illegal crossings should be a very (44%) or somewhat (29%) important goal of U.S. immigration policy. Nearly all Republicans and Republican-leaning independents (91%) say border security should be an important goal, while a smaller majority of Democrats and Democratic leaners (59%) say the same," according to a poll produced last year by Pew Research. 
One reason for the stark difference may be that liberal leaders rarely interact with large migrations on the scale that's seen at the southern border. 
Last year Florida Governor Ron DeSantis sparked leftwing consternation when he paid for a plane to fly illegal immigrants to the swanky, liberal resort town of Martha's Vineyard. The rich, seaside town that is home to Barack Obama called in the National Guard to deal with the hundred or so people who arrived from the southern border. 
Other "blue" areas have had similar reactions to Republican governors following DeSantis's lead. 
Washington D.C. Mayor Muriel Bowser, a Democrat, begged border states to stop sending busloads of immigrants to her city last summer. She claimed her city had reached a "tipping point" after hundreds, less than a week or so going to El Paso during high periods, had arrived in the nation's capital.
Mayor of New York City, Eric Adams, a Democrat, was asked about the migrant crisis that has reached New York City as tens of thousands of migrants have made their way — including by buses paid for by the state of Texas — to the city in recent months. 
"It's a real embarrassment, I believe, on a national level, and we must have an appropriate response. We have had conversations around the issues on migrants for decades. This is a national issue. It must have a national response," he said on WABC's "Sid & Friends in the Morning" 
Mayor Eric Adams is increasingly critical of President Biden on the migrant crisis.
"It's a real embarrassment on a national level," he says on WABC. "The president has an obligation to deal with the immediate concerns… We've done our job. There's no more room in the inn."

— Emma G. Fitzsimmons (@emmagf) January 3, 2023
In January, CNN noted that the White House kept shifting on how it would respond to Title 42 being no more, writing, "Over the past two years, the Biden administration has sent mixed messages about where it stands on the policy." 
[Read More: DeSantis Attacked On Stage While Giving Speech]