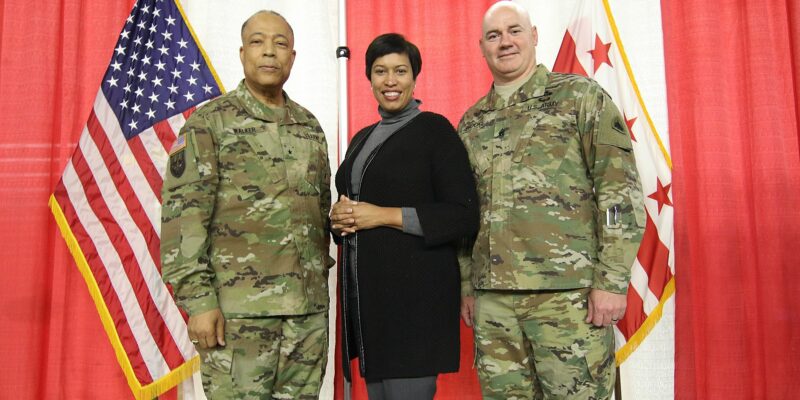 Muriel Bowser, the mayor of Washington DC Mayor, has declared an emergency and has requested help from the National Guard as Texas and Arizona continue to send busloads of migrants crossing the border to so-called "sanctuary cities" in the East Coast. She claims that her city has reached a "tipping point."
Bowser's request comes as a growing wave of migrants are entering the United States at its southern border as the White House seeks to end Title 42, a law that allows the federal to remove non-Americans who have recently been in a country where a communicable disease was present. 
The Trump administration had used the law to prevent those crossing into the United States at the U.S.-Mexico border, and Biden has continued the policy so far during his tenure. 
In April, Texas Governor Greg Abbott "launched a program to send migrants who arrived in his state to the District so "the Biden administration will be able to more immediately address the needs of the people that they are allowing to come across our border." A month later, Arizona Gov. Doug Ducey (R) followed suit with his own voluntary program busing migrants to D.C.
The burden of assisting the more than 4,000 migrants who have come to D.C. since then has fallen on local aid groups — many of them staffed by volunteers — who have met the migrants at Union Station and helped them find temporary shelter or assisted them with plans to reach their final destinations in other parts of the country as they await asylum court dates," according to The Washington Post.
The New York Post described the process that has spurred so many immigrants to arrive in DC. "The first busload of migrants arrived in Washington on April 13, days after Abbott ordered the Texas Division of Emergency Management to begin the transports.

All of the migrants who have arrived in Washington have gone there voluntarily, since they are permitted to travel within the US after being processed by Customs and Border Protection.

Typically, when migrants are released from federal custody after crossing the border and evading expulsion, they are given paperwork allowing them to stay in the US as well as an order to appear in immigration court to appeal for asylum.

On July 17, Bowser called the arrival of migrants in her city a "significant issue," telling CBS' "Face the Nation" that "I fear that they're being tricked into nationwide bus trips when their final destinations are places all over the United States of America."
In 2016, Mayor Bowser reaffirmed Washington, D.C.'s status as a "sanctuary city." She released a statement saying, "The values, laws, and policies of Washington, DC did not change on Election Day. We celebrate our diversity and respect all D.C. residents no matter their immigration status. We are a sanctuary city because we know that our neighborhoods are safer and stronger when no one is afraid to call on our government for help, and when our police can focus on protecting and serving."
In her letter to the Secretary of Defense Lloyd J. Austin III asking for help, Bowser depicts a desperate situation happening in her city, writing, "In the last month, however, the pace of arriving buses and the volume of arrivals have reached tipping points."
She continues: "Our collective response and service efforts have now become overwhelmed: the regional welcome center we helped establish in Montgomery County, Maryland is at capacity; our homeless services system is already under great strain; and tragically, many families arrive in Washington, DC with nowhere to go, or they remain in limbo seeking onward destinations across the United States. With pledges from Texas and Arizona to continue these abhorrent operations indefinitely, the situation is dire, and we consider this a humanitarian crisis." 
Along with requesting a million dollars from FEMA, she is asking for 150 members of the DC National Guard to "shuttle migrants" to temporary processing centers in the region. 
Earlier in the week, Peter Doocy of Fox News asked White House Spokesperson Karine Jean-Pierre if President Biden would agree to Bowser's request.
After directing the matter to the Department of Defense, Jean-Pierre blasted the Republican governors, "I said this last week about Republicans using migrants as a political tool, and that is shameful and that is just wrong. There is a process in place for managing migrants at the border. This is not it, what they're doing currently. That includes expelling migrants as required by court order under Title 42, transferring them to ICE custody or placing them in the care of local NGOs as they await further processing."
Doocy followed up her response by asking, "So, the White House's preference would be for small towns in Texas and Arizona to have to take care of these migrants rather than a large, metropolitan city like Washington, D.C.?"
The White House spox responded with "They are sending migrants to big cities as a political ploy" before saying, The Western Journal noted, that "migrants are coming to the U.S. seeking asylum and in search of a better life and Republican governors should not use them for political purposes." 
Texas Governor Greg Abbott responded to Bowser via Twitter, saying, "D.C. is experiencing a fraction of the disastrous impact the border crisis has caused Texas. Mayor Bowser should stop attacking Texas for securing the border & demand Joe Biden do his job."
NBC 4 in Washington reported that the mayor has heard back yet. "A Department of Defense spokesperson said the agency received the letter and could not comment on the specifics of a pending request.
A spokesman told the channel, "The Secretary takes this request for assistance very seriously. He and his team are working through the details, and will respond to the mayor's office as soon as a decision has been reached," the spokesperson said.
ICE agents recently found 73 migrants living in the wealthy neighborhood of Northwest DC. Human smugglers operated the homes they stayed in.
The capital's problems from the influx of immigrants has become more apparent as of late. According to ABC News, "The migrants, 60 adults and 13 children, were discovered by Immigration and Customs Enforcement's Homeland Security Investigations team as part of an operation that targeted six residential homes believed to be operated by human smugglers. The agents also found $95,000 and a small amount of cocaine, the documents said.
The northwest quadrant contains some of the city's most affluent neighborhoods, and the median home price is $750,000, according to Redfin data." 
Migrants often pay smugglers to take them to destinations in the United States, but often the consequences are horrific. In June the deadliest smuggling operation in American history was discovered in San Antonio, where 50 people were found suffocated in the trailer of a 18-wheeler. 
Other Democratic leaders have tried to blame the GOP for the rise of migrant populations in their cities, as well. Last week New York City Mayor Eric Adams labeled "the Republican governors of Texas and Arizona "cowards" for busing asylum-seeking migrants to Washington, DC — and suggested they lied about not also sending migrants to New York City." He claimed that the city's homeless shelters were being filled by undocumented immigrants. 
The two governors denied the accusations. It was later revealed that it was actually the Biden Administration that sent migrants without any ties to the area to the Big Apple.  
[Read More: The WEF Says You Shouldn't Own Cars, Or Really Anything Else]