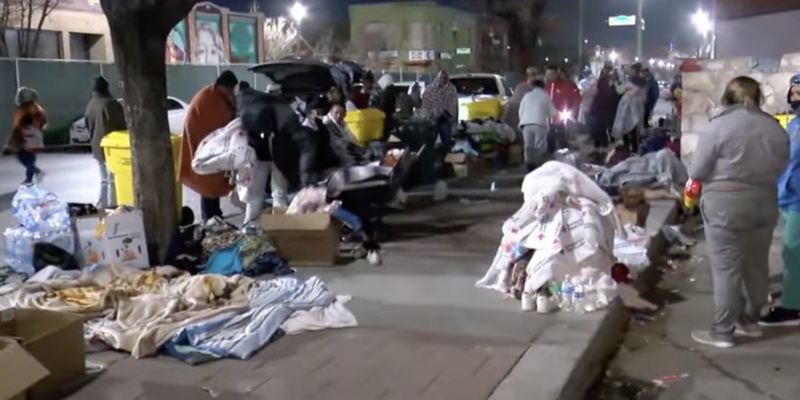 As immigrants continue to flood into the country at the US-Mexican border, leaders in Texas are preparing for disaster as Title 42, a Trump policy designed to keep undocumented immigrants claiming asylum in Mexico, will soon come to an end. 
Desperate local leaders are taking action to try and handle the crisis as best they can. On Saturday, the Mayor of El Paso, Oscar Leeser, a Democrat, declared a state of emergency as dozens of illegal immigrants released by the Biden Administration's Department of Homeland Security have been left to sleep on the streets of the city, risking death by freezing as temperatures dropped below 30 degrees.
The El Paso Times reported, "Though Leeser has long resisted issuing a state of emergency declaration, he said Saturday the move would allow the city to tap into much-needed additional resources, which will only become more necessary with the Dec. 21 end to Title 42 expulsions. 
He added that the increase would be "incredible" after Wednesday, when daily apprehensions and street releases could rise as high as 6,000 per day.
El Paso Deputy City Manager Mario D'Agostino said the state emergency declaration would give the city more flexibility in operating larger sheltering operations and provide additional transportation for arriving asylum seekers.
The city has requested additional personnel for feeding and housing operations, additional busing operations and state law enforcement. 'It's for the safety of themselves… community members and everyone involved,' D'Agostino said."
Other leaders in the Lonestar State are begging for help. 
Texas Governor Greg Abbott took to national television to try and explain that the crisis on the border is about to spiral out of control. "'If the courts do not intervene and put a halt to the removal of Title 42, it's gonna be total chaos,' Abbott told ABC's "This Week" co-anchor Martha Raddatz.

Texas is part of a coalition of Republican-leaning states that has pushed to keep Title 42 in place despite the Biden administration and civil liberties advocates saying it's time for the hardline policy to end."

Raddatz pressed Abbott on how to justify keeping Title 42 in place when it is a public health order, not official immigration policy.

"Whether it's COVID or some other issue, when you have people coming in from across the globe, without knowing at all what their health status is, that almost by definition is a public health risk," Abbott responded. "There's every reason to keep that in place."
Trying to cover for Biden's massive missteps, the ABC interviewer weirdly tried to blame Ron DeSantis and Donald Trump for the border crisis, saying, "People I have heard say [the border is open] are you, are former President Trump, Ron DeSantis – that message reverberates in Mexico and beyond, so they do get the message that it is an open border and smugglers use all those kinds of statements," Raddatz said.
Earlier in the month, the president, while visiting the border state of Arizona, was asked "why he's opting not to visit the U.S.-Mexico border during a trip to Arizona…[He] told reporters there are 'more important things going on' than the southern border crisis.
The president notably said last year that he didn't have a lot of time to visit the U.S-Mexico border, which has been facing a historic surge of migrants.
After being asked if Biden had plans to visit the border during the upcoming year, White House Press Secretary Karine Jean-Pierre "side-stepped the question, and instead pointed the finger at Republicans for politicizing the border and failing to find "any real ideas" to solve the issue." At the time, the largest caravan to cross into El Paso had recently arrived at the border. 
In 2019, during a primary debate, Biden told migrants "you should come" while saying that he offered a more lenient border policy.
The nonchalance mixed with believing in conspiracy theories toward the immigration crisis occurring at the border from Biden has permeated his entire party. The Daily Caller wrote, "Democratic Sen. Sherrod Brown of Ohio claimed that concerns about immigration only came from the 'far right' during a Sunday appearance on NBC's "Meet the Press."
Democrat Senator Sherrod Brown: "I don't hear a lot about immigration from voters except from people on the far-right" pic.twitter.com/PLQeMx7X69

— RNC Research (@RNCResearch) December 18, 2022
'I think my voters in Ohio are reasonable. We're a slightly lean Republican state now,' Brown told host Chuck Todd. 'I don't hear much about immigration from voters, except for people on the far right that always want to gain political advantage by talking about it.'
United States Customs and Border Patrol (CBP) encountered over 2.3 million migrants in Fiscal Year 2022, with another 230,000 in October, the first month of the new fiscal year, according to official figures, while another 600,000 migrants evaded CBP, Fox News reported.
'Maybe with this new Republican House and Democratic Senate, we finally get serious about the immigration reform, instead of pointing fingers, saying disaster is about to happen,' Brown said. 'I think the administration will figure it out short term. Instead of bashing on immigrants or appealing to new citizens, whatever, we've got to get serious about it."'
Leaders in El Paso have said, "about 2,500 migrant apprehensions are happening daily. This amounts to 75,000 per month. With Title 42 coming to an end, the city discussed the use of funds to prepare for the potential of 150,000 migrants crossings in a single month."
So long as none of those migrants end up at Martha's Vineyard, which is usually the only time liberals demand action, it's hard to believe Democrats will do much more to solve the problem. The ten-day weather forecast for El Paso shows that temperatures will dip to 22 degrees near the end of the week. 
So much for the Party of Compassion. 
[Read More: Congress Losing Trust In Congress, Tucker Carlson Reveals Bombshell About CIA and JFK]