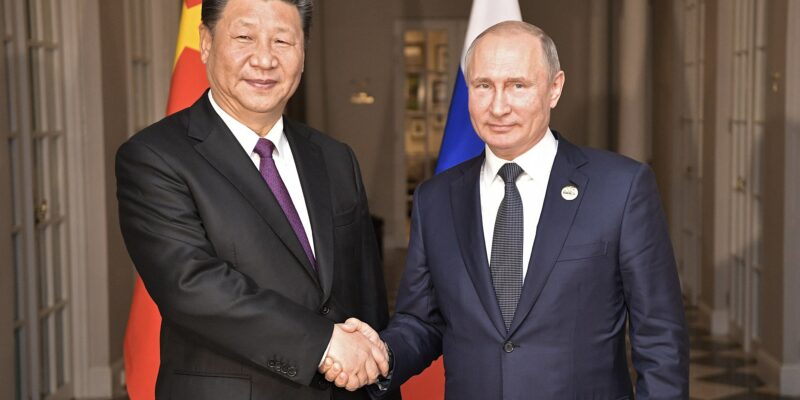 For three years now, anytime anyone mentioned that the worldwide pandemic that killed millions of people began in a lab was met with scorn. Fox News wrote, "The lab leak theory, or the theory that the virus came from a lab leak at the Wuhan Institute of Virology in Wuhan, China, was widely dismissed as a conspiracy theory and "misinformation" by Democrats, major news outlets, scientists and social media companies in the early stages of the pandemic."
Now, Republicans are calling for accountability from the Chinese Communist Party as evidence mounts that it is to blame for the pandemic." 
And, boy, is it beginning to mount. Earlier in the weekend, news broke that more federal agencies have determined that the virus most came from a lab leak in Wuhan. 
The Wall Street Journal revealed the story: The U.S. Energy Department has concluded that the Covid pandemic most likely arose from a laboratory leak, according to a classified intelligence report recently provided to the White House and key members of Congress.

The shift by the Energy Department, which previously was undecided on how the virus emerged, is noted in an update to a 2021 document by Director of National Intelligence Avril Haines's office.

The new report highlights how different parts of the intelligence community have arrived at disparate judgments about the pandemic's origin. The Energy Department now joins the Federal Bureau of Investigation in saying the virus likely spread via a mishap at a Chinese laboratory. Four other agencies, along with a national intelligence panel, still judge that it was likely the result of a natural transmission, and two are undecided.

The Energy Department's conclusion is the result of new intelligence and is significant because the agency has considerable scientific expertise and oversees a network of U.S. national laboratories, some of which conduct advanced biological research.
Republicans in Congress are now demanding accountability from China for the mess it created, along with those in academic, medical, and media institutions that helped them cover it up by shutting down debate. 
One of the earlier proponents of the lab leak theory was Arkansas Tom Cotton, as the Wall Street Journal article gained steam, he tweeted: 
Re. China's lab leak, being proven right doesn't matter.

What matters is holding the Chinese Communist Party accountable so this doesn't happen again.

— Tom Cotton (@TomCottonAR) February 26, 2023
Fox News continued, "Both the Washington Post and the New York Times had accused Cotton of repeating a 'fringe theory' when he mentioned the lab leak possibility back in February 2020. The Post issued a correction to one of its stories more than a year after calling the theory 'debunked.'
The Times came under fire last month after a group of 43 national security experts signed a letter accusing the Times, Time magazine, Lancet and Nature Medicine of stifling debate on the origins of the virus.
'The elites and academics owe everyone who had legitimate questions and concerns about the origins of COVID an apology," Rep Ken Buck, R-Colo., tweeted. "The American people deserve to see all the information concerning the Chinese lab leak and the origins of COVID. This won't be forgotten.'" 
Ted Cruz was less subtle with the "fact checker" from The Washington Post who had previously denied the possibility of a lab leak leading to the global pandemic.  
4 🤡's for Glenn. https://t.co/587JmvrIOE pic.twitter.com/K0pO6BPvxp

— Ted Cruz (@tedcruz) February 26, 2023
The revelation about the lab leak comes at a strenuous time for the world's relationship with China as the communist nation considers upping the ante in the Ukraine-Russia War by backing Vladimir Putin. The BBC noted, "U.S. Secretary of State Antony Blinken said Chinese firms were already providing "non-lethal support" to Russia and new information suggested Beijing could provide "lethal support".
Such an escalation would mean "serious consequences" for China, he warned."
"On China potentially aiding Russia's war effort, Blinken continued: 'We see China considering this; we have not seen them cross that line. So I think it's important that we make clear, as I did this evening in my meeting with Wang Yi, that this is something that is of deep concern to us. And I made clear the importance of not crossing that line, and the fact that it would have serious consequences in our own relationship, something that we do not need on top of the balloon incident that China's engaged in,'" wrote Politico.
When asked to explain further by CBS, the Secretary of State defined "lethal support" to mean providing weapons. 
"There's a whole gamut of things that fit in that category, everything from ammunition to the weapons themselves," he added.
Politico also noted that "Blinken said the U.S. has concerns over Chinese companies potentially providing equipment to Russian-backed mercenary groups operating in Ukraine, including the Wagner Group.
'To date, we have seen Chinese companies and of course, in China, there's really no distinction between private companies and the state. We have seen them provide non-lethal support to Russia for use in Ukraine. The concern that we have now is based on information we have that they're considering providing lethal support,'" he said. 
Ukrainian President Volodymyr Zelensky recently announced that he wants to meet with China's leader Xi Jinping to "discuss Beijing's proposals on ending the war in Ukraine.
Speaking on the first anniversary of Russia's full-scale invasion, he said the proposal signaled that China was involved in the search for peace," according to the BBC.
"I really want to believe that China will not supply weapons to Russia," Zelensky said.
"China's plan calls for peace talks and respect for national sovereignty," the BBC reported.
"However, the 12-point document does not specifically say that Russia must withdraw its troops from Ukraine, and it also condemns the usage of 'unilateral sanctions,' in what is seen as a veiled criticism of Ukraine's allies in the West."
Who would really trust China at this time? Ok, well, we all know one guy probably would. 
[Read More: Biden Insults Americans With Response To Why He Hasn't Gone To Ohio]