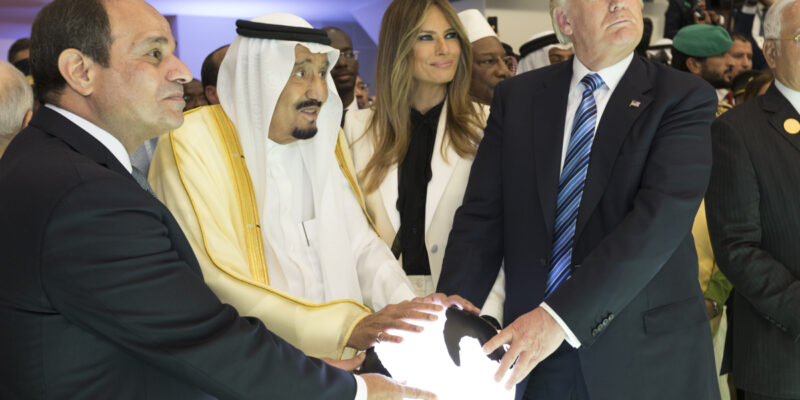 Update, 11/16/22: In a stunning turn of events, Ivanka Trump, the eldest daughter of the former president and one of his closest advisors, announced that she would not be helping her father return to the White House. She wrote, "I love my father very much. This time around I am choosing to prioritize my young children and the private life we are creating as a family. I do not plan to be involved in politics," said Trump, who did not attend Tuesday night's event. "While I will always love and support my father, going forward I will do so outside the political arena. I am grateful to have had the honor of serving the American people and I will always be proud of many of our Administration's accomplishments."
Her statement follows a shift in the Trump family dynamic and division over the political plans of the former president. CNN reported last week that Ivanka Trump and husband Jared Kushner would not campaign on behalf of Donald Trump.
Original
On the day of the "big announcement" that Donald Trump will be running for president again in 2024, his family made some news of their own. Reports say that the "Trump family agreed to license its name to a hotel and golf complex that will be developed in Oman, on the southeastern coast of the Arabian Peninsula. 
Dar Al Arkan, a major developer based in Saudi Arabia, is planning to build the property in Muscat, Oman, on a hillside overlooking the Gulf of Oman. The development will include a golf resort, villas and two hotels."
The Daily Mail noted, "The family business agreed not to pursue international deals when Trump was at the White House and on Monday a New York judge appointed a monitor to oversee some aspects of the company while an investigation into business practices continues.
The Trump Organization confirmed the deal with Saudi developer Dar Al Arkan but did not say how much it was worth to the company.
The project's website describes a 'charming mixed-use development project' on hilltops 300 feet above the shores of Muscat.
'A place where the earthy atmosphere envelops 3,500 residential units consisting of medium-sized villas, townhouses, and low-rise apartments,' it says. "
Yahoo has the details of the money exchanged: The project is slated to be built in Muscat, Oman, on a hillside adjacent to the Gulf of Oman, and will include a golf resort, villas and two hotels, a company executive said.

Deals like this — in which the Trump family gets a cut of condo sales or golf course revenue in exchange for allowing its name to be used — used to be a major source of revenue for the Trump Organization before Trump was elected president.

But the family agreed to not sign any new international deals while Trump was in the White House, and it has been slow to negotiate any new ones since he left office as civil and criminal investigations have distracted the Trumps and put a crimp in the company's growth.

The new deal comes as the Trump Organization is inundated with legal problems. It is on trial in state Supreme Court in Manhattan for criminal tax fraud charges, and it is fighting a lawsuit from New York Attorney General Letitia James, who accused Trump, his company and three of children of fraud.
This was not the first time that Trump has made money off of foreign nations, including Saudi Arabia. Insider wrote that officials from six countries spent hundreds of thousands of dollars at former President Donald Trump's hotel in Washington, DC, during sensitive periods in relations between their governments and the US, according to documents obtained by the House Oversight Committee from Trump's former accounting firm, Mazars USA.
The documents show that officials from six countries —  Malaysia, Saudi Arabia, Qatar, the United Arab Emirates, Turkey, and China — spent over $750,000 at the Trump International Hotel in 2017 and 2018. In many cases, the officials rented costly rooms and indulged in expensive services.
Officials from the Saudi defense ministry, for example, rented the most expensive rooms at the hotel in March 2018 at a time when Riyadh was seeking Washington's support over a diplomatic spat with Qatar. At the time, Saudi Arabia and several of its allies had severed diplomatic relations with Qatar and imposed a blockade on the Gulf state.
The Saudi officials spent nearly $86,000 from March 7 to March 18, including renting several $10,500 suites."
News of deal with Saudi Arabia comes right before Donald Trump is expected to announce that he is once again for the White House, but after the poor midterm performances by Trump's chosen candidates, not every Republican is excited about the prospect of Trump remaining the party's leader. Axios reports, "A Republican civil war is erupting at virtually every level of the party, triggered by an underwhelming midterm performance that threatens to destabilize the ranks of Senate, House and national GOP leadership.
This is only the beginning. Election disappointments always lead to recriminations, but the feuds now roiling the GOP run far deeper than conventional policy disagreements. And with an entrenched leader like former President Trump planning his comeback announcement Tuesday, there's little chance for peace talks.
Trump lashed out at Florida Gov. Ron DeSantis last week, as conservative media — including the Murdoch-owned Fox News, New York Post and Wall Street Journal opinion section — became rife with talk of DeSantis overtaking him as the most viable 2024 GOP presidential nominee.
Politico wrote that the "conservative Club for Growth is sending a warning shot at former President Donald Trump on the eve of his expected 2024 campaign launch — and indicating it might back his chief potential rival, Florida Gov. Ron DeSantis.
The anti-tax organization, which was once a staunch Trump ally but over the last year has broken with him, on Monday provided Politico with a polling memo showing the former president trailing DeSantis by double digits in one-on-one matchups in Iowa and New Hampshire, the first two states on the GOP nominating calendar. The surveys also show DeSantis leading Trump by wide margins in Florida, their shared home state, and Georgia, which is holding a Dec. 6 runoff for one of its Senate seats.
According to the polling memo, which is based on survey data conducted Nov. 11-13, DeSantis leads Trump by 11 percentage points in Iowa and by 15 points in New Hampshire. Those numbers represent an improvement for DeSantis since August, when previous Club for Growth's polling found Trump with a 15-point lead in Iowa, while the two were tied in New Hampshire.
In response to their findings, Club for Growth's president, David McIntosh, said, "Republicans need to be united behind a strong candidate and a platform that shows voters real solutions to beat Biden and the Democrats in 2024. Our polling shows that Republican primary voters recognize Trump's insults against Republicans as hollow and counterproductive, and it's taking a significant toll on his support." 
Polling in Texas also showed that Trump is being cast aside by conservative voters. The Texas Tribune declared, "Republican voters in Texas support Florida Gov. Ron DeSantis as the Republican nominee for the 2024 presidential election over former President Donald Trump by more than 10 percentage points, according to a new poll commissioned by the Republican Party of Texas.
The survey asked voters who are likely to participate in the 2024 Texas Republican primary election who they would vote for out of six Republican candidates including DeSantis and Trump. DeSantis was the top choice, with 43% of respondents saying they would vote for him if the primary election were held today. Trump came in second place with 32%. DeSantis' support among the surveyed voters surged to 66% when they were asked about a situation in which Trump would decline to run in 2024."
Even Trump's closest allies, or former allies at least, have been heard mocking the 45th president. Axios got the scoop on a speech Chris Christie recently gave: "Former New Jersey Gov. Chris Christie received huge applause at an annual meeting of Republican governors Tuesday morning after blaming former President Trump for GOP failures in the last three elections, according to three sources in the room and a fourth person familiar with the speech.
Christie addressed a room full of hundreds of people — Republican governors, high-level donors and consultants — at a hotel in Orlando, less than 200 miles north from the Mar-a-Lago resort where Trump is expected to make his announcement Tuesday night.
Christie, a former Trump ally who is now considering his own 2024 presidential campaign, said voters "rejected crazy" in the 2022 midterms and that Republicans lost because of bad candidates.
But he didn't just harp on last week's disappointing results: Republicans lost in 2018, 2020 and 2022, Christie said, with Trump the one constant who has weighed the party down across all three election cycles."
The news from Arizona about Kari Lake losing her campaign for governor especially took Trump supporters off guard by showing that their brand seemed to be fading faster than they imagined. 
Politico summed up the problem for MAGAWorld: "As one after another of Donald Trump's favored candidates either lost or under-performed traditionalist Republicans in last week's election, Trump world held out hope the former president might find some redemption in the West.

Had Kari Lake won in Arizona, she would have given Trump something to point to when he makes his "special announcement" tonight — widely expected to be that he is running again for president in 2024.

Instead, with the Arizona governor's race called late Monday for Katie Hobbs, Lake — the closest approximation to Trump running anywhere this cycle — became proof of the limitations of his grievance politics.

Unlike GOP gubernatorial candidates Doug Mastriano in Pennsylvania or Dan Cox in Maryland, Lake was not, on the surface, a weak candidate. Rather, the former TV anchor and election denier was such a phenomenally gifted politician that observers of both parties had been speculating about her as a future candidate for president or vice president. Trump had been to the state to rally for her, and she was running slightly ahead of Hobbs in pre-election polls. Fervent supporters cheered her belittling of Hobbs and frequent sparring with the press. All that in a midterm election climate favoring Republicans.

And she still lost."

Trump has spent much of his time following the disappointing results from Tuesday attacking rising stars in the Republican Party who won their races, especially Ron DeSantis and Glenn Youngkin. He also went after Winsome Earle-Sears, Virginia's Lt. Governor, who served as a major figure in his outreach to African Americans in 2020. 
Whether he really reveals another run for president tonight or not, the "big announcement" promises to be a great show, and for Trump, that's typically all that matters. 
[Read More: Former President Attacks GOP Star]