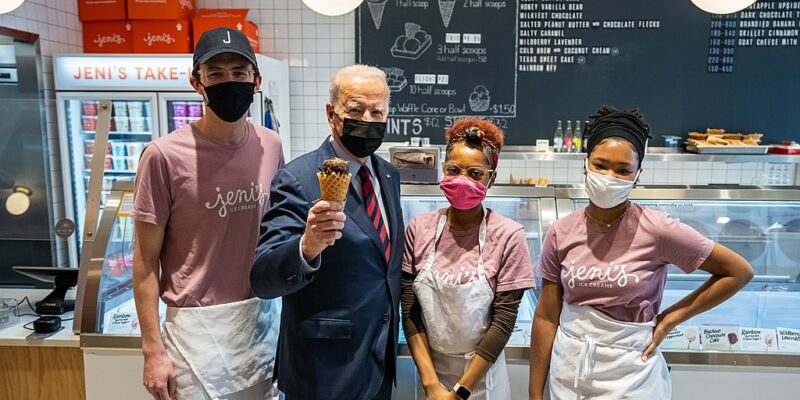 At first, it seemed like just typical Biden incompetence. Now, though, it looks like the president of the United States is purposely trying to insult the suffering people of East Palestine, Ohio, where a train derailment is causing the residents there to fall ill with a mystery sickness. 
While in Delaware, a reporter asked whether or not he would visit the town, President Biden started babbling about Zoom and began talking about Aretha Franklin. 
The New York Post writes, "Biden made the remarks Friday afternoon while departing the White House for his vacation home in Wilmington, Del. His administration — in particular Transportation Secretary Pete Buttigieg — have been accused of a sluggish response to the toxic chemical spill in East Palestine.

"At this point, I'm not," Biden said of any plans to visit.

"I did a whole video, I mean, um, what the hell, on," Biden said trailing off before a reporter jumped in.

"Zoom! All I can think of every time I think of Zoom is that song in my generation, Who's Zoomin' Who," Biden said referring to the the 1985 Aretha Franklin hit.
Fox News said that later "Biden refuted allegations that his administration isn't doing enough in its response to the derailment, stating that his administration was on the scene of the derailment shortly after it happened.
'Wait, wait, wait, let me answer the question. The answer is that I've had a long meeting with my team and what they're doing. You know, we were there two hours after the train went down. Two hours. I've spoken with every single major figure in both Pennsylvania and in Ohio. And so the idea that we're not engaged is simply not there. And initially, there was not a request for me to go out before I was heading over to Kyiv. So, I'm keeping very close tabs on it. We're doing all we can,' Biden added.
Earlier in the month, the president rejected a request from Ohio's governor to declare an emergency as water testing conducted by government officials were revealed to be faulty. He recently announced that while there is no money for Ohio, the United States will be paying for the pensions for Ukrainian bureaucrats. 
Biden's comments come as fears of water contagions have spread across the region well outside of Ohio. 
The Wall Street Journal stated, "Grocery chain Giant Eagle, with hundreds of stores in five states including Ohio and Pennsylvania, pulled bottled water off shelves out of an "abundance of caution" because it was bottled 25 miles from the derailment.
Two high school basketball teams elsewhere in Ohio forfeited games rather than venturing to the region to play.
Some of the reaction in recent days to more far-reaching chemical impacts has come amid people raising concerns on social media.
On Facebook, a handful of people posted questions about whether Giant Eagle water bottled south of East Palestine was safe to drink and said they had called the company to ask. The grocery chain put out a statement Tuesday that it would pull water products bottled in Salineville, Ohio, about 25 miles from East Palestine, from store shelves.
The company said its water comes from a protected spring not near any affected ground water sources and that third-party lab testing had revealed no abnormalities. Still, it said it would pull the water sourced from the Salineville facility, which makes up its gallon-size or larger bottled water options, until further notice, while health officials continue to review the impacts of the derailment."
Locals living near the site of the derailment have recently said that they are coming down with mystery illnesses they assume is connected to the chemicals that were put into the air as the train burned. 
The New York Post spoke to Wade Lovett, who has had breathing trouble "since the Feb. 3 Norfolk South train derailment and toxic explosion here. In fact, his voice sounds as if he's been inhaling helium.
'Doctors say I definitely have the chemicals in me but there's no one in town who can run the toxicological tests to find out which ones they are,' Lovett, 40, an auto detailer, said in an extremely high-pitched voice. 'My voice sounds like Mickey Mouse. My normal voice is low. It's hard to breathe, especially at night. My chest hurts so much at night I feel like I'm drowning. I cough up phlegm a lot. I lost my job because the doctor won't release me to go to work.'"
"Locals," the newspaper continued, "are frustrated and furious over what they say has been a lack of real information and help from both local officials and the Biden Administration. Last week, East Palestine Mayor Trent Conaway ripped President Biden for heading to Ukraine for a surprise visit instead of the scene of the toxic train derailment, calling it "the biggest slap in the face.'"
Earlier in the week, former President Trump showed that leaders who actually care about the people will do more than Zoom with some bureaucrats. 
During his visit, Trump pointed out how President Biden has shown of a lack of care for the Ohio community. "You are not forgotten," Trump said. "We stand with you. We pray for you. And we will stand with you and your fight to help ensure the accountability that you deserve." 
Some have suggested that Biden has refused to visit the hurting town because it voted for Trump.
"The community has shown the tough and resilient heart of America," Trump continued, "and that's what it is — this is really America right here. We're standing in America."
[Read More: MA Dem Leader Promotes 'Eugenics']