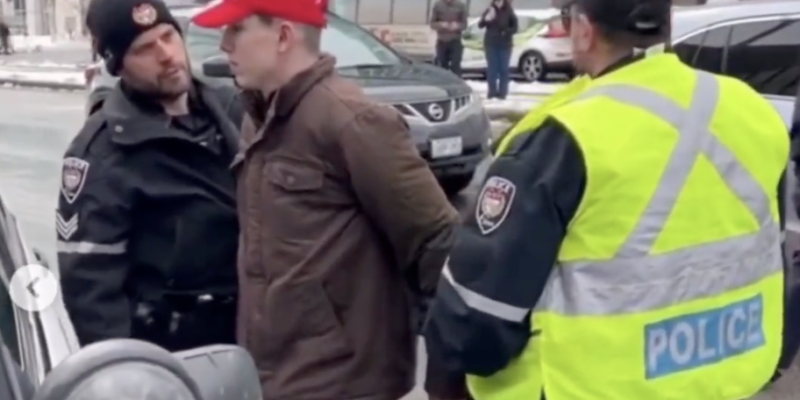 Every once in a while, we here at NCP like to check in on our Neighbors to the North. Sometimes they're panicking over New York City sending them illegal immigrants, other times they're pushing suicide on people who would like medical treatment, but, like California, looking at Canada's current state of dysfunction allows us to have a preview of what might be coming down the pike. 
It's not particularly a great time in Canada if you believe in religion or even just particularly don't adhere to the current liberal orthodoxy, even if it was merely made up a couple of years ago. 
If you're in high school, you might even end up in jail.
The leadership of St. Joseph's Catholic High School in Renfrew, Ontario, has insisted that his continued presence would be "detrimental to the physical and mental well-being" of other students because he believes that biological males should not be allowed in the women's bathroom, according to The Epoch Times.

He told St. Joseph's Catholic High School in Renfrew, Ontario, he would not intentionally engage or start conflicts with transgender students, but he would continue to express his belief. He and his lawyer are bringing this matter to an Ontario human rights tribunal, calling it religious discrimination.

"Offence is obviously defined by the offended. I expressed my religious beliefs in class and it spiraled out of control," Alexander said. "Not everybody's going to like that. That doesn't make me a bully. It doesn't mean I'm harassing anybody. They express their beliefs and I express mine. Mine obviously don't fit the narrative."

He hasn't attended school since November, when he was first suspended. He had organized a protest against transgender students using the girls' washrooms. He had also said in class discussions that there are only two, immutable genders.

When his suspension was lifted the beginning of January, he was instead "excluded" by the principal, which has the same effect as suspension but is considered non-disciplinary. He was told this week that he will be excluded for the rest of the school year, and he's not sure if that will end up extending into the next school year as well.
16 year old Josh Alexander, has been suspended from St Joseph Catholic High School in Ontario Canada for protesting against transgender peoples use of bathrooms and for saying God created only two genders.
The leadership in the school told him his continued attendance would be… https://t.co/4ioM5nABhX pic.twitter.com/xl8YLUWYGu

— CitizenLenz (@CitizenLenz) February 20, 2023
Josh's lawyer, James Kitchen, spoke to Fox News about the collapse of religious freedom in Canada. James Kitchen said both the freedom of religion and freedom of expression have hit a wall in the Great White North. During his interview he claimed that many Canadians have yet to realize the gravity of the threat their government increasingly poses to religious freedom, which he said is "essentially dead" after fading "for about 10 or 15 years."
Kitchen told Fox News "the Supreme Court of Canada issued 'the nail in the coffin' with a 2018 decision against Trinity Western University in British Columbia. The Christian school, which attempted to establish the first Christian law school in Canada, appealed to the high court after regional law societies refused to accredit them based on their student covenant that prohibited extramarital sex.
Kitchen said the legal precedent laid down in that case "really gutted religious freedom in Canada," and that such trends have accelerated in recent years as authorities jailed pastors and seized church properties during the pandemic. Alexander's case, he said, is another escalation.
He pointed to a recent law passed in Canada, Bill C-4, which he contends is a "perfect example" of the growing repression of religion happening in Canada.
Fox explained: "Under the law that prompted protests from thousands of churches throughout North America, therapists in Canada who provide any form of counseling to repress or reduce "non-heterosexual attraction or sexual behavior" or "non-cisgender identity" could face up to five years in prison.
'We don't have any cases on it yet, we don't have any charges, so we're all just kind of waiting to see what the government decides to do with that," said Kitchen, who predicted that "the gender and sexuality issue' is going to lead to more legal clashes between Christians and the Canadian government."
Luckily for the religious living in the United States, we wrote down the Bill of Rights and the First Amendment protects us from the government attacking religious people. Not that the Biden Administration hasn't tried. 
A court accepted a plea deal between the National Archives and a group of Catholic students who were initially barred from touring the federal building because of their pro-life beliefs. 
Politico writes, "The National Archives has struck a deal with a pair of anti-abortion activists who are suing the federal agency after security guards allegedly forced them to cover up T-shirts and pins with abortion-related messages on them during a visit to the Archives last month.
Under the agreement filed in federal court on Tuesday afternoon, the National Archives and Records Administration has promised to abide by a preexisting policy allowing visitors to wear T-shirts, hats and buttons "that display protest language" and to reiterate the policy to all Archives personnel who interact with the public.
The Archives has also agreed to give a "personal apology" and "personal tour" to Virginia resident Wendilee Lassiter and a 17-year-old Michigan high school student whose name has been withheld from public court papers related to the suit they and others filed last week in U.S. District Court in Washington, D.C."
The news comes after the Smithsonian kicked students out of the Air and Space Museum for wearing a hat that said "Rosary Pro-Life" on it. 
"The interim deal filed with the court on Tuesday in the Archives case will not resolve that lawsuit," Politico continued, "but offers the plaintiffs a preliminary injunction similar to the one they planned to seek from the court, court papers say. The agreement needs approval from the judge assigned to the case, Timothy Kelly, an appointee of former President Donald Trump. According to a footnote, the deal is not intended to affect the Archives' ability to regulate 'clothing containing profanity.'"
The Smithsonian has thus far apologized but has not made a similar commitment to the freedom of religion or expression.
[Read More: American Power Plants And Electric Grids Are Coming Under Attack]