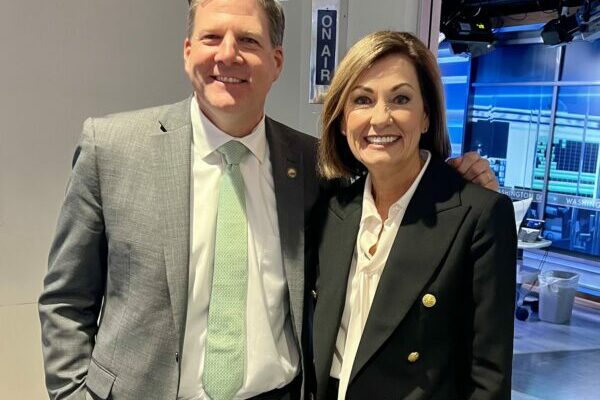 It looks like a swing-state Republican governor who won re-election in a landslide last year is getting ready to announce a run for the presidency. No, it's not the one you think. 
Chris Sununu has begun laying the groundwork to run for the White House. 
NBC reported, "New Hampshire Gov. Chris Sununu has taken his most significant step yet in exploring a White House bid, launching a national political organization that's a popular tool for prospective presidential candidates testing the waters.

The governor first confirmed to NBC News on Wednesday that he had formed the "Live Free or Die" committee (borrowed from his state's nickname), a 501(c)(4) organization where politicians can raise unlimited funds. The donations don't have to be disclosed, and prospective candidates often use these political nonprofits as a way to gauge interest from donors.

The move comes after weeks in which Sununu has publicly teased entering the GOP primary, which officially kicks off with a first–in-the-nation contest in his home state, giving him automatic name ID and familiarity.

"I'm excited to talk about the successes that we've had in New Hampshire: lowering taxes, creating educational choices for parents and kids, and building opportunities for businesses to grow and thrive," Sununu said in a statement to NBC News. "What we've done in New Hampshire is a great model for the federal government — specifically promoting the conservative tenets of limited government, local control, and individual responsibility."
The Sununu name is the gold standard of New Hampshire politics. Chris's father, John Sununu, came to prominence in the 1980s as President George H. W. Bush's chief of staff. He became legendary in convincing Bush to abandon his promise of "no new taxes," which ended up costing the elder President Bush a second term and bequeathed us the Clintons for the past 30 years.
"Since winning a rare fourth term as governor last year, Sununu has ramped up his out-of-state travel schedule and become a regular guest on national political talk shows. Later this month, he plans to travel to Florida to address the Naples Republican Club. He heads to Washington, D.C., this week for the winter meeting of the National Governors Association," according to WBUR, a major news station in the Live Free or Die State.
"Sununu has also increasingly taken to the national media in recent weeks to cast doubt on the ability of other potential Republican presidential candidates to attract independent and moderate voters.
If you loved John McCain or Bob Dole, Chris Sununu will be your candidate for 2024. He's already talking down to conservatives and acting exactly like the kind of candidate who loses to a Democrat in a presidential election. He told the Boston Globe, "They keep talking to the same voters expecting some sort of different result. They're not going after the independent voter."
Earlier in the week, Howie Carr, a writer for The Boston Globe, lambasted Sununu as an "MSNBC-CNN Republican." He continued: "The fact is, every Monday, when you read that Sununu said something on one of the network chat shows the previous day, it turns out he was never on Fox, at least not since Chris Wallace went into the Witness Protection Program known as CNN.
Sununu practically lives now on state-run media. Last weekend he materialized on ABC 'News.'
There's only one reason Republicans get invited on these dreadful Democrat shows – to put the knock on other Republicans, especially Donald J. Trump.
Last year he went on some obscure podcast run by old Bush types, where he admitted he's always thought about 'going back to D.C.'"
He apparently only wants to go back to DC if he's in charge. Sununu was practically begged to run for Senate by Republicans in 2022, believing that he could help them secure the majority and prevent Biden from doing more damage to the country. 
He said no, and the GOP lost a close race. 
Sununu would join Nikki Haley, who is expected to announce a run soon, and former President Donald Trump in seeking the 2024 nomination. Everyone expects conservative Florida Governor Ron DeSantis to also seek the nomination but he's been laying low. 
Politico wrote, "Florida Gov. Ron DeSantis on Wednesday responded to former President Donald Trump's latest attack, saying he won't "smear" fellow Republicans.
Speaking at a press conference in Ocala, Fla., the GOP governor and likely 2024 presidential candidate was responding to questions on Trump's latest broadside. On Tuesday, Trump, who already announced he's running for president, reposted a message on social media sarcastically insinuating DeSantis is grooming teenage girls.
"I spend my time delivering results for the people of Florida and fighting against Joe Biden — That's how I spend my time," DeSantis said. "I don't spend my time trying to smear other Republicans."
DeSantis' reply was the latest in an ongoing fight between him and Trump, his one-time political benefactor whose endorsement during the 2018 election cycle helped DeSantis win election. Yet their relationship has soured as DeSantis' clout among Republicans has grown and is increasingly viewed as more electable and better positioned to lead the party."
Polls have shown that multiple Republicans jumping into the race against Trump is the most likely way that Trump wins the nomination for a third time. The Guardian recently discussed a Yahoo/YouGov poll that "said the same vote-splitting scenario played out with fields larger than three: the anti-Trump vote split and Trump therefore beat DeSantis. Other polls have returned similar results.
Art Cullen, editor of the Storm Lake Times in Iowa, the state that will vote first, recently told the Guardian: "These folks must be watching Trump's poll numbers and that's why there's a delay [in announcements]."
'Trump and DeSantis are doing this sparring around the ring. Others are watching to see if somebody takes a blow and gives them an opening.'"
Sununu running would make things interesting, especially if he takes New Hampshire, the nation's first primary, off the board. In 2016, Donald Trump lost Iowa to Ted Cruz before recovering in New Hampshire. 
Over the weekend, the New Hampshire governor was spotted with Kim Reynolds, the governor of Iowa. 
The irony of the two most fiscally responsible governors in the country, together in a place that can never manage to balance their budgets…

Always good to see @KimReynoldsIA, even if it's in Washington! pic.twitter.com/fe45Y7wBcz

— Chris Sununu (@ChrisSununu) February 10, 2023
Reynolds is considered the top contender for the Republican vice presidential nomination, regardless of who claims the top of the ticket.  
[Read More: Whistleblower Lifts Lid On Horrible Treatment of Kids At Transgender Center]