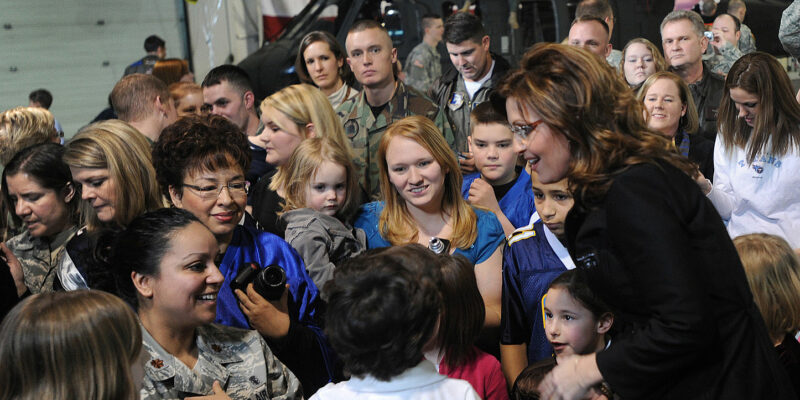 Sarah Palin is looking to be part of Donald Trump's presidential campaign and is begging his chief competitor not to run against him.
Palin, an ardent supporter of Trump, told Newsmax that she doesn't believe Florida Governor Ron DeSantis should run for president in 2024. She said she thinks he could win the White House, but just not right now.
Fox News reported more on the story. "Former Alaska Governor Sarah Palin, who has close ties to former President Donald Trump, does not think Gov. Ron DeSantis of Florida should run for president in 2024, but would support him if he made a White House bid in the future.

"DeSantis doesn't need to [run]. I envision him as our president someday but not right now," Palin told Newsmax host Eric Bolling. "He should stay governor for a bit longer. He's young, you know. He has decades ahead of him where he can be our president."

Palin said she believes Trump, who endorsed her midterm campaign, has the best chance at winning the GOP nomination.

"When you talk about the specific people, the individual people who are looking at putting their hat in the ring… they got a lot of guts thinking they're gonna go up against Trump," she told the outlet.
Majorie Taylor Greene might want to watch her back. Palin seems pretty thirsty to be Trump's vice president if he wins the nomination again. The Epoch Times writes, "As to who would be best as a vice presidential candidate for Trump, Palin believes that Trump should choose someone who, like him, 'has nothing to lose.'
'What more can they do to that person, personally or verbal attacks or anything else on family? That person has been through the wringer. So they know what they're getting into. And that person then can just focus on doing what's right for the people, actually governing how they campaign, doing what they're expected to do as elected.'"
When asked if she meant herself, she apparently laughed and said "not necessarily."
International political strategist George Ajjan told Newsweek "that while Palin's 2008 run may have opened the doors for Trump, her recent failed congressional runs likely don't place the former Alaska governor high on Trump's list of running mate picks.
'Sarah Palin's Tea Party brand of Republican populism paved the way for Trump. So it might seem ironic that she never figured heavily in his entourage, until you consider that he may have felt threatened by her folksy charm,' Ajjan said.
He continued, 'In any case, a state governor who left her post 14 years ago and recently twice failed to win a congressional seat hardly seems to have the makings of a vice presidential running mate. The GOP moved on from her long ago, and is currently moving on from Trump.'"
While hasn't announced a run for the White House yet, DeSantis has begun to make moves. Earlier in the week, he traveled to three Democratic cities, making a pitch to embattled police officers and citizens concerned about rising crime, a group that has traditionally supported Donald Trump wholeheartedly.
The New York Times stated, "The Presidents Day stops in New York and the suburbs of Philadelphia and Chicago were meant to tweak Democratic politicians who run those cities with denunciations of "woke" prosecutors and anti-police talk. Part Florida boosterism, part campaign stump speech, the three stops were also supposed to establish the Florida governor's appeal with the kind of Republican-leaning suburban voters who fled President Donald J. Trump and must be pulled back for the G.O.P. to recapture the White House next year.
'We're grateful to be here to deliver a very important message, a message about safe communities, the rule of law and about standing by the people that wear the uniform and put themselves at risk to protect us,' he told an audience of law enforcement officers at an Elmhurst, Ill., Knights of Columbus hall, outside Chicago, a city that has been demonized as lawless and ungovernable since Donald J. Trump's 2016 campaign.
Mr. DeSantis, 44, has captured the attention of Republican voters by presenting himself as a younger, more policy-focused heir to Mr. Trump. Violent crime, which surged in the last year of Mr. Trump's presidency, has ebbed slightly with the virulence of the coronavirus pandemic. But it remains a major concern for voters. And it has dominated a mayoral campaign in Chicago whose first round of voting ends on Feb. 28.
By appearing with the Fraternal Order of Police, the conservative police officers' union, Mr. DeSantis seemed determined to generate headlines, three months after Mr. Trump became the first declared Republican candidate of the 2024 presidential election and a week after the former president was joined by Nikki Haley, the former United Nations ambassador and South Carolina governor."
Polling has shown that DeSantis is quite popular with Republicans and Trump has spent an inordinate amount of time ranting the Florida governor on his social media. One Business Insider headline even said, "Trump tried to seem unbothered by Ron DeSantis, but he can't stop writing angry Truth Social posts about him."
Trump has an early primary state problem against DeSantis, who, again, has not even started a campaign yet. The Washington Post reported, "In New Hampshire, the same two polls showed very similar results. But we also have a more recent survey from the University of New Hampshire, which showed DeSantis ahead by 12 percentage points even in a crowded field. We haven't seen that in virtually any other such poll, national or otherwise.
Its findings showed a similar trajectory to the Iowa poll above: Trump went from up 25 in late 2021 to down double digits. Even worse for Trump: Less than a majority (46 percent) said he should even run again and had a favorable opinion of him (47 percent). And DeSantis was the first or second choice for many more voters (more than 70 percent) than Trump (less than 45 percent).
Quality polling in South Carolina is sparse, and results have generally resembled national polling. But surveys have shown both DeSantis and Haley running within single digits in hypothetical two-candidate matchups against Trump. And a poll released last week had DeSantis leading Trump by 19 percentage points in a head-to-head matchup.
There's not much polling to speak of in Nevada, either, but the polls are no better for Trump in other states that either could go early in the process or are slated for Super Tuesday:
In Michigan, where Gov. Gretchen Whitmer (D) just signed a bill moving the primary up to February 2024, a recent poll showed primary voters prefer "someone else" to Trump, 47-35. (Meanwhile, one-fourth of state House Republicans delivered a letter to DeSantis calling for him to run.)

In Alabama, DeSantis led Trump by 19 percentage points head-to-head in a survey by well-regarded GOP pollster Public Opinion Strategies on behalf of a charter school group.

In Tennessee, a Vanderbilt University poll showed DeSantis up 13, head to head.

In Texas, the state GOP released a poll showing DeSantis up 11, in a crowded field."
As the presidential race continues to heat up, don't be surprised if old has-beens like Sarah Palin or backbenchers in Congress endorse Trump or attack DeSantis (or Haley) in hopes of regaining some time in the spotlight. 
[Read More: High Schoolers Arrested At School For Opposing Men in Women's Bathroom]