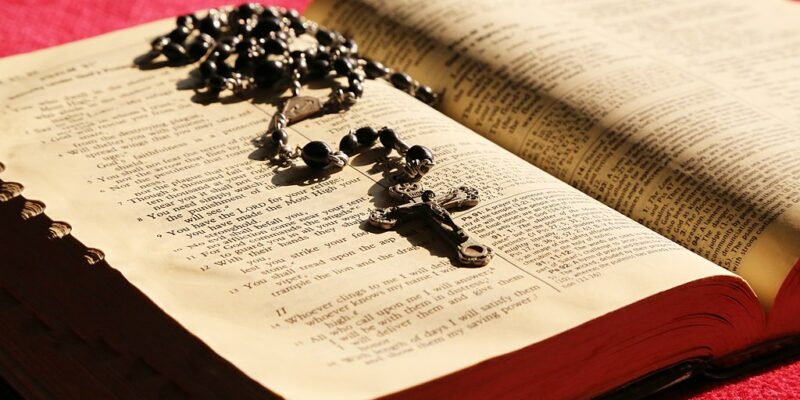 The Biden DOJ is once again attacking religious people, but luckily this time a whistleblower stopped them. The entire affair is an example of left-wing writers steering the White House towards radicalism and abandoning the Bill of Rights. 
Last year the left-leaning magazine The Atlantic wrote an absurd story saying that "the rosary has acquired a militaristic meaning for radical-traditional (or "rad trad") Catholics. On this extremist fringe, rosary beads have been woven into a conspiratorial politics and absolutist gun culture. These armed radical traditionalists have taken up a spiritual notion that the rosary can be a weapon in the fight against evil and turned it into something dangerously literal."
Shortly after that, the FBI used the article to justify labeling the Catholic Church as "radical" and targeted rosaries, a set of beads used for prayer by hundreds of millions of Catholics across the world, as a tool for "hate." 
BREAKING: Last August the Atlantic labeled the rosary an Extremist Symbol

The FBI cited this article as evidence in their targeting report on conservative Catholics pic.twitter.com/LQ8cF6Y2HD

— Jack Posobiec 🇺🇸 (@JackPosobiec) February 10, 2023
Fox News reported that "former FBI special agent and federal whistleblower Kyle Seraphin reportedly obtained a leaked FBI document that outlines a plan to spy on a segment of one of America's biggest religious denominations.

"The FBI's Richmond Division would like to protect Virginians from the threat of 'white supremacy,' which it believes has found a home within Catholics who prefer the Latin Mass," Seraphin reported for Uncover DC. "An intelligence analyst within the Richmond Field Office of the FBI released in a new finished intelligence product dated January 23, 2023, on Racially or Ethnically Motivated Violent Extremists (RMVE) and their interests in 'Radical-Traditionalist Catholics' or RTCs."

He added that the document "assesses with 'high confidence' the FBI can mitigate the threat of Radical-Traditionalist Catholics by recruiting sources within the Catholic Church."

"While over 100 instances of attacks on pro-life pregnancy centers occurred in 2022, the SPLC reported an unsubstantiated 200 'bombings or arson attacks' on abortion clinics in the past 20 years," he wrote. "This tremendous statistical mismatch usually would have led federal law enforcement to focus on the highest threat, but the increasingly Leftist bend of FBI enforcement actions appears to have ignored this trend."

The article included purported screenshots of the FBI document citing its sources in attached appendices.
After news broke about the FBI's plans, the bureau quickly retracted its plan, but it's still a frightening case of the intelligence communities view of religious people. Luckily some conservatives aren't going to let the feds brush this one under the rug. 
Virginia Attorney General Jason Miyares and 19 GOP state attorneys general are demanding answers from the FBI and Justice Department and threatening legal action after a leaked internal FBI memo revealed that the agency had efforts underway to identify and treat Catholics as "potential terrorists." 
Miyares and his colleagues, in a letter exclusively obtained by Fox News Digital, told the FBI and DOJ to "desist from investigating and surveilling Americans who have done nothing more than exercise their natural and constitutional right to practice their religion in a manner of their choosing" and asked that they "reveal to the American public the extent to which they have engaged in such activities."
"Anti-Catholic bigotry appears to be festering in the FBI, and the Bureau is treating Catholics as potential terrorists because of their beliefs," the AGs wrote to FBI Director Christopher Wray and U.S. Attorney General Merrick Garland.
"We are the chief legal officers of our respective States charged not only with enforcing the law, but also with securing the civil rights of our citizens," they continued. "The FBI must immediately and unequivocally order agency personnel not to target Americans based on their religious beliefs and practices," they said, adding that they will take "and appropriate means to protect the rights of our constituents as guaranteed by our Constitution."
"The targeting of Catholics for treatment as 'violent extremists' because of the language in which they pray or because of the beliefs to which they subscribe is unacceptable, unconstitutional, and deeply un-American," Fox News wrote in a follow-up article.
The National Review explained how liberal websites work to make up evidence that leftwingers inside the federal government can then use to justify blatant attacks on our freedoms. 
The editors wrote, "The memo is an ugly slander of a small but surprisingly prominent religious minority. The research for the memo was based on clickbait articles from Salon, the Atlantic, and a hysterical report from the Southern Poverty Law Center. The FBI is supposed to have deliberately excluded SPLC's "research" from its own documents, because the buck-raking, scaremongering organization is so unreliable.
he memo is analytically sloppy. The authors show little ability or interest in distinguishing between heated populist rhetoric — which is common in democracies — and conspiratorial intention, which is rare. By identifying traditionalist Catholic opposition to abortion or certain priorities of the LGBT community as evidence of a potential threat, it was doing the opposite of intelligence work. Careful research is supposed to narrow the focus of law enforcement on the tiny numbers of groups and individuals that are a danger. By choosing beliefs that are obliged in a religious communion of 1 billion people worldwide, and shared by billions of other humans worldwide, the report becomes a slander.
And this sloppiness is another demonstration of a persistent alienation that our intel community has from many normal features of American life. Convictions found commonly among Americans are described in this memo with lurid alarm. Millions of Protestants, Jews, Muslims, and nonbelievers who share those traditional beliefs will see themselves as potentially targeted by this memo, their views deemed by their own government as suspect, extreme, and potentially a threat. The memo itself and its leak will amplify conservative distrust of the intel community. Now is a good time for the FBI and other agencies to reverse course altogether."
The news about the FBI has come as the left has become more radicalized about Christianity, which they perceive as a threat to their power. 
For example, Congresswoman Alexandria Ocasio-Cortez attacked an anodyne Super Bowl ad about Jesus, calling Christianity "fascism."
Something tells me Jesus would *not* spend millions of dollars on Super Bowl ads to make fascism look benign

— Alexandria Ocasio-Cortez (@AOC) February 13, 2023
What was the fascism in the ad? The message that Jesus loved his enemies. 
He Gets Us ran a powerful ad about Jesus during the Super Bowl.

What are your thoughts on this? 💭

— The Post Millennial (@TPostMillennial) February 13, 2023
Joe Biden has claimed on numerous occasions to be a practicing Catholic, but he certainly seems to have an affinity for using the government to attack churches and Christians. 
Churches have been a constant target of attack under Joe Biden, especially following the Supreme Court ruling that forced Democrats to have to vote on abortion. 
One of the first moves by Republicans in the House of Representatives was to create a committee investigating the "weaponization of government" against the people. Although liberals lambasted the committee as a gimmick, cases like the Richmond FBI spying on the largest Christian denomination in the world should be evidence enough that it's needed. 
[Read More: Court To Reveal Epstein's High-Profile Clients]