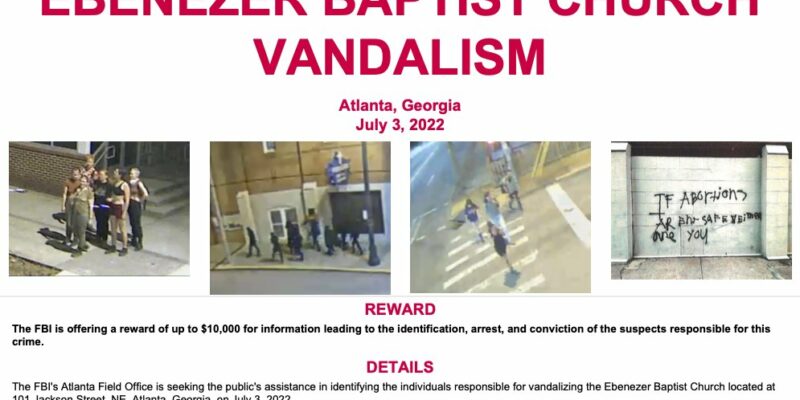 Joe Biden became the first sitting president to give a sermon at Martin Luther King's church earlier in the week. NPR wrote that "King served as a pastor of the historic church until his assassination in 1968 at the age of 39. Georgia Sen. Raphael Warnock, who is the church's current pastor, invited the president to deliver the sermon on what would have been King's 94th birthday."
During his time behind the pulpit, the president said, "Reverend Dr. Martin Luther King Jr. was a nonviolent warrior for justice, who followed the word, and the way, of his lord and his savior," Biden said. "On this day of remembrance, we gather at Dr. King's cherished Ebenezer."
"During the speech,' NPR noted, "which lasted for roughly 25 minutes, Biden touched on both King's faith and his commitment to equality. The president said he felt "humbled" to achieve the historic milestone. He spoke about King's legacy and called the reverend one of his heroes." 
But the sermon quickly turned political, as Biden discussed economic issues and voting rights. The president said, "This is a time of choosing of the direct choices we have. Are we a people who choose democracy over autocracy?"
One form of political violence and autocratic rule that Joe Biden ignored during his speech was what happened to Ebenezer Baptist a few months ago. That's when Biden's radical allies attacked the church because of abortion. 
ABC News reported in December, "The FBI is offering a $10,000 reward for information on 10 people wanted in connection with vandalizing the historic Ebenezer Baptist Church Heritage Sanctuary in Atlanta.

The bureau's Atlanta field office said a member or members of the group vandalized the church on July 3 by spray painting "if abortions aren't safe neither are you" on the side of the church.

The vandalism happened days after the U.S. Supreme Court overturned the landmark Roe v. Wade, which offered a constitutional right to an abortion.

In surveillance video obtained by the FBI, the group, dressed in all black, can be seen walking away from the church and headed toward the Memorial Rose Garden. Minutes later, the group can be seen leaving the area, no longer wearing black and then separating into two groups, the FBI said.
After the Supreme Court ruled that democratically-elected Congress and state legislatures should pass laws regarding abortion, several pro-life health centers and churches were attacked by militant pro-choicers. But, even an attack on what's been called "the spiritual home of Martin Luther King, Jr." couldn't get Democrats to condemn pro-abortion violence. That includes the church's own pastor, Raphael Warnock, the Democratic senator from Georgia. 
Maybe I missed it, but did President Biden draw attention to this incident when he was at the church on Sunday? Imagine the leads that might have generated! https://t.co/d0t891YIgU

— Jeryl Bier (@JerylBier) January 17, 2023
Democrats have become extremists on abortion now that they actually have to convince the public to support them. Last week, all but three Democrats voted against a billing condemning "recent attacks of vandalism, violence, and destruction against pro-life facilities, groups and churches" and "calls upon the Biden Administration to use all appropriate law enforcement authorities to uphold public safety and to protect the rights of pro-life facilities, groups, and churches." 
During debate on the House floor Wednesday, Rep. Ann Wagner (R-Mo.) called attention to the incidents, but it fell on deaf ears from Democrats. She said, "There have been now nearly 100 recorded acts of violence and intimidation against pro-life individuals and organizations by radical, pro-abortion activists since the initial leak of the draft Supreme Court Dobbs opinion," she said.
"Following the leak and issuance of the Supreme Court's decision in Dobbs vs. Jackson Women's Health Organization, anti-life fanatics have targeted, destroyed, or vandalized, as I said, over 100 pro-life facilities, groups, and churches to further their radical cause," she added.
Those attacks included the church where the president spoke on MLK Day, but that kind of political violence is tacitly supported by this White House. Instead, Biden has been sending SWAT Teams to the houses of pro-lifers.
Martin Luther King, Jr. once said, "May I stress the need for courageous, intelligent, and dedicated leadership…. Leaders of sound integrity. Leaders not in love with publicity, but in love with justice. Leaders not in love with money, but in love with humanity. Leaders who can subject their particular egos to the greatness of the cause. God give us leaders. A time like this demands great souls with pure hearts and ready hands. Leaders whom the lust of office does not kill. Leaders whom the spoils of life cannot buy. Leaders who possess opinions and a will. Leaders who will not lie. Leaders who can stand before the demagogue and damn his treacherous flatteries without winking. Tall leaders, sun-crowned, who live above the fog in public duty and in private thinking. This is one of the great needs of the hour, but as we move on all over this nation we will need dedicated, courageous, and intelligent leaders."
As the president faces scandals and refuses even to condemn the most extreme violence from his side, does anyone think those words accurately describe Joe Biden?
[Read More: Biden Accused of 'Epic Money Laundering']