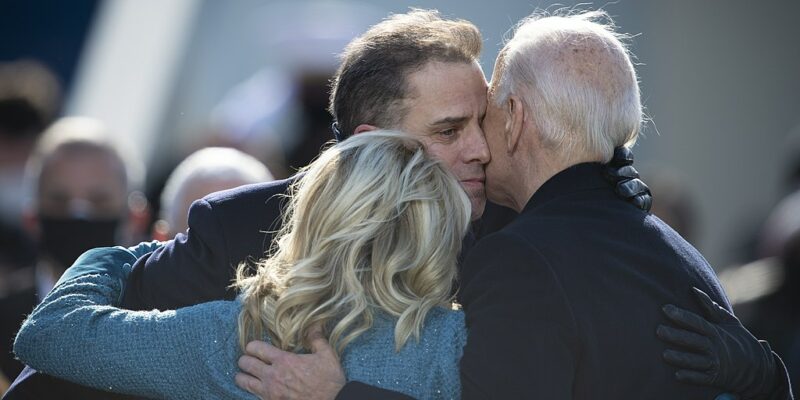 As more and more of the onion gets peeled back on the Biden classified documents scandal, the more it's looking like "the big guy" may have been using his residence to launder money for his shady son, Hunter. 
Breitbart writes, "Hunter Biden recorded monthly rent payments of $49,910 while living at President Joe Biden's residence, according to a document unearthed by The New York Post's Miranda Devine.
On a document titled "background screening request," it appears Hunter paid $49,910 in monthly rent for one year while living at Joe Biden's Delaware residence, where the president kept classified documents alongside his Corvette in the garage."
The Washington Post recently reported that the Biden's built the house in Wilmington for $350,000 in the 1990s. That means that Hunter's rent was covering the entire cost of the property almost every 7 months. 
The newspaper also noted, "Biden often travels with a National Security Council aide, and accommodations have been made on the property so that he can handle classified materials and conduct secure phone calls. Ironically, those security accommodations — where he as president is allowed to deal with classified matters — are on the same property as the garage that held classified materials he was not authorized to have."
In 2018 Hunter Biden claimed he owned the house where Joe Biden kept classified documents alongside his Corvette in the garage Via @jj_talking pic.twitter.com/L7c80MRRiS

— Miranda Devine (@mirandadevine) January 12, 2023
"Hunter listed his rental tenancy from March 2017 to February 2018, the document shows. The document is signed July 2018.
In 2017, Joe Biden left the White House and stored a large number of classified documents inside his Delaware garage and at two other locations. The first batch of documents found are alleged to contain information pertaining to Ukraine and Iran," Breitbart continued.
I guess you never want to play Joe Biden in Monopoly, he's an incredible landlord. 
The New York Post offers more details on the arrangement, "Disgraced first son Hunter Biden lived off and on at the Delaware home where classified documents from Joe Biden's time as vice president were found last month — giving him unrestricted access to America's secrets while he was addicted to drugs, hammering out shady foreign business deals and under federal investigation.

The now-52-year-old began listing the Wilmington home as his address following his 2017 divorce from ex-wife Kathleen Buhle — even falsely claiming he owned the property on a July 2018 background check form as part of a rental application.

Hunter also listed the home as the billing address for his personal credit card and Apple account in 2018 and 2019, respectively, Fox News Digital reported Friday after reviewing emails from his abandoned laptop.

During the same period, the now-first son was in the grip of a crack cocaine addiction costing thousands of dollars. At one point in August 2018, Hunter was recorded begging his sister-in-law-turned-lover, Hallie Biden, to let him use his credit card points to pay for a stay in rehab."
The revelation about Hunter's exorbitant rent immediately found reporters asking questions, especially since it was not reported on President Biden's taxes. 
Was this how he paid "The Big Guy?"
A way to transfer a portion on his "10% for the big guy" payments? Apparently Joe reported much less in rent payments to the IRS. https://t.co/nfx7BHPMqt

— Gregg Barker (@GregoryABarker2) January 16, 2023
ONLY 10% for The Big Guy???

"Document: Hunter Listed $49,910 Monthly Rent Payments While Living at Joe Biden's Residence" https://t.co/ne3j0HyNbI

— Jason Miller (@JasonMillerinDC) January 16, 2023
Reminder: some of the documents found by authorities were related to Ukraine. 
Hunter Biden paid his father $49K a month in rent while he was getting $85K a month from Ukraine. Seems fishy. https://t.co/M0087FXrzO

— @amuse (@amuse) January 14, 2023
One reporter called it "a money laundering hub of epic proportions"
Hunter was paying Pops $50K a MONTH in rent for the Wilmington pad.

So either Joe was the most extortionary landlord in the history of landlords

or that house was a money laundering hub of epic proportions

— Monica Crowley (@MonicaCrowley) January 16, 2023
The extremely high rent would explain Hunter Biden's complaint to his daughter in 2019 that he had to pay half of his salary to "pop." 
Here's a text message Hunter sent his daughter in 2019 saying he gives JOE BIDEN "half" his salary.

This was found on Hunter's laptop. pic.twitter.com/HTYSOa0DPI

— RNC Research (@RNCResearch) December 3, 2022
The New York Post wrote, "Hunter Biden's access to lucrative financial opportunities also came with expectations — including kicking back as much as 50% of his earnings to his dad, text messages on his old laptop show.
"I hope you all can do what I did and pay for everything for this entire family for 30 years," Hunter Biden groused to daughter Naomi in January 2019. "It's really hard. But don't worry, unlike pop, I won't make you give me half your salary." Pop is Joe Biden.
The laptop — infamously abandoned at a Delaware repair shop in April 2019 — does not contain any direct evidence of such money transfers, but does show that Hunter was routinely on the hook for his father's household expenses while Joe Biden was vice president."
This is not the first time that The Post's Miranda Devine has shown how deeply connected Hunter and Joe's finances have been. In 2021, she said, "While Joe Biden careens around the country eating ice cream and behaving like a kind, but slightly dotty grandpa, it's worth remembering the cynical way he used his son, Hunter, to generate cash for the family. 
Hunter, now 51, wanted to be an artist or a writer, but he was assigned by his father the role of family breadwinner through lucrative grace-and-favor jobs and sweetheart deals facilitated by Joe's network of connections in Delaware and, later, throughout the world. 
In an e-mail on April 12, 2018, to his assistant Katie Dodge, Hunter complains that he has been "shut out" of one his Wells Fargo bank accounts. 
Further evidence that Joe expected to receive a slice of his son's income was provided by Tony Bobulinksi, Hunter's former business partner in a firm called Oneida, which was set up to enter a joint venture with the Chinese energy conglomerate CEFC. Bobulinski says that Joe was the "big guy" referred to in a 2017 e-mail who was to be allocated 10 percent equity in the firm: "10 [percent] held by H [Hunter] for the big guy."
Over the past few years, President Biden has tried to say that he had no idea what Hunter was doing, but evidence continues to pile up that he has been lying the whole time. 
"Reps. James Comer of Kentucky and Jim Jordan of Ohio announced that the committee is taking steps to obtain relevant bank records that would ostensibly tie President Biden to his son Hunter's overseas business deals," according to Fox News.
"Comer, citing whistleblowers, asserted that the Biden family "flourished and became millionaires by simply offering access to the family."
The committee has also referenced recurring Suspicious Activity Reports (SARs) from financial institutions they say flag criminal financial transactions involving the president and his son."
Last fall, it was reported that Hunter Biden was on the brink of being charged with several crimes related to his money-making enterprises. 
While liberals have pretended that the Biden scandal is a nothingburger in comparison to Trump (because Democrats only exist to compare everything to Trump), journalist Tom Elliot laid out some key differences between the two. 
And yet the media's entire spin is that Biden's scandal is no big deal b/c he's "cooperating" — just as Trump's lawyers were doing until the FBI sprang a raid on them — and therefore this whole story should just go away.

As always, the media's job is to replace fact w/ fiction.

— Tom Elliott (@tomselliott) January 16, 2023
Read More: Democrats Getting Nervous About Documents Scandal, Biden's Team]