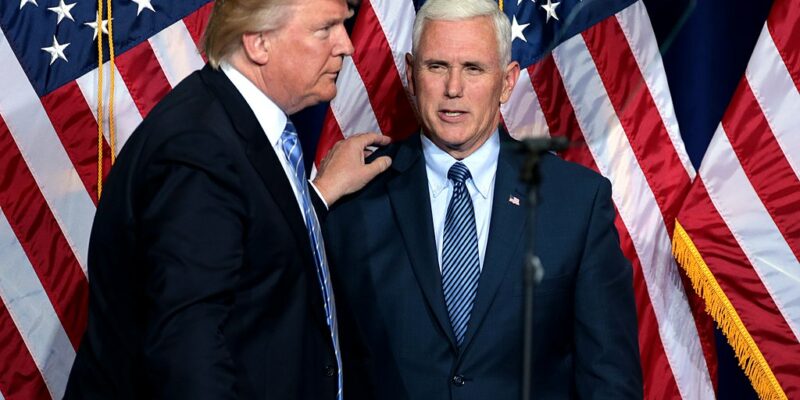 Republican leaders in Arizona have lined up to oppose Trump-endorsed candidate for governor Kari Lake, a local television anchor. Now the state party has begun to bring in national figures, pitting the former president against his vice president.
Former Vice President Mike Pence has become more confrontational with former President Trump as both are considering running for president in 2024. 
AP writes, "The two will hold dueling rallies in Arizona on Friday as they stump for rival candidates who offer dramatically different visions of the Republican Party in a critical battleground state. Days later, they will once again cross paths as they deliver major speeches on the same day in Washington, D.C."   
It's not too surprising that the two have gone their separate ways. After all, President Trump allegedly said that Pence "deserved" to be hanged because he followed the Constitution and certified the Electoral College vote following the 2020 election. On January 6, 2021, Pence's family had to be moved to a more secure location as the vice president presided over the Senate. 
Politico summed up Pence's move in The Copper State. Former Vice President Mike Pence is endorsing Republican Karrin Taylor Robson in the Arizona governor's race, pitting himself against Donald Trump in a primary that is emerging as a proxy fight between the former president and Republicans who resisted his efforts to overturn the 2020 election results.

It represents the latest breach in the relationship between Trump and Pence, and it's the second time the two have collided in a primary. And Pence is slated to campaign for Robson on Friday — creating a dramatic split-screen moment opposite Trump, who is set to hold a rally for his endorsed candidate, former local TV news anchor Kari Lake, the same day.

Pence, whose relationship with Trump ruptured after he defied the former president's pressure campaign to not certify the 2020 election results, also endorsed Georgia Gov. Brian Kemp for reelection earlier this year. Kemp, who Trump relentlessly attacked for refusing to intervene in Georgia's vote count, successfully held off a primary challenge from a Trump-backed candidate, former Republican Sen. David Perdue.

In Arizona, Pence is joining term-limited Republican Gov. Doug Ducey in endorsing Robson. Ducey, like Kemp, also refused to go along with Trump's push to overturn the election results, in another state that was narrowly won by President Joe Biden. While the Trump-backed Lake has centered her campaign around the unfounded claim that the election was stolen, Robson has refused to say so.
The vice president's endorsement signals another established member of the GOP bucking a Trump pick. The Washington Post wrote, "And while other, more competitive races have pitted certain establishment figures against Trump, almost none have featured this level of high-profile resistance.
Trump's candidate is now opposed by:
His own former vice president

The head of the Republican Governors Association, Ducey (though Ducey's endorsement was made in his capacity as governor)

Former New Jersey governor and Trump adviser Chris Christie

Former House speaker Newt Gingrich

State Senate President Karen Fann, and

Former Arizona congressman Matt Salmon (who dropped out of the race and backed Taylor Robson)
Each of these endorsements has come in the past three weeks, as the effort to prevent Lake's nomination has ramped up."
The 45th president's endorsement of Lake was odd from the start. Local news found that "the Republican candidate for governor and former Phoenix TV news anchor made the switch the day after Obama's stunning defeat of Democratic rival Hillary Clinton in the 2008 Iowa caucuses, the first test of the presidential primary season." She was so enthralled with Obama that she knocked on doors to support his campaign. 
Even stranger, in 2017, Lake shared anti-Trump posts on Facebook saying that she would protest his inauguration. Fox News found anti-Trump post from the candidate's account that read, "Will you be protesting the inauguration? If so, which of these suggestions will you adopt? Will you boycott TV coverage? Wear black? Donate money the ACLU, NAACP or Planned Parenthood? Use the hashtag #NotMyPresident? Will you unfollow Donald Trump?"
The news channel noted, "The Facebook post was accompanied by a meme that appears to have been sent to Lake by one of her Facebook followers. The meme referred to Trump's Inauguration Day as a "National Day of Mourning and Protest."
Lake is in a tight primary battle with Karrin Taylor Robson, a lawyer from Mesa, Arizona. A recent poll showed the race tightening between the two GOP candidates, with Lake holding a slight lead that has shrunk over the past few months. 
Arizona Republicans decide their nominee for governor on August 2, 2022. 
[Read More: Pelosi Pockets Cash From Stock Picks As She Sets Votes In Congress]