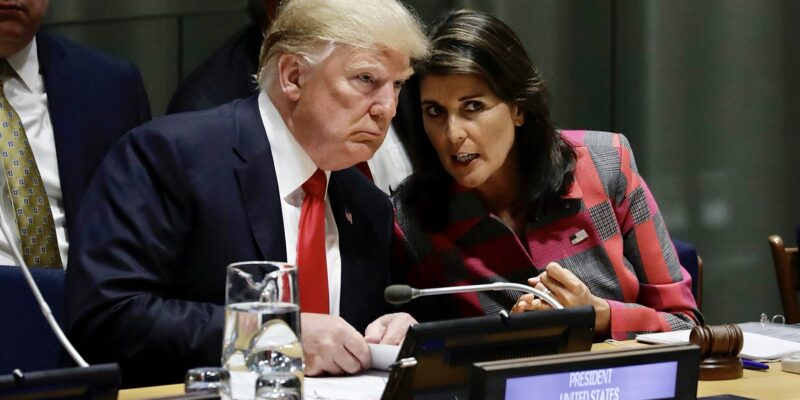 Former U.S. Ambassador to the United Nations and Governor of Nikki Haley seems to have changed her mind. In April 2021, she said "that she would not mount a bid for the White House in 2024 should former President Trump decide to run again. 
'I would not run if President Trump ran, and I would talk to him about it,' Haley told The Associated Press at a press conference. 'That's something that we'll have a conversation about at some point if that decision is something that has to be made.'
Haley, a former South Carolina governor considered a potential contender for the GOP's 2024 presidential nomination, said that she would support Trump if he makes another run for the White House."
Despite Trump's early announcement that he would run for president again, Haley may see the riots at the Capitol in 2023 as her out. She heavily criticized Trump's leadership on January 6, 2021, telling the Des Moines Register that "we need to acknowledge he let us down." 
Earlier in the week, during an interview on Fox News, "former South Carolina governor and United Nations ambassador Nikki Haley said she's close on making a decision to run for president in 2024.

'Well, when you're looking at a run for president, you look at two things. You first look at, 'does the current situation push for new?' The second question is, 'am I that person that could be that new leader?' You know, on the first question, you can look all across the board, domestic, foreign policy. You can look at, you know, inflation going up, economy shrinking, government getting bigger, you know, small business owners not being able to pay their rent. Big businesses getting these bailouts, all of these things warrant the fact that, yes, we need to go in a new direction,' Haley said.

'So do I think I could be that leader? Yes, But we are still working through things and we'll figure it out. I've never lost a race. I said that then I still say that now. I'm not going to lose now," she added.

When asked about a statement she previously gave to an Associated Press reporter, stating that she "would not run if President Trump ran,' Haley said that the "survival of America matters.'"
At the 1:06 mark @BretBaier asks @NikkiHaley about telling me in 2021 that she "would not run if President Trump ran." Haley responds by saying "a lot has changed" (since then) adding "it's time for new, generational change." https://t.co/GICcvphyNQ

— Meg Kinnard (@MegKinnardAP) January 20, 2023
In a conversation with Bret Baier, she said that she's ready to be president but that she's "working through things" and that people should "stay tuned."  
Stay tuned. pic.twitter.com/813AG9PPRV

— Nikki Haley (@NikkiHaley) January 20, 2023
She also called out leaders attending Davos and discussed the ways that Biden's policies have hurt American families. 
Families can't afford groceries, moms can't find baby formula, crime's at an all-time high, and we still have near record inflation.

Those are the issues. No one cares about what a group of tone deaf suits are talking about in Davos. pic.twitter.com/a2MG3WVOwV

— Nikki Haley (@NikkiHaley) January 20, 2023
The full interview can be viewed here.
Haley's announcement that she's looking to take on Trump head-on comes at a vital time for the former president. He had believed that announcing extremely early would push people away from running, but that does not appear to be happening. 
One political commentator noted that "Trump will only be pushed aside when his political cost to his party becomes intolerable. That is precisely what is in the process of happening. Nothing has harmed Trump more than the obvious damage he did to Republicans in the 2022 elections, culminating this month in the defeat of his handpicked candidate Herschel Walker by Sen. Rafael Warnock in the Georgia runoff.
Republicans might well have taken control of the Senate but for the weakness of Trumpist candidates not only in Georgia but also in Arizona, Pennsylvania, and New Hampshire. Trumpism was shellacked at the state level. His election deniers lost all the swing state secretary of state races. The landslides of Gov. Gretchen Whitmer in Michigan and Gov.-elect Josh Shapiro were a tribute not only to their political skills but also to the backlash against the extremism Trump promotes.
In the meantime, standing against Trump has proved helpful to key GOP figures. Think especially of Gov. Brian Kemp and Secretary of State Brad Raffensperger in Georgia. Both held on to right-wing Republicans but performed well in the Atlanta suburbs and ran far ahead of Walker. Republicans elsewhere noticed the potential advantages of life after Trump."
Haley changing her mind and running against Trump is a signal that the former president is, in fact, losing his grip on the party.
We noted yesterday that MAGA World and Trump seem focused on Florida Governor Ron DeSantis as they prepare to make moves this year in the primary. 
The reports of Haley looking at 2024 come amidst more talk that Trump may try to take his ball and go home if Republican voters don't hand him the nomination for 2024 (which he consistently polls behind Biden) and form a third party. 
The Washington Examiner said, "Republican National Committee Chairwoman Ronna McDaniel is promoting herself to lead the committee for the next two years, arguing she is best positioned to stop former President Donald Trump from creating a third party should he lose the GOP primary election and split the party's electorate.
McDaniel reportedly made the comments as she spoke privately to the 168 RNC members to back her reelection bid, according to the Washington Post. The chairwoman, who has served in the position since 2017, is seeking a fourth term to the RNC's top position amid calls from some members of the party to resign.
McDaniel has also engaged in conversations to make sure that all likely GOP candidates support the party's eventual nominee, even those who have distanced themselves from Trump in recent years. Those conversations come as McDaniel must navigate a committee that includes both Trump opponents, who accuse the chairwoman of being close to the former president, and some of Trump's staunchest allies who are backing his reelection.
Trump is the only Republican to announce his intent to run for president in 2024 so far, but the GOP primary field is expected to grow more crowded in the coming months. It's not clear if he would create a third party should he lose the primary election, but McDaniel said she could stop him from doing so in order to avoid splitting the Republican vote — promoting a unified vote within the committee as a result."
Would Trump really hold the party and nation ransom by effectively handing the White House to Joe Biden again by running against someone who beats him in the primary? Only time will tell, but it appears that Nikki Haley, at least, is ready to call his bluff.
[Read More: Trump Readies To War Against Top Rival]