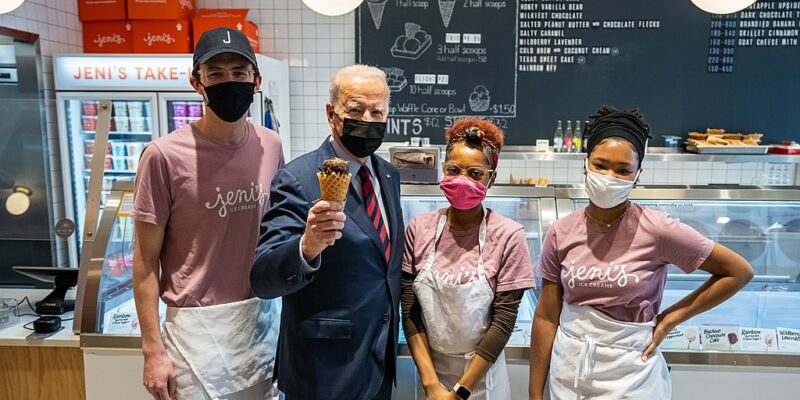 The midterm elections are right around the corner, and things are not looking great for the president's party. It's not surprising why. As NPR recently wrote, "Inflation is starting to seem like the horror movie monster that won't die. The newest data from the Bureau of Labor Statistics shows prices in September hit another 40-year high.
What was striking about the data was that a lot of the worst inflation is hitting us at home: rent was up 7.2 percent, electricity prices are up 15.5%, groceries are up 13 percent."
Fitch Ratings recently released a report stating that "the American economy into a 1990-style mild recession starting in the spring.
"High inflation will prove too much of a drain on household income in 2023," the company said, "shrinking consumer spending to the point that it causes a downturn during the second quarter of 2023."
As inflation has crippled our economy and caused panic at the Federal Reserve, the president has gone from changing definitions, then to denial, then to blaming anyone and anything but himself. First, he condemned "the Putin price hike," then he accused local gas stations of price gouging, and most recently, he pointed to OPEC because they wouldn't cut oil prices before the upcoming elections, which essentially was asking the Saudis to interfere in our election. 
Now Biden has found the real culprit: the Republican Congress that will take over if the Democrats lose in November. 
The Daily Wire called out the White House's fabulism. Biden's declaration came the same day that the Bureau of Labor Statistics consumer price index reported that inflation was hotter than expected in September and rose by 8.2% year-over-year. That is now the twelfth straight month with inflation year-over-year above six percent.

Of course, throughout 2021, America was also experiencing inflation, albeit at a slightly lower rate. For example, in July 2021, the U.S. saw an annualized rate of inflation of 5.4%. The president claimed that the surging costs were due to a roaring economy but that it wouldn't last long.

"Some folks have raised worries that this could be a sign of persistent inflation," he added. "But that's not our view. Our experts believe and the data shows that most of the price increases we've seen are — were expected and expected to be temporary."

What Biden never mentions is that the data indicate his party's $1.9 trillion stimulus, the "America Rescue Plan" passed in the spring of 2021, deserves blame for the high inflation. Larry Summers, a Harvard professor and former economic advisor to President Obama, warned that the package would overstimulate the economy and cause inflation. Leftists dismissed his concerns.
When not trying to blame a future Republican Congress that does not exist yet, President Biden has reverted back to complete denial that the economy is faltering at all, making some wonder if he actually does not that normal people are struggling. 
On Monday, RedState noted, "A trip to the grocery store these days has become tortuous for normal Americans as food prices have skyrocketed, and a subsequent trip to the gas station provides no relief. The pain only extends out from there. Want to fly to visit that family member you normally see every year? The price is higher. Want to grab a hotel room for a weekend getaway? The price is higher. Need to buy the kids some new school clothes? The price is higher.
In the midst of such turmoil, the White House has fumbled about, desperately seeking a messaging strategy that might deliver some political relief. Unfortunately for the president's handlers, it's impossible to keep Biden locked down. As RedState reported, he went out on Saturday and perfectly encapsulated his detractors' most ardent criticisms."
Holy crap, he did the meme https://t.co/qnWw5OmJrD

— Bonchie (@bonchieredstate) October 16, 2022
— Sean Bannion (@SeanBannion) October 19, 2022
Red State continued: "And with that, Biden's meme presidency was born. Far from the far-flung proclamations that the current president would exhibit a return to normalcy, we are now at the point where Biden is so out-of-touch that he's mimicking famous internet mockery without even realizing it. He even managed to get the type of waffle cone and color of the ice cream right. Had he been wearing aviators in the video clip, the entire space-time continuum may have collapsed in on itself.
Sure, you can't afford to take your kids to visit their grandma for Thanksgiving, but rest assured, "the economy is strong as hell," according to Joe Biden. Everything is just great, and if you disagree, you are probably just too stupid to realize how great everything is. After all, the president has a beach house and is doing just fine."
Sports commentator Clay Travis was a little bit more direct: "Joe Biden saying, "Our economy is strong as hell," while eating an ice cream cone is so tone deaf and out of touch to what Americans actually see in their lives that it feels like the Democrats are intentionally tanking the election."
It is true that you have to ask if there was any way the White House could show how out of touch they are. I guess he could say that he'd focus on abortion if Democrats keep the house rather than fixing the economy….
#BREAKING US President Joe Biden says first bill if Democrats retain Congress will enshrine abortion rights pic.twitter.com/jE4lyYV8Hb

— AFP News Agency (@AFP) October 18, 2022
The midterm elections will take place on Tuesday, November 8, 2022.
[Read More: Gisele Fetterman Demands Repercussions From NBC Because It Noted Her Husband Can't Comprehend Small Talk]