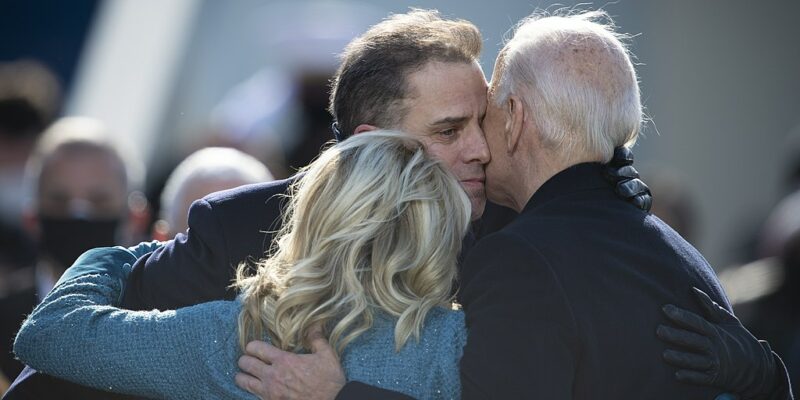 Just when you thought that Hunter Biden couldn't be caught doing something more egregious and shocking, an investigation reveals that there is no bottom when it comes the crown prince of the Biden family's behavior. An investigative report out of the the United Kingdom, rather than American media, has revealed that when he wasn't collecting checks from Ukraine or China, Hunter Biden was involved in an illegal sex trafficking operation. 
JUST IN: Hunter Biden was suspected of hiring prostitutes from Eastern European human trafficking ring during drug binges and falsifying checks to pay the women, Treasury documents reveal #NoEvidence #BidenCrimeFamily pic.twitter.com/9dGzT2hO1T

— Kyle Becker (@kylenabecker) October 2, 2023
The Department of Justice might have been doing more than covering up "influence peddling." They also appear to have ignored egregious sexual exploitation by the president's son to protect Biden's chances at winning the White House. 
In an exclusive investigation, The Daily Mail writes that Suspicious Activity Reports (SARs) show the First Son's accounts were being monitored as late as December 2019, after investigators found payments from Hunter and his companies to a suspected 'Eastern European prostitution ring'.

A previously unreported document, filed to the Department of the Treasury on December 17, 2019 by financial crime investigators at Wells Fargo, picked out 25 individuals linked to the suspected ring and almost $7million of suspicious transactions, some of which included checks from Hunter that they believed may have been falsified to hide his payments to hookers from his business account.

The report, shown to DailyMail.com by a confidential source, said 'Biden has sent money to individuals who may be part of an Eastern European prostitution ring', and that investigators were monitoring 'several [Wells Fargo] customers suspected of participating in a sex trafficking ring associated with Biden'.

Others associated with the ring included women with Russian passports and a China-based company to which money was funneled.

Transactions flagged in an SAR do not necessarily prove any wrongdoing or illegal activity, but are filed to the Treasury when investigators at a bank notice suspicious behavior by customers.

In a document dump from last week, Congressional oversight investigators revealed that "federal investigators compiled examples of Hunter Biden potentially violating a sex trafficking law called the Mann Act, according to emails.
On Oct. 21, 2020, IRS tax crimes prosecutor Jack Morgan forwarded a list of nine cases involving Biden and prostitutes to Wolf. Morgan highlighted three examples of Biden paying escorts to travel from Boston and New York to Los Angeles for sex.
Wolf forwarded the list to her colleagues, but that's where the case appears to have ended. The U.S. attorney's office has not charged Biden with sex trafficking offenses.
IRS whistleblowers previously revealed that Biden took tax deductions for payments he made to prostitutes and a Los Angeles sex club in 2014."
Last week, Congresswoman Marjorie Taylor-Greene called out the Department of Justice for hiding the fact that the president's son was being considered for charges under the Mann Act. 
Violations of the Mann Act carry harsh criminal penalties, writes The New York Post. "In a recent high-profile case, it was used to prosecute billionaire Jeffrey Epstein's accomplice Ghislaine Maxwell, who was sentenced to 20 years in prison for sex-trafficking underage victims.
Earlier this month, House Oversight Committee Chairman James Comer (R-Ky.) and Rep. Marjorie Taylor Greene (R-Ga.) wrote to the Justice Department demanding that the alleged list of Hunter's prostitutes be provided to Congress – arguing that they could be 'victims who were sexually exploited' by Hunter and in need of federal support."
In 1910, the Mann Act was enacted to combat human trafficking and the transportation of individuals across state lines for immoral purposes. Sponsored by Congressman James Mann and signed into law by President William Howard Taft, the Mann Act sought to address the growing concern over the coerced and involuntary movement of women and girls for purposes of prostitution and other sexual exploitation. It was a response to the moral and social anxieties of the time and aimed to protect vulnerable individuals, particularly women, from being lured or forced into illicit sexual activities across state boundaries.
Under law, it became a federal offense to knowingly transport or cause the transportation of any person, including minors, across state lines or internationally for the purpose of engaging in prostitution or any other immoral or unlawful sexual activity. The law also criminalized attempts to persuade, entice, or coerce individuals into such activities, making it a powerful tool for law enforcement to combat human trafficking and sexual exploitation. 
Over the years, the Mann Act has undergone several amendments and reinterpretations, reflecting evolving societal attitudes and legal frameworks regarding sexual exploitation and human trafficking. While it has been both praised for its role in combating human trafficking and criticized for potential misuse, the Mann Act remains an important piece of legislation in the ongoing effort to protect individuals from sexual exploitation and trafficking in the United States.
[Read More: DeSantis Won't Play Second Fiddle]