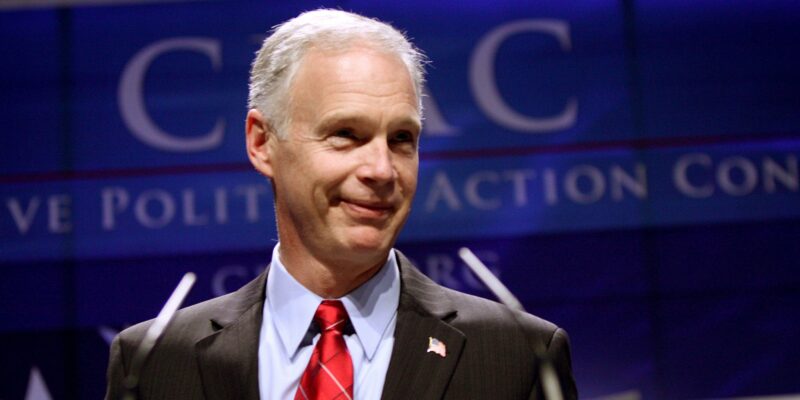 Senator Ron Johnson has become convinced that the election was stolen from Donald Trump. He hasn't made arguments about fake voters and isn't pitching conspiracy theories about voting machines or ballot stuffing from Venezuela. Instead, he's talking about something much more provable: the FBI purposely suppressed stories about Hunter Biden's laptop in October 2020. 
On Fox News, Johnson told Maria Bartiromo that "Joe Biden would not be president" had tech companies like Facebook and Twitter not censored the scandal to help the then-Democratic nominee unseat the incumbent president. 
The ranking member of the Permanent Subcommittee on Investigations, the Wisconsinite, sent a letter to Inspector General Michael E. Horowitz at the Department of Justice, asking him to take "take immediate steps to investigate the FBI's actions regarding the laptop" because "whistleblowers have recently contacted my office to share serious concerns about the Federal Bureau of Investigation's (FBI) handling of Hunter Biden's laptop."
Business Insider offered more details: "We've seen polls that show that had the American public known the corruption of the Biden family and Hunter Biden, Joe Biden would not be president," Johnson said. "We wouldn't have open borders. We wouldn't have 40-year high inflation, record gas prices, rising crime."

He added: "All these disasters and results from the Biden administration and the Democratic government wouldn't have happened but for the FBI's politicization, their partisanship, and their suppression of the Hunter Biden laptop. Again, they had it in December 2019 and did nothing with it."

The laptop, which contained lurid details of Hunter Biden's life, became the subject of intense controversy before the 2020 presidential election when The New York Post claimed that it contained emails showing that Joe Biden had been compromised by Hunter's business dealings in Ukraine.

However, the story was quickly scrutinized and found to have several red flags that prompted questions about its authenticity, including those working at The Post. The most glaring questions center on whether the emails described in the story are legitimate, how they were uncovered, and how the Post obtained them.
In July, the ranking member of the Senate Judiciary, Senator Chuck Grassley of Iowa, mailed a letter to Attorney General Merrick Garland and FBI Director Christopher Wray claiming that whistleblowers had contacted him about corruption at the FBI, fueling speculation that the "Deep State" was protecting the Bidens. 
Grassley wrote, "Attorney General Garland and Director Wray, simply put, based on the allegations that I've received from numerous whistleblowers, you have systemic and existential problems within your agencies. You have an obligation to the country to take these allegations seriously, immediately investigate and take steps to institute fixes to these and other matters before you."
Johnson's comments come following remarks made by Mark Zuckerberg during an interview with Joe Rogan about whether Facebook had "censored" news involving Hunter's now infamous laptop. 
During a long conversation with the podcast superstar, the Facebook founder confessed, "When we take down something that we're not supposed to, that's the worst." 
He continued by saying it "sucks," but then added context to Facebook's decision-making, telling Rogan: "The background here is that the FBI came to us – some folks on our team – and was like 'hey, just so you know, you should be on high alert. We thought there was a lot of Russian propaganda in the 2016 election, we have it on notice that basically there's about to be some kind of dump that's similar to that."
The New York Post is not buying Zuck's spin. "Since our story had nothing to do with Russian disinformation," the newspaper wrote, "what made Facebook think it was the "dump" the FBI warned them about? We asked Facebook: 'Was there mention made in the FBI briefing of Joe Biden, Hunter Biden, Ukraine or a laptop?'"
Facebook's replied that the FBI merely offered "general warnings" about foreign interference in the election, "nothing specific about Hunter Biden." 
The Post also presented a timeline for what happened when the Hunter Biden laptop story was made public. "Whatever was said, the briefing must have been specific enough for Facebook to recognize immediately that our story was exactly what the FBI was warning about and move at record speed to throttle it. At 11:10 a.m. the morning the story went live, Democratic operative Andy Stone, Facebook's communications manager, issued a statement on Twitter announcing "we are reducing its distribution on our platform" while the story is "fact checked by Facebook's third-party fact checking partners."
All morning the bombshell story had been the subject of frenetic commentary from journalists on Twitter. But Stone's announcement killed it stone dead. Twitter followed Facebook's lead and locked The Post's account for two weeks.
Mission accomplished. Polls show that the outcome of the election may have been different if the story had not been censored."
The Federalist demonstrated how biased the tech companies are against conservatives. "Moments after the stories broke, Facebook promptly announced through a corporate spokesman, who was previously a Democratic operative, that the company would be "reducing its distribution on our platform" pending verification by third-party fact-checkers.
"I think it was 5 to 7 days when it was basically being determined whether it was false," Zuckerberg said, without disclosing which third parties conducted the network's so-called fact check. "Fewer people saw it than would have otherwise."
"'We just kind of thought if the FBI, which I still view as a legitimate institution in this country — it's like very professional law enforcement — they come to us and tell us we need to be on guard about something, then I want to take that seriously,' Zuckerberg added, six years after the FBI orchestrated a failed hoax to indict President Donald Trump as a Russian agent."
In a statement, the FBI told Fox News that it routinely furnishes companies with "foreign threat indicators to help them protect their platforms and customers from abuse by foreign malign influence actors."
"The FBI will continue to work closely with federal, state, local, and private sector partners to keep the public informed of potential threats, but the FBI cannot ask, or direct, companies to take action on information received." 
Trump responded in his typical fashion. Currently fighting several investigations, the former president took to his own social media website, Truth Social, and said, "So now it comes out, conclusively, that the FBI BURIED THE HUNTER BIDEN LAPTOP STORY BEFORE THE ELECTION knowing that, if they didn't, "Trump would have easily won the 2020 Presidential Election." This is massive FRAUD & ELECTION INTERFERENCE at a level never seen before in our Country. REMEDY: Declare the rightful winner or, and this would be the minimal solution, declare the 2020 Election irreparably compromised and have a new Election, immediately!"
The former president also asked, "When are the great Agents, and others, in the FBI going to say "we aren't going to take it anymore," much as they did when James Comey read off a list of all of Crooked Hillary Clinton's crimes, only to say that no reasonable prosecutor would prosecute. The wonderful people of the FBI went absolutely "nuts," so Comey had to backtrack and do a FAKE INVESTIGATION in order to keep them at bay. The end result, we won in 2016 (and did MUCH better in 2020!). But now the "Left" has lost their minds!!!"
The Constitution offers no method for redoing an election from the past, but the upcoming midterms promise to be pivotal in deciding who gets investigated and who doesn't. The Democrats plan to continue investigating Donald Trump, those connected to the riot at the Capitol on January 6, 2021, and Clarence Thomas, while Republicans have promised to look into Anthony Fauci, Hunter Biden, and the FBI. 
The midterm elections will be held on Tuesday, November 8, 2022.
[Read More: Millions To Have Lights Turned Out On Them As Biden Plays Footsy With Green New Deal]