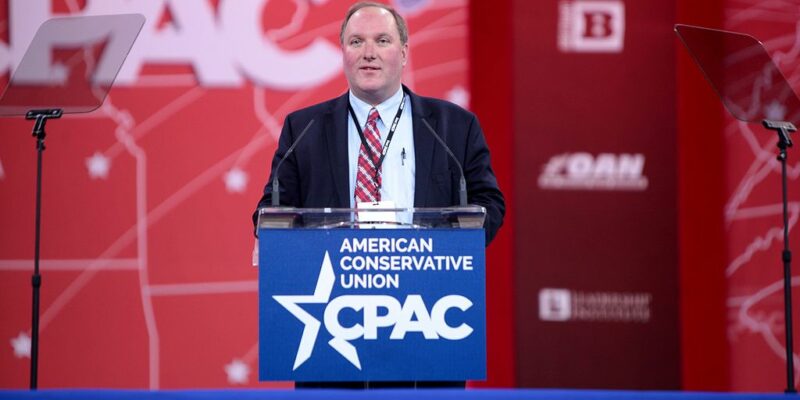 We have learned more about the nature of the unprecedented raid at the former president's mansion in Florida. Politico is reporting that the "National Archives found more than 700 pages of classified material — including "special access program materials," some of the most highly classified secrets in government — in 15 boxes recovered from Donald Trump's Mar-a-Lago estate in January, according to correspondence between the National Archivist and his legal team."
On May 10, the National Archives sent Trump's liaison, John Solomon, a letter showing "that NARA and federal investigators had grown increasingly alarmed about potential damage to national security caused by the warehousing of these documents at Mar-a-Lago, as well as by Trump's resistance to sharing them with the FBI." Solomon himself made the letter public. 
Why Trump's liaison released the letter is a mystery and seems like a giant misstep for Team Trump. The Daily Beast wrote, "Legal experts and reporters were dumbstruck over Solomon's release of the letter—especially since it also seems to knock down Team Trump's previous claims that Trump had a "standing order" to declassify any sensitive documents he had removed from the Oval Office. (A statement that was first reported via Solomon himself, it should be noted.)
"The May 10 letter from NARA is damning to former President Trump on any number of levels—not the least of which is the lack of any reference to a claim by Trump's representatives that he had *declassified* any of the classified materials that were quite specifically at issue," University of Texas law professor Steve Vladeck tweeted Monday night."
In short, the documents that Trump gave back made authorities wonder what he was keeping, and Trump's representatives let everyone know. 
Yahoo reports more details, "In total, the government has recovered more than 300 documents with classified markings from Trump since he left office, the people said: that first batch of documents returned in January, another set provided by Trump's aides to the Justice Department in June and the material seized by the FBI in the search this month.

The previously unreported volume of the sensitive material found in the former president's possession in January helps explain why the Justice Department moved so urgently to hunt down any further classified materials he might have.

And the extent to which such a large number of highly sensitive documents remained at Mar-a-Lago in Palm Beach, Florida, for months, even as the department sought the return of all material that should have been left in government custody when Trump left office, suggested to officials that the former president or his aides had been cavalier in handling it, not fully forthcoming with investigators, or both.

The specific nature of the sensitive material that Trump took from the White House remains unclear. But the 15 boxes Trump turned over to the archives in January, nearly a year after he left office, included documents from the CIA, the National Security Agency and the FBI spanning a variety of topics of national security interest, a person briefed on the matter said."
The Washington Post stated, "Some material recovered in the search is considered extraordinarily sensitive, two people familiar with the search said, because it could reveal carefully guarded secrets about U.S. intelligence-gathering methods. One of them said the information is 'among the most sensitive secrets we hold.'"
The former president's son, Donald, Jr. doesn't seem to be too bothered about the seriousness of the allegations, however. According to reports, "The eldest Trump son shared his opinion – which resembled a stand-up comedy routine – at an event in support of Florida Republican Congressman Matt Gaetz's reelection campaign." 
In a video shared on Twitter, the former First Son yelled, "Donald Trump has the nuclear codes!! In the linen closet at Mar-a-Lago!!" to a cheering crowd. 
He continued: "By the way, for the record, I say that if Donald Trump actually still had the nuclear codes it would probably be good," he hooted. "Our enemies – our enemies – might actually be like, 'okay, maybe, let's not mess with them.' I'm like when they look at Joe Biden then they say, 'we should attack now."
Others are not taking things so lightly. Former FBI General Counsel Andrew Weissman told MSNBC that he believed that there may be a "substantial criminal case" against Trump related to the documents. 
Mediate noted that "Weissman said of Monday's headlines, "there was a lot of news; none of it was good for the president." He then revealed that The New York Times reporting "I found most interesting because of one particular sentence, which is that several sources said that when the archives were trying to get documents back, it was the former president, Donald Trump, who personally reviewed the boxes in deciding what to return." 
That would mean that the former president himself decided not return specific classified items related to national security, the CIA and other items of "national interest."
Weisman continued: "We know from the archive, not just from The New York Times, that in those 15 boxes were a substantial number of classified documents at the highest level," Weissman continued. "That is TSSCI (Top Secret Sensitive Compartmented Information), which is, you know, compartmented program, special access programs. They constituted just within the 15 boxes, 700 pages of classified documents."
"So that is incredibly damning," he continued. "If you are a prosecutor, you really look for evidence of what the former president did personally. If the DOJ either knows about or is soon to interview those people who were sources for The New York Times, they're going to have a substantial criminal case."
The story comes as Donald Trump is allegedly struggling to find lawyers to represent him. New York Times reporter Maggie Haberman, who's known Trump for years, told CNN, "You are seeing many fewer lawyers who are willing to go out and speak for him and/or hitch their wagon [to him] and maybe not get paid — which is a big thing." 
Haberman also claimed that Trump is often a problematic client because "he doesn't like to listen to his lawyers. The fact that it takes a huge effort to get him to do so by his lawyers always. This is an ongoing story we've been watching — frankly not just since he became president, but well before, going back to when he was advised by Roy Cohn many decades ago."
Trump has gained a reputation for not paying or fighting his bills to lawyers for their services. One report said that the former president "failed to pay Rudy Giuliani" for years of work. When his associate submitted a bill for $2.5 million, the former NYC mayor had to intercept it "before it reached Trump," sparking the ire of the president at the time. 
The Washington Post corroborated Haberman, writing that the 45 president's hard time finding "expert legal advice puts [him] in a bind as he faces potential criminal exposure from a records dispute with the National Archives that escalated into a federal investigation into possible violations of the Espionage Act and other statutes.
"'Everyone is saying no,'" said a prominent Republican lawyer, who like some others spoke on the condition of anonymity to discuss confidential conversations."
For his part, Donald Trump adamantly denied the story, posting on his social media website Truth Social, "The WAPO story that "Trump is scrambling to add seasoned lawyers" to the Mar-a-Lago Raid case is, as usual, FAKE NEWS. I already have excellent and experienced lawyers – am very happy with them. This is highly political prosecutorial misconduct, I have not been charged with anything and, most importantly, I did nothing wrong. Thank you!"
The Trump political action committee, Save America, which has raised millions of dollars from small donors, reported paying nearly $1 million to civil and criminal defense attorneys in July. The PAC has been asking donors for funds to defend conservative values and battle President Biden in the midterms. 
Save America PAC also announced a $650,000 "charitable contribution" to the Smithsonian Institution to fund portraits of Donald and Melania Trump for the National Portrait Gallery.
[Read More: As GOP Looks To Take Congress, Fauci Jumps Ship]