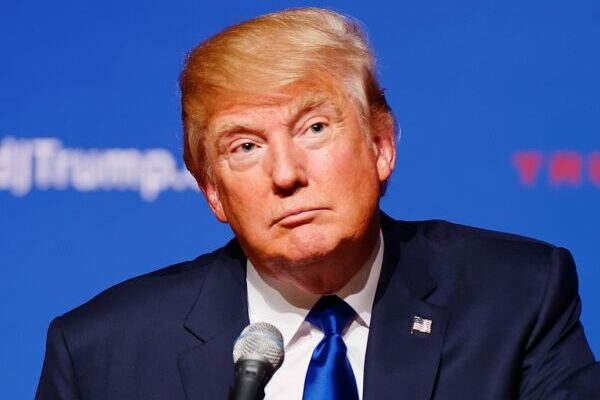 The 2024 race for the White House may get started sooner than we think. The Washington Post reported, "The former president is now eyeing a September announcement, according to two Trump advisers, who like some others interviewed for this article spoke on the condition of anonymity to describe private conversations. One confidant put the odds at '70-30 he announces before the midterms.' And others said he may still decide to announce sooner than September.
Trump has begun talking with advisers about who should run a campaign, and his team has instructed others to have an online apparatus ready for a campaign should he announce soon, two people familiar with the matter said. He also has begun meeting with top donors to talk about the 2024 race, one of these people said, while on trips to various places across the country."
Trump recently gave an interview to the New Yorker in which he discussed his future and his plans to run for the White House again. 
The liberal-leaning magazine wrote, Donald Trump was impeached twice, lost the 2020 election by 7,052,770 votes, is entangled in investigations by federal prosecutors (over the Capitol insurrection and over the mishandling of classified White House documents and over election interference) and the District of Columbia attorney general (over financial fraud at the Presidential Inaugural Committee) and the Manhattan district attorney (over financial fraud at the Trump Organization) and the New York State attorney general (over financial fraud at the Trump Organization) and the Westchester County district attorney (over financial fraud at the Trump Organization) and the Fulton County, Georgia, district attorney (over criminal election interference in Georgia) and the Securities and Exchange Commission (over rules violations in plans to take his social-media company public through a SPAC) and the House Select Committee on January 6…yet on Monday, July 11, he was in a fantastic mood.

It was a beautiful day in Bedminster, New Jersey, where the former president maintains a golf club and private estate to which he decamps when the Palm Beach humidity and the habits of snowbirds shut down Mar-a-Lago for the Mother's Day–to–Labor Day summer season, and it had been a beautiful weekend, too, one he said affirmed the choice he had made about his own future, the future of the Republican Party, and — whether he wins this time or if he loses as sorely as before — the future of the American experiment.

"Look," Trump said, "I feel very confident that, if I decide to run, I'll win."

I fixated on If I decide. Trump is less a politician than a live-action mythological creature, and so punditry and all of the standard forms of analyses tend to fail. What would factor into such a decision for such an unusual person? "Well, in my own mind, I've already made that decision, so nothing factors in anymore. In my own mind, I've already made that decision," he said.

He wouldn't disclose what he'd decided. Not at first. But then he couldn't help himself. "I would say my big decision will be whether I go before or after," he said. "You understand what that means?" His tone was conspiratorial. Was he referring to the midterm elections? He repeated after me: "Midterms." Suddenly, he relaxed, as though my speaking the word had somehow set it free for discussion. "Do I go before or after? That will be my big decision," he said.
Axios broke the news that President Trump is returning to Washington later this month for the first time since his presidency to "to headline an event for the America First Policy Institute….Trump will deliver the keynote address at 3 p.m. ET on the second day of the group's policy summit, which will also feature panel discussions and presentations by several high profile Republican leaders, including former Trump administration officials, members of Congress, governors and state officials."  
It has been reported that Trump may be looking to launch his campaign in Florida out of concern that he's losing the GOP base to Florida Governor Ron DeSantis. The former naval officer has been climbing in the polls, beating the former president in the annual Western Conservative Summit's straw poll. It was the second time DeSantis bested Trump in a showdown. 
Trump and DeSantis appear to be on a collision course over the 2024 nomination. Grassroots leaders and political activists recently launched the "Ready for Ron" committee, led by senior strategist Ed Rollins, Ronald Reagan's 1984 Campaign Chairman and the Chairman of the leading pro-Trump group in 2016, Lilian Rodríguez-Baz. The committee was created to encourage "supporters to get involved with the movement to draft DeSantis for President."
It doesn't seem like the Florida Governor will need too much encouragement. Politico reported that he "recently held a confab of dozens of his top national donors as well as a handful of fellow Republican governors and prominent candidates he's close to as he runs for reelection and eyes a presidential run in 2024, according to two sources familiar with the event."
The news site previously said, "DeSantis has attracted the attention of some of the nation's wealthiest Republican donors, including many who were key financiers of Trump's reelection bid or backers of high profile Republican candidates and causes, according to POLITICO analysis of campaign finance data."
 Although the former president beats DeSantis in national polling, things may not be entirely rosy for the 45th president. A recent New York Times/Siena College poll showed that nearly half of Republicans are looking for an alternative to the former president in 2024. The New York Times discussed the findings, "Far from consolidating his support, the former president appears weakened in his party, especially with younger and college-educated Republicans. Gov. Ron DeSantis of Florida is the most popular alternative."
Much of the country hopes that neither Biden nor Trump run for president in 2024. A different poll, this time from Morning Consult, found that "forty-eight percent of voters in a Politico/Morning Consult survey say that Trump should definitely not run again in 2024, while a further 13 percent say he should probably not run. Meanwhile, 46% of voters say that Biden should definitely not run, while 18% say he probably should not run." 
The news was worse for Biden. Democrats have turned on him. The Times also ran a poll that discovered that the current occupant of the White House "is facing an alarming level of doubt from inside his own party, with 64 percent of Democratic voters saying they would prefer a new standard-bearer in the 2024 presidential campaign." It's no secret that party leaders are looking for alternatives. 
The most shocking development from the poll, one that has conservatives worried, was the Trump versus Biden head-to-head matchup. It showed that despite his massive unpopularity, the current president would defeat Trump. 
The Gray Lady noted, "One glimmer of good news for Mr. Biden is that the survey showed him with a narrow edge in a hypothetical rematch in 2024 with former President Donald J. Trump: 44 percent to 41 percent."
Conservative writer Charles Cooke summarized the trepidation about losing another election to the Democrats: "Joe Biden is on political death row. And yet, in the same poll that has delivered his death warrant, he still beats Donald Trump in a head-to-head matchup."
Biden seemed to relish in the results. While interviewed in Israel, the president indicated "he would welcome going head-to-head with Donald Trump again in 2024." He told Israeli television, "I'm not predicting, but I would not be disappointed."
We'll all be waiting to see what happens come September. 
[Read More: Obama Rebukes Former WH Doc For What He Revealed About Biden]