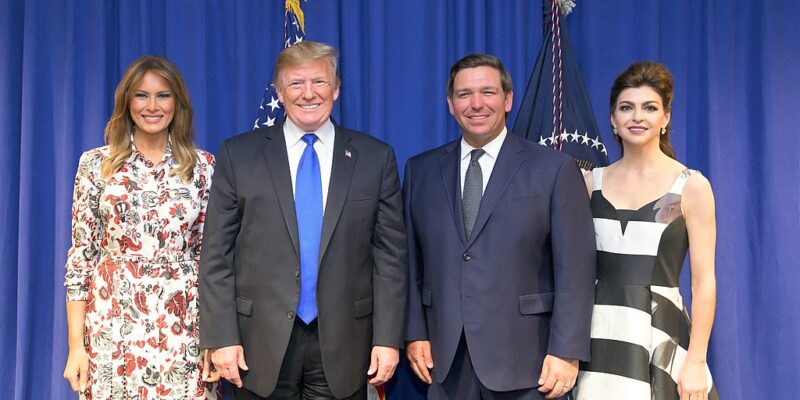 The Washington Post recently wrote, "With months to go before the midterm elections, the shadow campaign for the 2024 Republican nomination is well underway, with at least 15 potential candidates traveling the country, drawing up plans, huddling with donors or testing out messages at various levels of preparation….Interviews with over a dozen GOP operatives indicate he is not clearing the field, and a range of candidates plan to take him on from different angles." 
The DC newspaper explained that candidates are searching for their primary lanes, deciding to campaign on loyalty to the 45th President or "moving the party beyond Trump." Several heavy hitters in the Republican Party have been visiting New Hampshire and Iowa, the first two states of 2024 the primary contest, including Vice President Mike Pence, Secretary of State Mike Pompeo, UN Ambassador Nikki Haley, and Senators Ted Cruz, Tim Scott, and Rick Scott, to name a few. 
Former President Donald Trump and his allies, however, seem to be worried the most about Florida Governor Ron DeSantis. Earlier in the month, the Floridian topped the former president in a straw poll among conservative activists. Politico reported, "DeSantis topped Trump in the annual Western Conservative Summit's straw poll, with 71 percent of participants wanting the Florida governor to run for president in 2024 compared to 67 percent for Trump. The next closest was 28 percent for Sen. Ted Cruz (R-Texas)." Participants were allowed to vote for more than one candidate. 
It was the second time DeSantis beat Trump in a showdown. Straw polls tend to show momentum early on in political campaigns versus regular polling, which often gives a benefit to the most well-known candidate. 
The former president and his most ardent supporters, especially those who have the most to gain from him running for president again in 2024, seem terrified of DeSantis. Rolling Stone Magazine reports that "Donald Trump in recent months has been telling confidants that he may launch his 2024 presidential campaign early — and that he's considering launching it in Florida to stick it to Gov. Ron DeSantis.

…

People who've spoken to Trump say that one reason he's eying the Sunshine State is to assert his dominance over an ascendant DeSantis, who — if they both run in 2024 — would likely be the former president's most formidable competitor in a primary fight for the GOP nomination. One of the sources said Trump's motivation is to show the governor "who the boss is" in the modern-day GOP.

Though Trump has mostly stayed publicly coy about his 2024 intentions, he has privately told an array of associates, political allies, and advisers that he intends to run, or wants to run, against Joe Biden in the next presidential contest. Obviously, he is interested enough in the prospect of reconquering the White House, to the point that he's actively brainstorming on different campaign-launch schemes.

However, not only has no launch date or location been finalized, but Trump lieutenants are fond of reminding others he hasn't made a "final" decision on another campaign, and that whatever commitment he has to a 2024 bid could easily change in the coming months. DeSantis, for his part, is also keeping publicly tight-lipped about his long-term, or short-term, presidential ambitions."
It was recently revealed that Trump "raised more than $250 million from his supporters for an 'official election defense fund' — a fund that did not exist" and used the money from his supporters, usually gathered from text messaging systems, to pay former Fox News host, Trump campaign fundraiser, and fiance to his son, Kimberly Guilfoyle $60,000 for a two-minute-and-thirty-second speech. 
Trump announcing he was running for president in 2024 before the midterm elections of 2022 would show a major sign of weakness for the former president and reveal just how spooked he is by the Florida governor. Such an announcement would also hurt the Republicans this fall by taking the conversation away from the disastrous and deeply unpopular Biden administration and moving it back to the 2020 presidential election. 
According to polling, Republicans are looking at a historic-level win in 2022. Although the Republican "wave is building fast," President Trump making a premature campaign announcement could throw a monkey wrench to the party's big win. U.S. News recently wrote, "A new poll suggests voters generically favor Republicans over Democrats heading into the midterms. But when Donald Trump is mentioned, it's a different story."
DeSantis has pulled away from the pack and on to the level where Trump is concerned about competing against him by taking on some of the most powerful institutions in his state, including the Trump Administration itself during the early days of the pandemic. In his 2022 State of the State speech, he said, "Florida has become the escape hatch for those chafing under authoritarian, arbitrary and seemingly never-ending mandates and restrictions. These unprecedented policies have been as ineffective as they have been destructive. They are grounded more in blind adherence to F**cian declarations than they are in the constitutional traditions."
The governor has been one of Dr. Anthony F**ci's biggest critics. During the early days of C*VID-19, the Florida governor refused to go along with the complete shutdown of society, refusing to close beaches in his state and citing the science against the extreme lockd*wners. He told the podcast "Ruthless" that he thought Trump Administration officials like Dr. A*thony F**ci "p*nicked" during the initial spreading of the virus. DeSantis also said, "one of his biggest regrets in office was not speaking 'much louder' against the Trump Administration's calls for l*ckdowns in the early days of the p*ndemic." 
The governor has also made waves outside of C*VID. Earlier this year he took on Disney, which has run the Sunshine State for a very long time after they began pushing a "woke agenda" in opposition to a law that gave parents more control over the school curriculum taught to their children. He also vetoed a $35 million giveaway to the Tampa Bay Rays MLB team to build a training facility with public funds and criticized children being allowed to attend dr*g shows, or in some cases, schools spending hundreds of thousands of dollars to put on dr*g shows during school. 
Earlier in the year, Donald Trump told Sean Hannity that his "perceived rift" with the Florida governor was "fake news." The former president said, "I get along great with Ron. Ron was very good on the Mueller h*ax. He was right in front along with Jim Jordan and all of the rest of them." 
After the interview, Politico noted, "When he served in Congress, DeSantis was one of Trump's staunchest defenders on Fox News as former Special Counsel Robert Mueller investigated alleged Russian interference in the 2016 el*ction. That got the otherwise backbench Florida congressman on the radar of Trump, who endorsed him for governor and fueled his upset win in the 2018 Florida GOP gubernatorial primary."
[Read More: Biden Spox Talks Biden's Future]