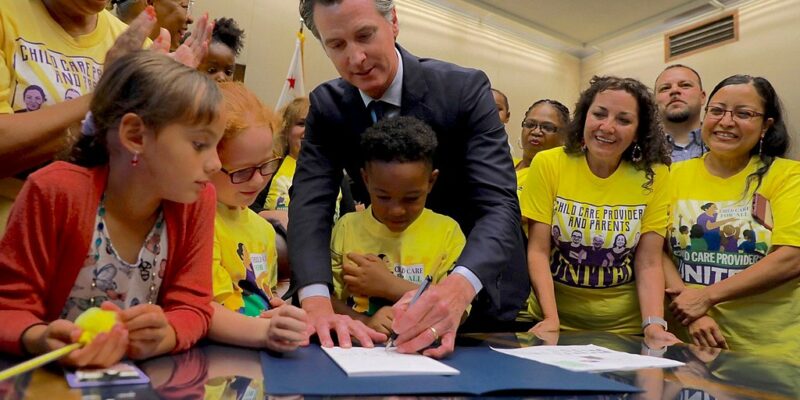 Gavin Newsom has finally revealed when he will tell the leftwingers running his state that they've gone too far. Having people defecate all over his home city did not do it. Having the largest city in the state pay $40,000 per tent to launch a "tent city" did not do it. 
The California governor finally said enough is enough after Democrats in the statehouse passed a law giving judges the authority to take kids away from parents if they did not "affirm" their child's gender identity.
Deviating from his past legislative support of transgender youth in California, Democratic governor Gavin Newsom vetoed a bill that would have required parents to demonstrate affirmation of their child's gender identity in custody court battles, reports The National Review.

Under California Bill AB957, judges would have been legally obligated to specifically consider whether parents have affirmed their child's gender identity or gender expression in determining "the health, safety, and welfare of the child." The California State Assembly passed the bill along strictly party lines earlier this month, hoping to advance transgender rights in the state.

Newsom said in a statement late Friday night he appreciates "the passion and values" of Democratic assembly member Lori Wilson for authoring the bill but disclosed he couldn't sign it.

"I share a deep commitment to advancing the rights of transgender Californians, an effort that has guided my decisions through many decades in public office," Newsom wrote.

"That said, I urge caution when the Executive and Legislative branches of state government attempt to dictate – in prescriptive terms that single out one characteristic – legal standards for the Judicial branch to apply," he added. "Other-minded elected officials, in California and other states, could very well use this strategy to diminish the civil rights of vulnerable communities."
If parents in the Golden State divorce and cannot agree on the custody of their children, judges are instructed to make the determination based on a variety of factors.
Under AB 957, writes Fox News, gender affirmation would have been one of the several factors for judges to consider in custody cases. Wilson, who coauthored the bill along with Democrat state Sen. Scott Wiener, has said the bill would not have required parents to move forward with gender transition medical treatment.
"I am extremely disappointed. I know the Governor's record. He's been a champion for the LGBTQ+ community for years and even before it was popular to do so," Wilson said in a statement after the governor's veto on Friday. "However, on this point, the Governor and I disagree on the best way to protect [Transgender, Gender-Diverse and Intersex] kids."
Wilson said she has been "disheartened" over the last few years as she "watched the rising hate and heard the vitriol towards the trans community." 
"My intent with this bill was to give them a voice, particularly in the family court system where a non-affirming parent could have a detrimental impact on the mental health and well-being of a child," she said. "Whether the roadblock comes from the opposition or even a supporter, it only hardens my resolve. I'm far from done, this fight is personal! Not just for my family, but to all the trans kids that deserve a brighter and safer future."
Many have wondered if the veto is another part of his shadow campaign to run for the White House the event Biden does not. Newsom has recently been positioning himself to be Biden's successor, whether he chooses not to run for a second term next year or in 2028. The California govenror have become one of the president's biggest boosters. 
During an interview earlier in the month, Newsom said, "We need to move past this notion that he's not going to run" during an interview on 'Meet The Press" with Chuck Todd.  
California Gov. Gavin Newsom (D) is emerging as a vocal defender of President Biden and his reelection campaign, after fending off speculation that he could challenge Biden for the White House in 2024. 
Newsom has also swatted down concerns about the president's age and obvious confusion aren't problems for the country. On CNN over the weekend, noted The Hill, Newsom defended the president against persistent concerns about his age, lauding Biden as a "a seasoned pro that knows how to get things done." 
In an interview on NewsNation's "CUOMO," Newsom was asked why he doesn't make a White House run himself. 
"Because I believe in this guy," the governor said of Biden. "His character, his decency and his capacity to do great things. That's why. I'm not worthy of that conversation. This guy deserves it. And we, as members of the party, deserve to have his back."  
Newsom has "very purposefully" made it clear that he's backing the sitting president, positioning himself as "a team player" ready to defend the Democratic ticket up and down, Democratic strategist Eddie Vale told the outlet.  
There have been plenty of reports showing Democrats dislike Vice President Kamala Harris much like everyone dislikes her. Expect Newsom to put more "moderate" varnish on his leftwing weirdness as he tries to appeal to regular Americans. 
[Read More: Top Democrat Caught Red Handed]