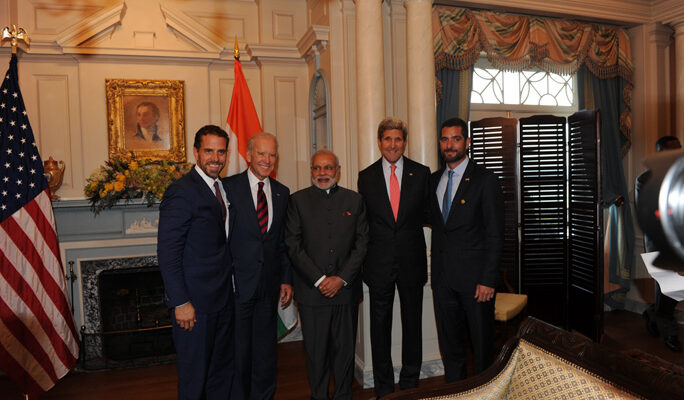 Update: Thing have gone from bad to worse for Hunter Biden. What one reporter has called "the regime paper," The Washington Post, has verified Biden's shady dealings: "The verified emails cover a time period from 2009 to 2019, when Hunter Biden was acting as a consultant to companies from China and Ukraine, and exploring opportunities in several other countries. His father was vice president from 2009 to 2017.
In particular, there are verified emails illuminating a deal Hunter Biden developed with a fast-growing Chinese energy conglomerate, CEFC China Energy, for which he was paid nearly $5 million, and other business relationships. Those business dealings are the subject of a separate Washington Post story published at the same time as this one on the forensic examinations of the drive."
Bill Barr, the U.S. Attorney General under Presidents George H.W. Bush and Donald Trump, went on television recently to say that he was "very disturbed" to watch Joe Biden blatantly lie about "Russian disinformation" during one of the 2020 presidential debates. 
Appearing on Fox News, Barr said that although he yelled at the 45th president when asked about the issue of Hunter Biden's laptop, saying, "I wouldn't discuss criminal cases with him, especially ones that he'd have an interest in." He was also shocked that then-candidate Biden would blatantly lie to the American people "when squarely confronted by the laptop issue" and that the media perpetrated a blackout on the issue that was misinformation at a critical moment for the 2020 campaign. 
The New York Times backed Barr's claims and recently reported the legitimacy of a story initially published and authenticated by the New York Post in October 2020 that stated that Hunter Biden's emails showed shady dealings within the Biden family. The alleged emails and messages showed that the current president was expected to receive 10 percent of a deal with a Chinese corporation facilitated by his son. 
For their part, the New York Post has taken a victory lap, but now without highlighting how the corrupt mainstream media acted in the 2020 election between Joe Biden and Donald Trump. 
"Now we're 16 months away from the 2020 election, Joe Biden's safely in the White House, and the Times finally decides to report on the news rather than carry the Biden campaign's water. And they find that hey, Hunter Biden's business interests benefited from Joe Biden's political status to a suspicious degree. Perhaps this is a topic worthy of examination.

How did the Times 'authenticate' the laptop? It doesn't say. Unlike The Post's reporting, which detailed exactly how we got the files and where they came from, the Times does a hand wave to anonymous sources. No facts have changed since fall 2020. They knew the laptop was real from the start. They just didn't want to say so.

There's never any shame with these 180s. Sorry that we wrote a "fact check" that turned out to be bull! Sorry we wrote a piece claiming something wasn't a story and you were stupid for thinking so!"
The Times wrote that the Justice Department investigation into the business dealings of the president's son remain active and that a grand jury is pursuing details about payments from all over the globe. "People familiar with the investigation said prosecutors had examined emails between Mr. Biden, Mr. Archer and others about Burisma and other foreign business activity….The email and others in the cache were authenticated by people familiar with them and with the investigation." The emails reportedly show that Biden knew the laws and was trying to find a way around them. 
Hunter Biden once admitted that he smoked parmesan cheese, believing it to be cocaine. Today, he sells artwork for half a million dollars apiece despite never having painted professionally before his father became president. 
In 2020, the Treasury Department released a memo stating, "Certain features of the market for high-value artworks make it attractive to those engaged in illicit financial activity, including sanctions evasion. These characteristics include a lack of transparency and a high degree of anonymity and confidentiality, especially with respect to the sale and purchase of high-value artworks." The liberal-leaning magazine Vanity Fair claimed that "Hunter Biden is painting his truth," which I suppose is accurate in its own way.
[Read More: Fauci Warns Of New Lockdowns]