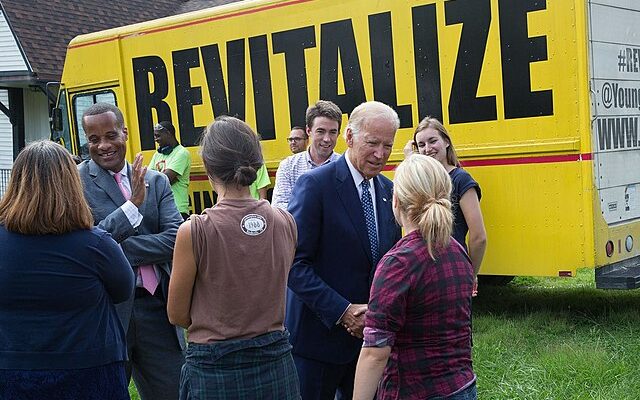 "Bidenomics" is not going well. Amidst labor tension that has culminated in a UAW strike, two of America's biggest automotive brands has been forced to lay off thousands of employees. 
The Detroit Free Press reports that "Ford Motor Co. and General Motors will lay off multiple employees, the two companies announced Friday, saying the United Auto Workers' strike at two plants led to the layoffs.
The UAW declared a strike against the Detroit Three automakers Thursday as contract talks failed to secure new labor agreements before the current deals expired at 11:59 p.m.  
UAW President Shawn Fain announced the first wave of plants the union would strike if a new labor agreement was not reached including Ford Michigan Assembly Plant (Final Assembly and Paint only) in Wayne, Stellantis Toledo Assembly Complex in Ohio and General Motors Wentzville Assembly in Missouri.
As a result, 600 employees at the Michigan Assembly Plant in Wayne were temporarily laid off by Ford. Additionally, GM will likely have to lay off some 2,000 employees at its Fairfax Assembly plant in Kansas City, Kansas, which builds the Cadillac XT4 SUV and the Chevrolet Malibu sedan."
The United Autoworkers Union has long been frustrated by President Biden's economic policies that have favored "green energy" and electric vehicles. 
Labor supporters say the roots of the conflict date back decades, to Democratic presidents who pursued pro-business or free-trade policies that the union blames for hollowing out protections for American workers. Now Biden is facing the blowback from that era, even as he pursues energy policies that he pledges will reverse that tide and rebuild U.S. manufacturing jobs, writes Politico.

"UAW members feel abandoned by the Democratic Party," former UAW President Bob King said in an interview, citing President Bill Clinton's signing of the North American Free Trade Agreement and the failure of Biden's Inflation Reduction Act to ensure that clean energy funds flow to union workers. "I think there's a segment of the Democratic Party that sees itself as serving corporations rather than the common good. … We've had a lot of disappointments."

Biden has touted the climate incentives in last year's Inflation Reduction Act and his 2021 infrastructure law as critical to driving a U.S. manufacturing revival. Those laws have already drawn more than $200 billion in new investments from the private sector for plants to make clean energy products such as electric vehicle batteries and solar panels, aimed at reducing U.S. dependence on fossil fuels.

But those clean energy investments are mostly flowing to Republican-led states and congressional districts, including in states with low levels of union membership and laws that make labor organizing difficult. The UAW could also see a long-term erosion of members from the switch to electric vehicles, which generally have fewer parts than gasoline-powered models — especially if workers making the EVs' crucial batteries aren't covered by the same protections as traditional autoworkers.
Earlier in the year, the UAW laid into Biden's decision to give billions of dollars to Ford to build a battery plant. 
"In the past five years, workers who build GM products in Lordstown, Ohio, have had their lives turned upside down as they were forced to retire, quit or uproot their families and move all over the United States when GM closed their plants despite massive profits."

— UAW (@UAW) June 23, 2023
Biden's cluelessness was on full display earlier in the week when he "old reporters traveling with him on Labor Day that he didn't think a strike would happen," according to NPR.
"Most of the United States' biggest labor unions have already endorsed Biden's reelection bid. But not the United Auto Workers. And that lack of an endorsement is hanging over the contract talks.
'The one thing we have made clear is that our endorsements are going to be earned and not freely given. That's one thing we're doing differently. And there's a lot of work left to be done here,' Fain told MSNBC. 
Fain went on to say he's no fan of Trump as the former president runs for president once again. But Trump is actively courting autoworkers by criticizing the move to electric vehicles. In 2016, he was able to peel away a significant share of votes from rank-and-file union members.
Cedric de Leon, a professor who specializes in labor studies at the University of Massachusetts Amherst, said Biden needs to side with the workers in these talks — and be vocal about it — to hold their support."
Experts are already noting the opportunity is there for Republicans. "I know who will take advantage of it if he isn't full-throated on behalf of workers: Trump will," de Leon told the outlet.
Former President Donald Trump wasted no time looking to seize the advantage with union workers, even at the expense of their own leadership. He claimed that the UAW was letting their members down. 
"The autoworkers will not have any jobs, Kristen, because all of these cars are going to be made in China. The electric cars, automatically, are going to be made in China," Trump told NBC News' Kristen Welker in an exclusive, wide-ranging interview set to air Sunday on "Meet the Press."
"The autoworkers are being sold down the river by their leadership, and their leadership should endorse Trump," added the frontrunner for the Republican presidential nomination.
Biden, in contrast, refused to take sides. "The companies have made some significant offers," Biden said in a speech at the White House. "But I believe they should go further to ensure record corporate profits mean record contracts for the UAW."
[Read More: White House Chief Caught Red Handed]