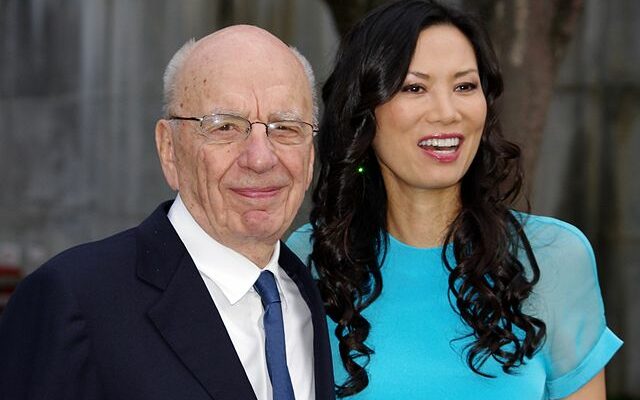 It's a retirement that will shape the media for years to come. Rupert Murdoch, the King of Fox News, has announced that he will be stepping away as chairman of Fox Corp, handing the reins to his son, Lachlan. 
Born in 1931 in Australia, Murdoch built a vast media empire that includes newspapers like The Sun and The Times in the United Kingdom, and The Wall Street Journal in the United States. 
Murdoch's influence extends beyond newspapers and television. As owner of a substantial stake in 21st Century Fox and News Corp, he has played a significant role in shaping the conservative media landscape. 
Murdoch, 92, will transition into a new role as chairman emeritus for both companies, and his son, Lachlan Murdoch, will become sole chairman of News Corp and continue as CEO and executive chairman of Fox Corporation, according to The Hill.

Murdoch insisted he was stepping down at a point where the companies are in good health after a turbulent year that saw Fox News, the crown jewel of his conservative media empire, agreed to pay $787 million to Dominion Voting Systems to settle claims of defamation out of court in connection with false statements the network aired about the company's software being promoted by former President Trump and his allies.

"Our companies are in robust health, as am I," Murdoch wrote in a note to employees Thursday announcing the news. "Our opportunities far exceed our commercial challenges. We have every reason to be optimistic about the coming years – I certainly am, and plan to be here to participate in them. But the battle for the freedom of speech and, ultimately, the freedom of thought, has never been more intense."

Lachlan, the elder Murdoch wrote, is "absolutely committed to the cause."
Murdoch is stepping away after a year that has seen Fox News experience massive troubles. Earlier in the year the company agreed to shell out $787.5 million in settlement to Dominion Voting Systems' following a defamation lawsuit over false claims that the company's machines swayed the 2020 election between President Joe Biden and Donald Trump.
In the aftermath of the lawsuit, Fox News fired its highest-rated host, Tucker Carlson. The outspoken commentator had ruffled feathers and rumors circulated shortly thereafter that Ukraine's president, Volodymyr Zelensky, had asked Murdoch to remove him. 
The cable news network initially saw a huge drop in ratings following the cancellation of Carlson, but that has changed over the past few months. The Washington Post reported recently that "Fox News has regained a significant chunk of the viewers it lost after firing star host Tucker Carlson in April — thanks to a new prime-time lineup designed to capitalize on the existing loyalties of the network's fans.
The top-rated cable-news station saw a sharp drop in viewership in spring, when the fill-in hosts who replaced Carlson at 8 p.m. averaged just 1.49 million total viewers in their first four weeks, less than half of the number that typically tuned in to his show.
But it wasn't just at 8 p.m.: The network's entire prime-time lineup was hurting. In the four weeks before Carlson's exit, Fox averaged 2.6 million viewers in prime time; in the four weeks after, Fox averaged just 1.6 million — still at the top in cable news but down 39 percent.
So far, though, the early results of a new prime-time roster launched July 17 seem promising for Fox, according to Nielsen ratings. Since installing Jesse Watters in Carlson's old slot and replacing Laura Ingraham with Greg Gutfeld at 10 p.m., Fox has averaged 2.2 million total viewers in prime time, compared with the 1.6 million viewers in the previous four weeks."
Changes to Fox and Fox News have long been coming. CNBC wrote, "Nearly a year ago, Murdoch explored reuniting Fox and News Corp., a move that would have allowed leadership to be consolidated in his media empire, as well as cutting costs. Murdoch had split up News Corp. and Fox in 2013.
The proposal had come as audiences shrink for both print media and cable TV, while readers and viewers increasingly get their news and entertainment from online news, social media and streaming.
However, Murdoch called off the proposed merger in January. Murdoch had withdrawn the proposal for the reunion, saying in a letter to the board that he and his son "determined that a combination is not optimal for the shareholders" of either of the companies at the time.
The Murdoch family trust controls roughly 40% of the voting rights of both companies. The family is said to have amassed a fortune of more than $17 billion as of 2023."
Murdoch may be stepping away because his choice for president has shunned his calls to toss his hat in the ring. Reports surfaced last August that the 92-year-old billionaire had been pushing Glenn Youngkin to run for the White House, but his calls were rebuffed. 
[Read More: Biden Appoints Cronies To National Defense Spots]