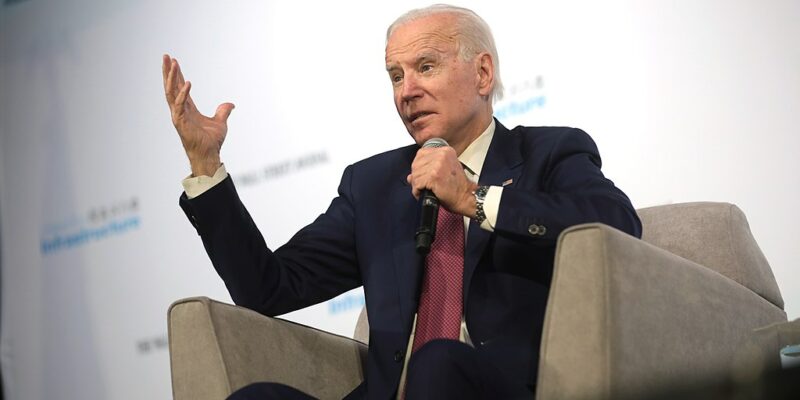 Joe Biden's presidency continues to be highly unpopular as more and more Americans have come to think that the president is simply not up to the task, or, as Elon Musk said this week, not really even in charge. 
Quinnipiac University recently released a poll saying, "Americans give President Joe Biden a negative 35 – 57 percent job approval rating with 7 percent not offering an opinion. In Quinnipiac's previous national poll released on April 27, 2022, he received a negative 38 – 52 percent job approval rating with 10 percent not offering an opinion." Among Hispanic Americans, a group in which Democrats have staked their "permanent majority" on, Biden's approval rating has plummeted to 26%.
This has caused some panic among Democrats, who have begin thinking that they should push the old man out. The problem they are facing is they don't know how.

The Hill recently wrote that "The 79-year-old Democrat and his closest allies say he wants a second White House term and plans to run again. Biden told former President Obama he intends to launch another bid.

But that hasn't silenced the whispered questions about whether he will do so given his age — he will be 81 in November 2024 — and his rocky approval ratings.

Few doubt Biden's desire for a second term, and some Democrats are convinced he'll do it regardless of the skepticism of many others in political circles.

'I fully expect for him to run again,' said Democratic strategist Jim Manley, who served as an adviser to the late Senate Majority Leader Harry Reid (D-Nev.). 'But I wouldn't be surprised if there aren't a bunch of Democrats and their staffers watching very carefully as the weeks and months go by.'"
Vice President Kamala Harris and Secretary of Transportation Pete Buttigieg are expected to be the frontrunners if Dems come to think having an octogenarian who can't remember talking points and often stumbles across his own words on top of the ticket is a bad idea. Not that they, or Elizabeth Warren, last seen blaming the filibuster for a vote that didn't even have a majority, are better options. 
Under Biden's leadership, Democrats are looking at an electoral wipeout this coming fall. Almost 70 percent of the population believes that the country is moving in the wrong direction. Inflation is skyrocketing and retailers are offering warnings about it. The stock market has experts worried it has begun to crash, and gas stations have had to change how their pumps work to show prices at $10 a gallon. An oil refinery CEO just said he thinks there will be fuel rationing this summer.
Biden has said recently, "You want to bring down inflation? Let's make sure the wealthiest corporations pay their fair share." This was only met with confusion from both business leaders like Jeff Bezos and the media. When Peter Doocey of Fox News asked, "How does raising taxes on corporations lower the cost of gas, the cost of a used car, the cost of food, for everyday Americans?" 
The answer from new White House Press Secretary Karine Jean-Pierre was revealing for how out of their depth this administration is. Controversial in her own right for believing elections were stolen in 2016 and 2018, Jean-Pierre offered word salad that didn't even answer the inflation question or discuss the president's inane statement: "Look," she said, "we have talked about … this past year, about making sure that the wealthiest among us are paying their fair share, and that is important to do." 
She continued, "So I think we encourage those who have done very well, especially those who care about climate change, to support a fairer tax code that doesn't charge manufacturers, workers, cops, builders a higher percentage of their earnings than the most fortunate people in our nation, and not let that stand in the way of reducing energy costs and fighting an existential problem, if you think about it, that is an example. To support basic collective bargaining rights as well." 
None of this tackles the significant problems facing Americans today. These people don't care if you can't find baby formula or can't save your money because you have to buy groceries. It demonstrates a White House completely sheltered from reality and an utterly helpless staff incapable of offering solutions.
Who's ready for Kamala 2024? The answer is pretty much no one, but the Dems have to run someone, I guess. 
[Update:  Campaign Manager Says Hillary Personally Pushed The Russian Hoax]