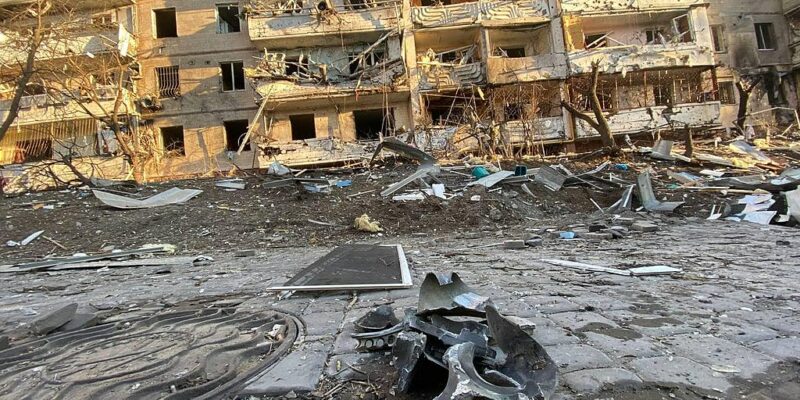 Vladimir Putin faces a new round of worldwide condemnation after video and pictures have been revealed showing what looks like the deliberate killing of civilians in Ukraine, "including rape and civilian corpses left on streets with hands tied behind their back." 
Business Insider reports, "People who lived free of war less than two months ago now find their neighbors dead, their loved ones and children mutilated and scarred inside and out by Russian forces. 

A mass grave in Bucha, near the capital of Kyiv, demolished by Putin's forces, serves as a grisly reminder of President Zelenskyy's statements that "It's still not possible to return to normal life," even as troops begin to leave Ukraine. 

The Mayor of Bucha has said that the mass graves are evidence of what "can only be described as a genocide," The Telegraph reports. Photos and videos on social media show the town of Bucha littered with dead bodies and burnt-out vehicles."
Russia claims that it is pursuing its own investigation into these allegations but claims to be focusing on what it calls "false information" about Russian forces.
"The Investigative Committee claims Ukrainian authorities made the allegations "with the aim of discrediting Russian troops" and that those involved should be investigated over possible breaches of a new Russian law banning what the government deems to be false information about its forces," according to AP.
Ukraine has also been accused of committing war crimes after a grainy video showed what appeared to be Russian POWs being executed. Ukrainian journalists have found charred remains in the spot where the incident was said to be filmed. 
BBC wrote, "The grainy video has been circulating on social media after first appearing in the early hours of Sunday morning (27 March). Since then, it's been widely reposted by pro-Russian accounts on various platforms.
Ukrainian armed forces Commander-in-Chief Valerii Zaluzhnyi said Russia was "filming and distributing staged videos" in order to discredit Ukraine's treatment of Russian prisoners."
Western leaders have decried Russia's invasion. As charges of attacks on civilians have risen, some countries like Lithuania have expelled Russia's ambassador and recalled its diplomats in Moscow. French President Emmanuel Macron has called for more sanctions against Putin, "holding the Russian army responsible for war crimes committed in the liberated Ukrainian city of Bucha." 
For his part, President Biden announced that he believes that Vladimir Putin should face trial for war crimes and support more sanctions.
[Read More: Russian Oligarch Poisoned After Peace Talks]