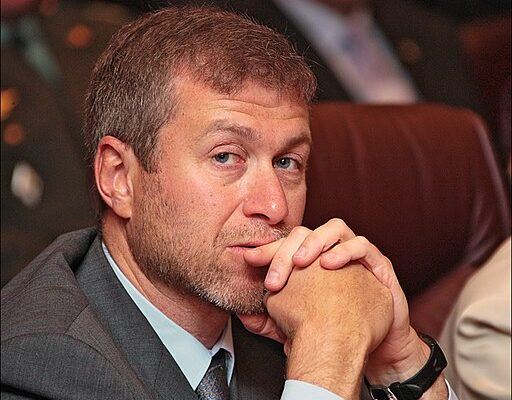 Billionaire Roman Abramovich, a Russian oligarch famous for owning one of the biggest soccer teams in the world, and Ukrainian peace negotiators have likely been poisoned after suffering from "red eyes, constant and painful tearing, and peeling skin on their faces and hands." 
Following a meeting in Kyiv, Abramovich, a leader of the negotiations who has traveled between Moscow, Lviv and other spots around the globe in hopes of resolving the conflict, and two members of the Ukrainian team developed symptoms of poisoning. Their health has reportedly improved since the incident earlier in March. Abramovich has since been in public.
The Wall Street Journal reported, "Russian oligarch Roman Abramovich and Ukrainian peace negotiators suffered symptoms of suspected poisoning after a meeting in Kyiv earlier this month, people familiar with the matter said.

The victims blamed the suspected attack on hard-liners in Moscow who they said wanted to sabotage talks to end the war. 

Mr. Abramovich and the Ukrainian negotiators, who include Crimean Tatar lawmaker Rustem Umerov, have since improved and their lives aren't in danger, the people said. Ukraine's president, Volodymyr Zelensky, who has met with Mr. Abramovich, wasn't affected, they said. Mr. Zelensky's spokesman said he had no information about any suspected poisoning."
Sources close to the Russian billionaire have reportedly claimed that whoever targeted the group remained unclear and that Abramovich was not sure how the poison was deployed. 
Putin and Abramovich have long been considered close friends and the Russian president approved of the billionaire's role in Russia-Ukraine talks. Abramovich traveled to Russia to "give Putin a handwritten note from Zelensky dictating Ukraine's terms' in a bid to end war… but was told, 'Tell him I will thrash them,'" according to a British newspaper.
Abramovich was orphaned at the age of three but became one of the world's richest men. Since the beginning of the war between Russia and Ukraine, his connection to Vladimir Putin has seen his assets seized by UK authorities and his reputation tarnished. It has been alleged that Abramovich's $500 million yacht, which has its own missile defense system, is actually owned by Putin himself. 
[Read More: Biden Calls For Putin's Removal]