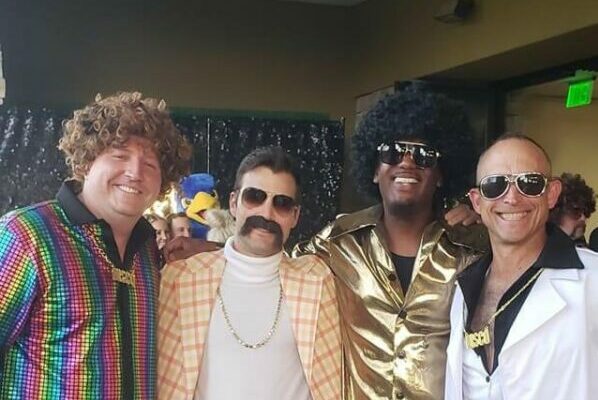 Sometimes a guy just can't catch a break. All Arizona DJ Kim Koko Hunter, an African American disc jockey, wanted to do was make some money working a charity disco night put on by the Scottsdale Unified School District's Hopi Elementary PTA. Instead, a professor, Scott Rhoden, and a local librarian and activist, Jill Lassen, accused Hunter of wearing blackface. Both consider themselves experts in Diversity, Equity, and Inclusion (DEI).
Reminder: Hunter is black. 
Rhoden, who teaches several education courses at Arizona State University and has stated that he wants to reclaim the term "school choice," doubled down on calling the school district racist for hiring a black DJ. On his Facebook, he wrote: "After sending an email to the principal to express my concern, all I received was that the DJ was a 'Black man.' The PTA president responded that; "I would like to set the record straight. The **** PTA hired a black man to be our DJ. Please share with me how this is curturally unaware? I know no apology will undo this image, so I will not be offering one. Another parent got all up in my DMs telling me how much money they raised and that I was this and that and none of it positive."
The disco night raised over $300,000 for the local schools.
The professor continued, "Let me be clear, a Black man, apparently in Black face is an entirely different discussion than a White person. However I did not state that the person was White. It was assumed that was my intent, and perhaps it was, but nonetheless, looking on his FB page (photos below), it seems at the very least he is in darker make-up if not 'Black face' or I am completely mistaken and it's the lighting of the patio.
So here's what I want to say. I apologize to dude for the implication, but the sentiment still stands, Black face by anyone, in this day and age is problematic. I also apologize to folks who reposted and made other statements based on my assumption." 
Unlike Rhoden, a native of Chicago merely working in Arizona, the "dude" he referred to "is local to Phoenix, a graduate from South Mountain HS. He's a community leader who is passionate about engaging youth and has established multiple programs across Valley communities and through Boys & Girls Clubs. He helped Elevate Phoenix raise over $1M last November. He is a strong education advocate and was an administrator at a local charter high school until recently retiring to focus full-time on his entertainment company."
Jill Lassen, co-chair of the Scottsdale Parent Council's diversity, equity and inclusion committee also sent a note complaining of racism to the PTA chair. 
PTA head Megan Livengood responded, "I am deeply offended by this email even with the included apology. The Scottsdale Parent Council is an organization that claims to encourage diversity and inclusion; accusing the Hopi PTA and myself a hiring a DJ that participated in racist behavior is absolutely against your mission." 
Hunter responded to the hullabaloo by saying, "Was I not Black enough? How black do I got to be for people to know that I'm an actual Black person." He posted a video of him having a good time at the event.
Lassen later apologized but soon caused a stir among Tempe parents. The Arizona Independent reported, "Parents are questioning the decision by the Scottsdale Parent Council (SPC) to encourage their children to support 'Arizona's official Drag Story Hour' chapter by attending its April 26th event.
The call to action by the SPC's Equity, Diversity, and Inclusion Committee is just the latest controversy generated by the group. However, critics say, few should be surprised by the move considering Committee member Jill Lassen has been 'aggressively pushing the groomer agenda.'"
[Read More: For Trump Spokesman Goes After Guns]