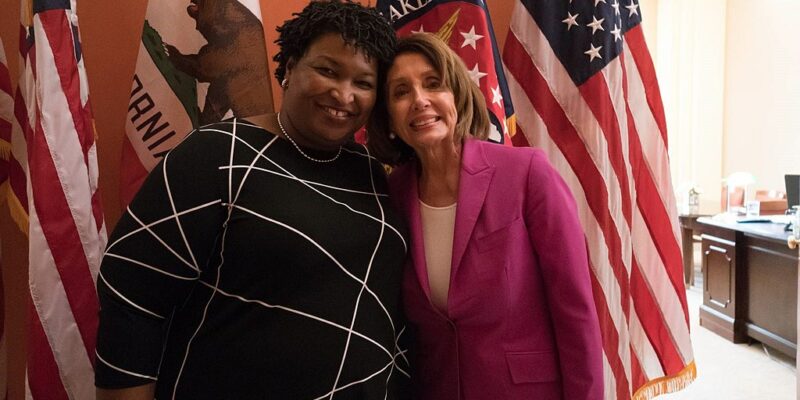 Who could have guessed that activism paid so well? When Stacey Abrams originally launched her 2018 campaign for Georgia governor, she revealed in financial disclosure documents that she owed the IRS over $50,000 and held nearly $170,000 in credit card and student loan debt. That spring her net worth was recorded to be about $110,000 overall. Since 2018 her financial prospects have really changed.
Losing elections pays off. 
As Abrams prepares to run for governor once again, the former minority leader in the Georgia House of Representatives has had to reveal that she's worth well over $3 million nowadays. Shortly after her failed campaign, Abrams launched a non-profit charity to support voting rights that raked in over $50 million in fundraising. 
Kicking off her campaign, Abrams once again pretended that she won the 2018 campaign, saying, "She did the work, now she wants the job," the Atlanta Journal Constitution reported.  
The Kemp camp responded to the rhetoric, the kind when said by Trump has been labeled "The Big Lie." Spokesman Tate Mitchell explained that while the governor led the Peach State through the pandemic, Abrams "spent her time chasing the covers of style magazines and running a shadow campaign for president." 
Today, as WTXL has noted, Abrams says that "she shouldn't be penalized for success."
Abrams isn't the only liberal activist to turn activism into millions. After a thorough investigation, New York Magazine has divulged that Black Lives Matter secretly bought a $6 Million house for their leaders to use. 
"On a sunny day late last spring, three leaders of the Black Lives Matter movement — Patrisse Khan-Cullors, Alicia Garza, and Melina Abdullah — sat around a table on the patio of an expensive house in Southern California. The women were recording a YouTube video to mark the first anniversary of George Floyd's murder, and they discussed their racial-justice work and the difficulties they had faced over the year.

None of the women acknowledged the house behind them. It's far from a box, with more than 6,500 square feet, more than half a dozen bedrooms and bathrooms, several fireplaces, a soundstage, a pool and bungalow, and parking for more than 20 cars, according to real-estate listings. The California property was purchased for nearly $6 million in cash in October 2020 with money that had been donated to BLMGNF.

The transaction has not been previously reported, and Black Lives Matter's leadership had hoped to keep the house's existence a secret. Documents, emails, and other communications I've seen about the luxury property's purchase and day-to-day operation suggest that it has been handled in ways that blur, or cross, boundaries between the charity and private companies owned by some of its leaders. It creates the impression that money donated to the cause of racial justice has been spent in ways that benefit the leaders of Black Lives Matter personally."
Hawk Newsome, the Black Lives Matter Greater New York City leader, an organization unaffiliated with the Khan-Cullors' Black Lives Matter Global Network Foundation, has demanded an independent investigation to determine how the global network spends its money.
He told the New York Post, "If you go around calling yourself a socialist, you have to ask how much of her own personal money is going to charitable causes. It's really sad because it makes people doubt the validity of the movement and overlook the fact that it's the people that carry this movement." 
This is not the first time BLM leaders have been criticized for buying mansions. Previously, Khan-Cullors had been knocked for owning over $3 million in property all over the country, "with some being in wealthy predominately white neighborhoods."
In 2020 Khan-Cullors signed a "multiplatform deal" with Warner Bros Television to "develop and produce original programming across all platforms, including broadcast, cable and streaming." Shortly afterward she and her spouse Janaya Khan bought their fourth home in Georgia on over 3 acres of land. The house includes a private airplane hangar, its own guest apartment, and the use of a 2,500-foot runway for small private jets.  
[Read More: Calls To Cancel Pence at UVA]