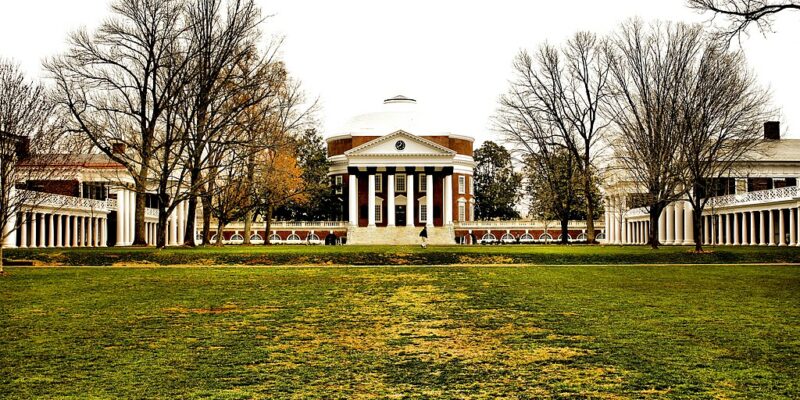 In 1817, three presidents of the United States, Thomas Jefferson, James Monroe, and James Madison, along with Chief Justice John Marshall held a meeting on the subject of creating a university in Virginia. After some discussion, and likely a few drinks (they met at a tavern after all), they selected Charlottesville as the appropriate site for the University of Virginia. The college became so dear to the author of the Declaration of Independence that Jefferson included his leadership of the institution on his tombstone. Today, he's probably spinning underneath it as students call for more censorship of speakers they disagree with. 
In an op-ed, the editorial board of the student newspaper The Daily Cavalier called for the university to block former Vice President Mike Pence from speaking on the grounds because "hateful rhetoric is violent — and this is impermissible." The screed continues: "The University's silence is deafening. Do not mistake this for neutrality, however. To be silent in the face of those like Pence is a choice — in this case, a choice to fail to protect the lives of those on Grounds who Pence blatantly threatens through his rhetoric and policies. To hide behind a sentiment that celebrates engaging with 'leaders and experts from a wide variety of fields and perspectives' is to actively undermine the values of diversity, honor, integrity, trust and respect that the University purports to celebrate. Silence in the face of a homophobic, racist and transphobic politician only makes room for such 'perspectives' at our University."
The panic-stricken oped did receive some pushback from students. Emma Camp, a senior at UVA, took to Twitter to say, "I get it, Pence upsets people (and I encourage them to protest outside the event.) But in no way will this event kill anyone. This will not endanger anyone's physical safety. To use such language makes it difficult to clearly talk about actual persecution. We need to be able to say that we think something is bad without also calling it murderous. Words have meaning, and I'm disappointed that CavDaily gave into concept creep here, and called something "violent" which emphatically isn't."

Camp's message followed an op-ed of her own in The New York Times in which she wrote: "I went to college to learn from my professors and peers. I welcomed an environment that champions intellectual diversity and rigorous disagreement. Instead, my college experience has been defined by strict ideological conformity. Students of all political persuasions hold back — in class discussions, in friendly conversations, on social media — from saying what we really think. Even as a liberal who has attended abortion rights demonstrations and written about standing up to racism, I sometimes feel afraid to fully speak my mind.

In the classroom, backlash for unpopular opinions is so commonplace that many students have stopped voicing them, sometimes fearing lower grades if they don't censor themselves."

Long gone are the days when college students demanded free speech no matter what. Students at the University of Virginia, the public university with the most DEI staff in the entire country at 95 employees, want to replace the children's nursery rhyme of "sticks and stones may break my bones by words will never hurt me" with "words will always hurt me, so we better grab some sticks and stones." 
The U.S. News and World Report states that the price of tuition at the University of Virginia is $19,698 for Virginia residents and $53,666 for those attending from out of state. Room and board costs over $12,500. 
[Read More: FBI Who Stopped Kidnapping Revealed]