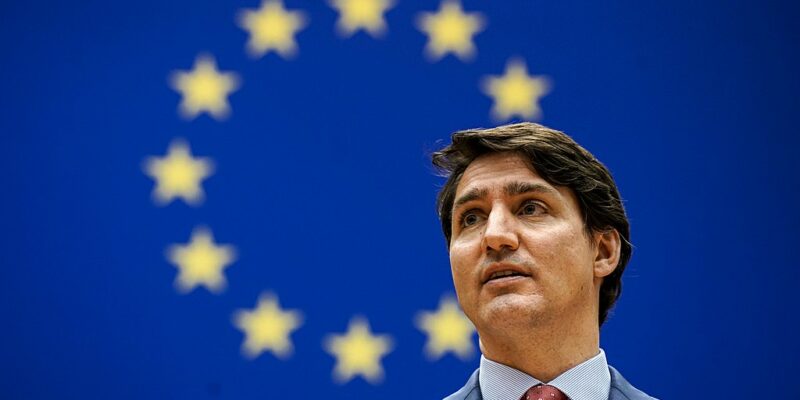 Canadian Prime Minister Justin Trudeau likely thought he was going to be speaking in front of allies when he traveled across the pond to speak to the European Parliament. He was in for a surprise after he got off the plane in Brussels. The boyish prime minister was met with speeches of derision and at one point, called a dictator over his treatment of the Freedom Convoy.  
Croatian Member of European Parliament and former judge Mislav Kolakusic derided Trudeau to his face, lambasting the Canadian for civil rights violations against Freedom Convoy protesters.
"Speaking before the European Parliament, Kolakusic accused the prime minister of engaging in a "dictatorship of the worst kind" by using the Emergencies Act to crush peaceful demonstrations. 
Kolakusic's speech followed Trudeau's own address to the parliament, where the prime minister had sounded off on purported threats to democracy posed by freedom protesters. 
Kolakusic responded to Trudeau's claims through a Croatian translator.
'To defend our rights and the rights of our children, which we have acquired over the centuries, many of us – including myself – are willing to risk our own freedom and our own lives,' he said. 'Unfortunately, today there are those among us who trample on these fundamental values

Kolakusic then turned to face Trudeau.

'Canada, once a symbol of the modern world, has become a symbol of civil rights violations under your quasi-liberal boot in recent months,' he said."
One of Germany's members also spoke out against Trudeau. Christine Anderson took the floor to say, "It would have been appropriate for Mr. Trudeau of Canada to address this house according to Article 144, an article designed to debate violations of human rights, democracy, and the rule of law, which is clearly the case with Mr. Trudeau. Then again, a prime minister who openly admires China's basic dictatorship, who tramples on fundamental rights by persecuting and criminalizing his own citizens as terrorists just because they dared to stand up to his perverted concept of democracy, should not be allowed to speak in this house at all."  
Earlier in the year, for 23 days, Ottawa, the capital of Canada, became a parking lot as hundred of trucks and other vehicles blocked roads and bridges to protest social restrictions and vaccine mandates. Trudeau panicked and responded harshly, invoking emergency powers, threatening to seize the bank accounts of donors to the rally, banning cryptocurrency transactions, and sending in thousands of police to arrest the protesters. 
A nearly empty European Parliament watched Trudeau's speech in which he attacked the Trucker Convoy. 
[Read More: Pelosi Mocked Across The Pond]