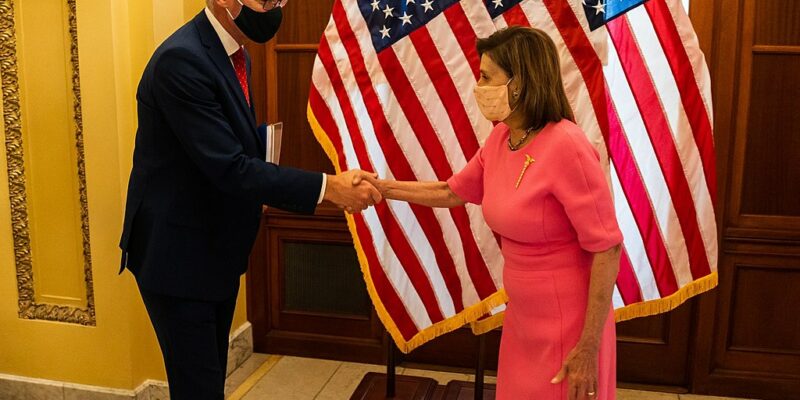 It's often sad to see Father Time take its toll on the elderly, especially when they're still public figures. Usually, when this sort of thing begins to impact performance, the person retires. When Nolan Ryan's fastball lost some of the zip, he hung up the cleats. When Sean Connery started to slip on scripts and saw less success at the box office, he retired. Unfortunately for the United States, however, when the Speaker of the House started to lose an edge, she instead announced her plan to run for another term. 
Earlier this month, the Speaker was roundly mocked for her garbled press conference that often mixed Women's History Month with the current war in Ukraine. As missiles hit Ukrainian hospitals and Russian tanks rolled toward the national capital, Ukrainian President Volodymyr Zelensky spoke with the second in line for the American presidency, asking for ways that the United States could help his troubled country. Pelosi reported that "In fact, when I spoke to President Zelensky, I said, 'Billie Jean King sends you her regards and wants to know how she can help.'"  
She went on to say: 
"Again, the call with Zelensky was, for me, a great honor, as I said. My colleagues who had spoken with him by phone over the weekend shared that view. 

He – we talked about that maternity hospital. We talked about weapons — that Putin is using weapons to, prohibited in the Geneva Conventions, including cluster bombs and vacuum bombs which cause severe suffering. The subject that we talked about also was the nuclear power plants that the Russians are – have as a target, and that two million, two million Ukrainians — and the number will continue to grow — are fleeing their country. We want to be as helpful as possible. He – one of the things he called upon, of course – he wants planes, he wants anti‑missile weaponry, he wants armored cars, he wants a number – tanks. But he also – he wants the planes, the planes, the planes. You know that. But he also said that we're going to need everybody's help in rebuilding Ukraine as soon as we end this war. He was very positive about that. 
Unfortunately, the Speaker did not explain how the 78-year-old former tennis star might supply anti-aircraft weapons or humanitarian aid to the three million who've fled west escaping the Russian barrage, nor did she confirm that Zelensky even knew of Billie Jean King, who became famous in her 1973 Battle of the Sexes tennis match. 
Throughout her press conference, the Speaker seemed to mix up or slur words. The Daily Express, out of England, covered some of the reaction of Pelosi's performance across the pond, and it wasn't pretty. Yvette Henson said: "Good grief America, have a word with yourselves. You do realise Planet Earth can see this, right? She looks like she's doing a puppet show and someone stole her puppets."
Alex Thorne expressed dismay: "Why do all of this woman's interviews play out like a question answered by the weakest link Miss America pageant contestant… after a three-martini lunch?"
Terese Hudson also questioned her mental state, saying: "And now it's time for Nancy's second bottle of wine for the day."
This was not the first time someone expressed concern about Nancy Pelosi's health. A North Carolina member of the House of  Representatives suggested that "The theories of alcoholism are very true, and it's very sad." For her part, the Speaker's Office has responded to these accusations by saying she does not drink alcohol, and others have labeled her as a teetotaler. 
[Read More: Billionaire Challenges Putin To A Duel]