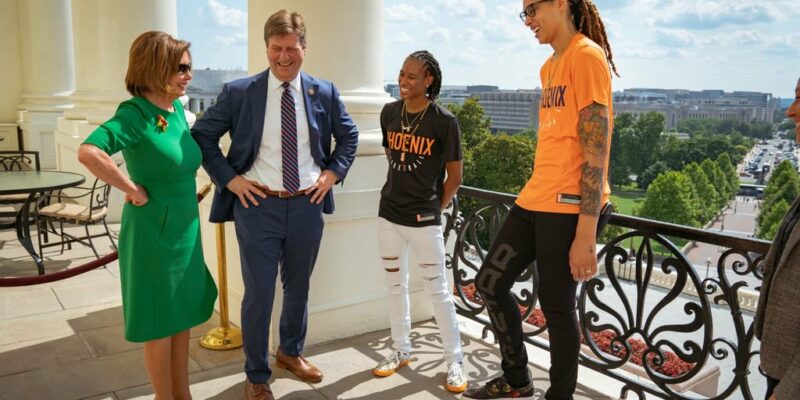 [Editors note for subscribers: Today's story, Outrageous: Liberal Judge In Texas Gives Slap On The Wrist To Sexual Predator Teacher can be found at this link.]
WNBA star of the Phoenix Mercury Brittney Griner was convicted in Russia of drug possession and drug smuggling on Thursday. A Russian judge sentenced her to nine years in prison and fined her over $16,000, or a million rubles. 
In July, she admitted guilt to the court, but said that "there was no intent. I didn't want to break the law." An expert on Russian criminal cases explained her plea, telling ESPN, "Traditionally, the best defense is to admit your guilt and hope you get a lesser sentence. There's not a lot of examples of people raising strong defenses and getting acquitted." Turns out maybe the United States legal system isn't as bad as it's often made out to be. 
Her strategy apparently didn't work.
Fox News detailed how Griner, 31, appeared in a courtroom in Khimki, just outside Moscow. She issued an apology ahead of her verdict and sentencing as prosecutors pushed for a 9.5-year sentence.

"I want to apologize to my teammates, my club, my fans and the city of (Yekaterinburg) for my mistake that I made and the embarrassment that I brought on them," she said. "I want to also apologize to my parents, my siblings, the Phoenix Mercury organization back at home, the amazing women of the WNBA, and my amazing spouse back at home."

Griner contended she made "an honest mistake" when she brought vape cartridges containing oils derived from cannabis into a Moscow airport back in February, adding "I hope in your ruling it does not end my life."

Russian prosecutors argued Griner purposely packed the cannabis oil. Griner's lawyers argued that Griner was using marijuana to treat pain, but Russian officials said the U.S. laws regarding the legality of the drug had no bearing on the Russian judicial system.
CNN writes that the "verdict comes about six months after the 31-year-old was arrested at a Moscow airport and accused by Russian prosecutors of trying to smuggle less than 1 gram of cannabis oil in her luggage. The two-time US Olympic basketball gold medalist pleaded guilty to drug charges last month and said she accidentally packed the drugs while in a hurry."
The lawyers for the basketball player said in a written statement that they would soon be appealing the decision because the court ignored evidence. CBS Sports previously reported that "during the hearing on Aug. 2, Griner's lawyers argued that the state-appointed forensic expert who examined the cartridges found in her luggage made some technical and procedural errors….the defense team called another forensic expert, Dmitry Gladyshev, to testify on the stand."
President Biden released a statement calling for the basketball player's return: "Today, American citizen Brittney Griner received a prison sentence that is one more reminder of what the world already knew: Russia is wrongfully detaining Brittney. It's unacceptable, and I call on Russia to release her immediately so she can be with her wife, loved ones, friends, and teammates. My administration will continue to work tirelessly and pursue every possible avenue to bring Brittney and Paul Whelan home safely as soon as possible."
Paul Whelan, a former U.S. Marine, was arrested by Russia on charges of espionage in December of 2018. He had been visiting Moscow over the holidays to attend a wedding "when he suddenly disappeared."
The head of global security for a Michigan-based auto parts supplier, Whelan was sentenced to serve 16 years in a Russian jail. 
In July, the Biden Administration offered a "substantial proposal" to Russia asking for the release of Griner and Whelan. Secretary of State Antony Blinken said, "In the coming days, I expect to speak with Russian Foreign Minister Lavrov for the first time since the war began. I plan to raise an issue that's a top priority for us: the release of Americans Paul Whelan and Brittney Griner, who have been wrongfully detained and must be allowed to come home. We put a substantial proposal on the table weeks ago to facilitate their release. Our governments have communicated repeatedly and directly on that proposal."
As expected, the Russian government requested a king's ransom for the two American prisoners. Putin's officials asked "that a former colonel from the country's domestic spy agency who was convicted of murder in Germany last year be included in the US' proposed swap of a notorious arms dealer Viktor Bout for Brittney Griner and Paul Whelan," multiple sources told CNN.
"The request was seen as problematic for several reasons, the sources told CNN, among them that Krasikov remains in German custody. As such, and because the request was not communicated formally but rather through the FSB backchannel, the US government did not view it as a legitimate counter to the US' offer."
In December 2021, a Berlin court convicted Vadim Krasikov "of the murder of a Georgian citizen of Chechen ethnicity in broad daylight in 2019 and sentenced him to life in prison." He is allegedly a high-ranking member of the Russian intelligence service. 
German prosecutors said that the murder was a political hit job ordered by the Russian government.
According to The Washington Post, the Germans "described the case as state-mandated murder and a severe breach of German law and sovereignty, and ordered the expulsion of two Russian diplomats who were described by local media as intelligence agents.
Krasikov was convicted of killing Zelimkhan "Tornike" Khangoshvili execution-style with three gunshots on Aug. 23, 2019, in the central Berlin park Kleiner Tiergarten after tailing him on a bicycle." 
Biden may be trying to make the most lopsided trade in WNBA history.
The president, instead, offered to give Russia Viktor Bout, a Russian arms dealer currently serving a 25-year US prison sentence. Known as "The Merchant of Death," The New York Post wrote, "Bout has been in US custody since 2008, when a secretive sting operation lead by the Drug Enforcement Administration captured him in Thailand." The Russian had been fueling war for decades, especially in the Middle East where he supplied Hezbollah with weaponry. 
Griner's previous activism, the NBA, and its players have not been especially helpful in getting popular movement behind getting the basketball star back from Russia. Conservative pundits have mocked her for previously criticizing the United States.
In 2020, the Phoenix Mercury star said in an interview, "I honestly feel we should not play the national anthem during our season. I think we should take that much of a stand."
"I don't mean that in any disrespect to our country. My dad was in Vietnam and a law officer for 30 years. I wanted to be a cop before basketball. I do have pride for my country."
"I'm going to protest regardless," she told the Arizona Republic. "I'm not going to be out there for the National Anthem. If the league continues to want to play it, that's fine. It will be all season long, I'll not be out there. I feel like more are going to probably do the same thing. I can only speak for myself.
The NBA has taken a "low key" approach to freeing Griner. The New York Times noted the league "has been relatively muted outside of news conferences as Griner's family, her agent and the women's league and its players have led the public push for her freedom." 
One of those players was Lebron James, who took the time to attack the United States when asked about Griner's situation. He said, "Over 110 days, now how could she feel like America has her back? I would be feeling like, 'Do I even want to go back to America?'"
"King" James later backtracked, tweeting: "My comments on "The Shop" regarding Brittney Griner wasn't knocking our beautiful country. I was simply saying how she's probably feeling emotionally along with so many other emotions, thoughts, etc inside that cage she's been in for over 100+ days! Long story short #BringHerHome."
In reaction to the news, American Secretary of State Blinken said, "This step puts a spotlight on our significant concerns with Russia's legal system and the Russian government's use of wrongful detentions to advance its own agenda, using individuals as political pawns." 
Former White House Press Secretary Ari Fleischer took a more realpolitik stance, criticizing the Biden administration for lack of leverage over Putin. He told Fox News, "He's making a moral statement that what Russia did was wrong and that she should be freed. And that's an appropriate thing for a president to say. But I go back to basics. Will it impact Putin? Will it change Russian behavior? And the answer is no, because Joe Biden doesn't have leverage around the world anymore. This is part of the problem when you have a president who is just not held in high regard and lacks leverage. It's also a reflection of Russia's invasion of Ukraine, where they thumb their nose at everybody and do whatever they want to do. So why would we expect them to behave appropriately involving one prisoner when they are behaving entirely inappropriately involving another country? It's a reflection of the modern Russia that we're up against and why we need to be tough.
Griner's lawyers have 10 days to appeal the verdict. 
[Read More: Biden Sees Mass Exodus from the White House]