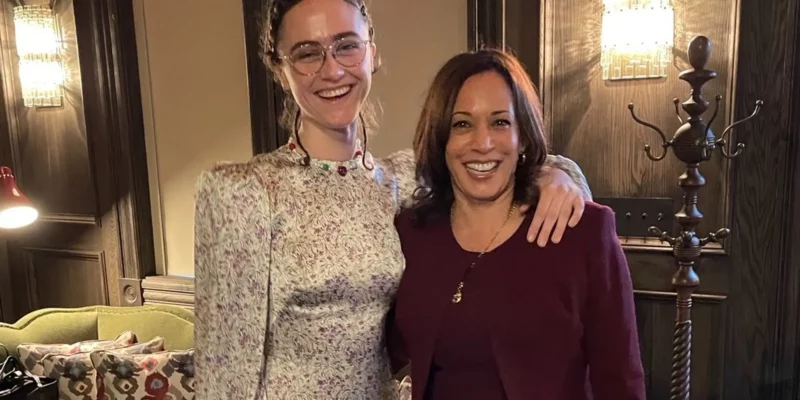 The Biden Administration loves saying one thing and doing another. Over the past month, since Hamas killed 1,400 women and children in a heinous terrorist attack, New Conservative Post has noted that while Biden and the White House say they are standing with America's longstanding ally, Democratic staffers, particularly younger staffers who trend more antisemitic, continue to undermine the cause. 
The brain rot of anti-Israel sentiment has now gone beyond White House staff and infected Kamala Harris's family. 
The New York Post reports that Ella Emhoff, the vice president's stepdaughter, has begun raising funds that experts say will go to Hamas to help them continue firing rockets into Israel. 
Ella Emhoff, 24 — whose father, Second Gentleman Doug Emhoff, is Jewish — affixed a fundraising drive "supporting urgent relief for Gaza's children" on her personal Instagram account.

It makes no mention of the scores of Israeli children murdered among the 1,400 innocent Israelis killed by Hamas terrorists on Oct. 7.

Her promotion puts the funding appeal in front of her 315,000 Instagram followers.

The fundraiser, which has netted more than $7.8 million so far, is being operated by the Palestinian Children's Relief Fund, a nonprofit based in Kent, Ohio, which raked in more than $21 million in 2021, according to ProPublica.
A member of the House Homeland Security Committee spoke out against the Second Daughter's support for terrorism. Van Drew, a Republican from New Jersey, said, "It's of tremendous concern and I find it abhorrent. To be honest with you, I am kind of stunned by it. It's disturbing to the maximum degree." 
Ermhoff, whose own father is Jewish, is merely an example of how the youngest generation of adults has embraced antisemitism. Spurred on by social media, a recent poll revealed that a majority of young people believe that the Hamas attacks against civilians could be classified as genocidal and that they were justified.
Just as we saw with "mostly peaceful protests" as riots burned down cities during 2020, liberals, elected and in the media, have begun to justify the use of genocidal language, particularly "from the river to the sea," a slogan chanted by Pro-Palestine protestors calling for the destruction of Israel. 
On Friday, Congresswoman Rashida Tlaib defending the phrase, which has been defined as "code for eradicating" the largely Jewish nation by watchdogs.
"From the river to the sea is an aspirational call for freedom, human rights, and peaceful coexistence, not death, destruction, or hate. My work and advocacy is always centered in justice and dignity for all people no matter faith or ethnicity," the far-left "Squad" member wrote in post on Twitter following a video she posted earlier in the day that included the phrase.
https://twitter.com/RashidaTlaib/status/1720574880557539763
Fox News reported that "The Anti-Defamation League, an advocacy group that combats antisemitism, ripped Tlaib for a previous use of the phrase in 2020. 'From the River to the Sea, Palestine will be Free – code for eradicating the State of Israel and its millions of Jews. Reminder – this is a sitting U.S. Congresswoman,' the group wrote on X, then referred to as Twitter.
The phrase has also received sharp criticism from others, including former counterterrorism expert Nathan Sales, who said last month that when protestors chant "Palestine from the river to the sea," they are really calling for the "extermination of the Jewish state."
'They think that Israel shouldn't exist at all,' Nathan Sales told Fox News' 'Sunday Night in America.' 'This is exterminationist rhetoric and our First Amendment means that we have to tolerate this kind of speech, but the antidote for that kind of abhorrent speech is more speech. We need to expose what these Hamas sympathizers are really all about.'" 
Earlier in the day, Tlaib had posted a video criticizing Joe Biden that perfectly encapsulates the Orwellian methods deployed by the far left to mask their calls for violence. 
"Mr. President, the American people are not with you on this one," Ms. Tlaib says in the video. "We will remember in 2024."
After she speaks, the screen goes dark and a message appears in white lettering stating: "Joe Biden supported the genocide of the Palestinian people. The American people won't forget. Biden, support a cease-fire now. Or don't count on us in 2024."
.@POTUS, the majority of the American people are not with you on this one. #CeasefireNow pic.twitter.com/rV97zrMkad

— Rashida Tlaib (@RashidaTlaib) November 3, 2023
The New York Times noted that "accusing Mr. Biden of supporting genocide marks an extraordinary broadside against the president by a lawmaker from his own party. The language in the video also threatens to widen an already tense fissure within the Democratic Party on the conflict, with pro-Palestinian and pro-Israeli members of the party trading accusations of bigotry."
What the newspaper didn't point out, lest it upset its leftwing readership, was that Tlaib was claiming she supported peace while posting a video that called for violence.  
Conservatives, however, quickly pointed out Tlaib's Orwellianism. 
Weird. Your video doesn't say "peaceful coexistence."

It does say this however https://t.co/gksgHQbFL0 pic.twitter.com/ZsH01Wuyav

— Stephen L. Miller (@redsteeze) November 4, 2023
Not all Democrats are falling in line, however. Avowed liberal Bill Maher pointed out the insanity that has been rising among the Left and called out the hypocrisy.
On Thursday, in an interview with NBC News, the leader of Hamas explicitly said the group will continue their terrorist attacks. The next time children are slaughtered, will Democrats cheer and raise funds for the butchers? So far Kamala Harris hasn't even been willing to take on her own daughter. 
[Read More: Biden's Racist Policy Will Make Things Worse]