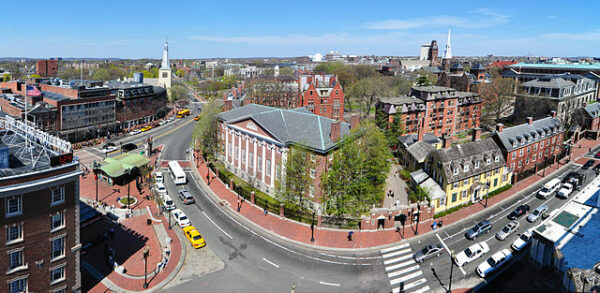 Over the past month, college campuses all over the United States have seen a rash of antisemitism that has left most Americans what the heck students are being taught. 
For example, in the immediate aftermath of the terrorist attacks that left 1,400 Israeli civilians, many of them children, slaughtered, a Cornell professor took the stage at a pro-Palestine rally and said that he was "exhilarated" by Hamas murdering Israelis. 
At Harvard, dozens of student groups signed a letter blaming Israel for the attack while expressing sympathy with terrorism, calling it "decolonialism." Last week, a Jewish student was physically attacked by one of the editors of the Harvard Law Review. 
More recently, The University of Pennsylvania recently apologized after appalling images were shared on social media revealing anti-Israel messages displayed on campus buildings. 
University officials told Fox News that "police are conducting an investigation into the incident, which they characterized as 'vile' and 'antisemitic.'"
"Last night, vile, antisemitic messages were projected onto several campus buildings, including Penn Commons, Huntsman Hall, and Irvine Auditorium. Penn Police were notified and quickly responded, and a full investigation is currently underway,' said University of Pennsylvania President Liz Magill.
She continued, "We will pursue this matter to the fullest extent and take swift action in accordance with our policies."
Phrases including "From the river to the sea, Palestine will be free" and "Zionism is racism" were projected onto the facade of several buildings on UPenn's campus in Philadelphia, Pennsylvania.
"For generations, too many have masked antisemitism in hostile rhetoric," Magill wrote. "These reprehensible messages are an assault on our values and cause pain and fear for our Jewish community."
Now, as more and more have viewed what's happening at our nation's most prominent universities with a more skeptical eye, research has revealed that many of the schools with high-profile instances of antisemitism also received billions of hidden money from foreign sources. 
Over 200 US universities including elite institutions Carnegie Mellon, Cornell, Harvard and Massachusetts Institute of Technology have been accused of raking in $13 billion in "undocumented contributions from foreign governments," according to a new report, writes The New York Post.

A sizable portion of the funds were said to be donated from authoritarian regimes around the globe including Qatar, Saudi Arabia, China and the UAE, the report from the Network Contagion Research Institute (NCRI) claimed.

The huge windfall of cited money was not recorded with the US Department of Education between 2014 and 2019, the NCRI said.

Carnegie Mellon University received the most from foreign entities in that time span at $1.47 billion while Cornell University scooped up $1.29 billion, Harvard University notched $894 million and MIT collected $859 million, according to the report.
Qatar donors emerged as the top foreign contributors to American universities, contributing $2.7 billion. Following closely, England secured the second spot on the list with a contribution of $1.4 billion.
China channeled $1.2 billion, and Saudi Arabia added another $1.1 billion, as outlined in the report. The UAE reportedly contributed $431 million.
The study stated, "Over the last decade, institutions of higher education across the United States of America have received billions of dollars from foreign donors that were not reported to the U.S. Department of Education, as required. The U.S. Department of Education mandated these institutions to file reports detailing the amount and sources of such funding. In this paper, we present four studies examining the extent of this funding and its statistical relationship to campus political climate and events, utilizing information available in public reports. Given that a significant portion of this unreported funding came from authoritarian regimes, our analysis delves into the levels and sources of such funding, exploring the correlation between this funding and a decline in liberal democratic norms related to free speech, academic freedom, and instances of antisemitism on campus. Concurrently, we sought to assess the validity of campus antisemitism in comparison to national assessments reported by the FBI and ADL, revealing strong spatial correspondence between these assessments.
Study One found a concerning association between the receipt of undocumented money and the erosion of free speech norms on campuses. This manifested in increased campaigns to penalize scholars for their speech, showing a correlation with heightened levels of such campaigns from both the left and the right. Moving beyond free speech, Studies Two through Four specifically addressed the relationship between undocumented funding and antisemitism on campuses. Study Two revealed that the receipt of undocumented money was linked to elevated levels of campus antisemitism, with a more pronounced relationship observed when the funding originated from Middle Eastern or authoritarian states. Study Three predicted increased perceptions of campus antisemitism through a national survey administered to 1748 college students. Study Four employed Granger Causality temporal analyses, uncovering positive directional associations between campus antisemitic incidents and antisemitic incidents on the county level. Additionally, it identified a higher temporal correlation between the use of the #Israeliapartheid hashtag on Twitter and antisemitic incidents at institutions that received undocumented funding compared to those that did not.
In its totality, these findings illuminate how a lack of transparency in funding reporting coincides with antidemocratic norms and antisemitism across American institutions of higher education. The discussion within the paper addresses the limitations of this research, emphasizing the role of undocumented funding in eroding liberal democratic norms and exacerbating intergroup conflict. Furthermore, it outlines directions for future research, aiming to shed light on the intricate dynamics between foreign funding, campus climate, and the integrity of democratic principles within the higher education landscape."
The conclusion by the authors was chilling for anyone who has college-aged children. They write that the money "raises the sobering possibility that international actors are using undisclosed channels to funnel large amounts of money into college campuses (including elite institutions that often have outsized influence on American culture and politics) for purposes harmful to the democratic norms of pluralism, tolerance, and freedom."
Cornell responded to the report with defiance. 
"We are proud of this collaboration that is helping to train much needed doctors to support patient care, biomedical research and overall quality of life. The remaining funding received supports medical and scientific research," Joel Malina, the vice president for university relations told The Post.
None of the other universities responded to requests for comment from the newspaper.
[Read More: Biden Official Faces Impeachment]