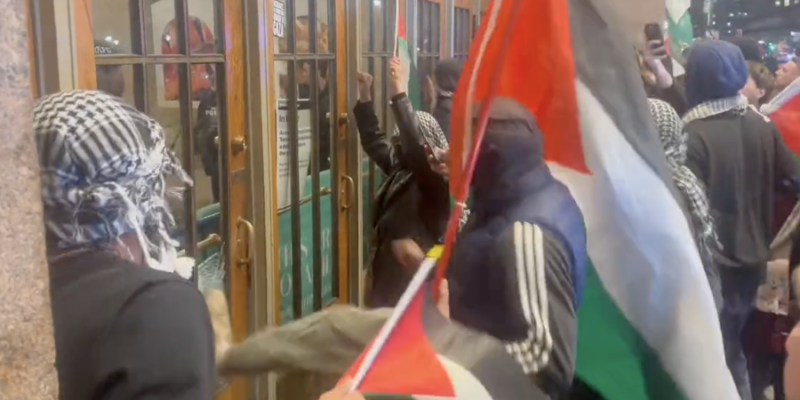 Another Republican who pushed to censure Rashida Tlaib for her anti-Israel antics has had her life threatened. Marjorie Taylor Greene, an outspoken conservative from Georgia, received an apparently credible threat that put her and her staff's life in danger. 
Sean Patrick Cirillo, 34, of Macon, Georgia, called Greene's office on Wednesday and threatened to shoot and kill her, according to the representative's office.

Greene's office shared a recording of a threatening phone call with CNN.

"I'm going to murder her; I'm going to shoot her in the (expletive) head and kill her, OK," the caller said. "Tell the FBI."

"You're going to die. Your family is going to die," the caller yelled.

Cirillo is charged with using communications devices to make threats, according to a spokesperson with the US Attorney's Office for the Northern District of Georgia — a felony offense.
This is the second time in a week that Republicans in Congress have been threatened with violance. Congressman Rich McCormick announced on Tuesday had closed his district office in Cumming, Georgia. He said his staff was experiencing "serious threats of violence."
I take the safety of my team seriously. I am temporarily closing my physical district office location in Cumming, GA due to serious threats of violence against my staff. These threats have been reported to Capitol Police and will be investigated fully.

We will still be working…

— Congressman Rich McCormick, MBA MD (@RepMcCormick) November 7, 2023
Both McCormick and Greene introduced resolutions to censure Rep. Rashida Tlaib, a member of the Squad who has fundraising connections with Hamas, over comments in support for wiping out Israel and using the language of radical Islamic terrorists.
Pro-Palestinian violence has been rising all over the United States. On Friday, protestos "flooded Manhattan for a second night and forced the closure of Grand Central Terminal on Friday, demanding an immediate cease-fire in Gaza.
The pro-Palestinian rally started at 5 p.m. Friday at Columbus Circle, with thousands marching through the streets demanding a ceasefire overseas.
Marchers then made their way to the New York Times building, vandalizing the front with a red tint before heading to Grand Central.
They surrounded the building, forcing its closure and disrupting LIRR and Metro-North service."
Hamas supporters in NYC have surrounded Grand Central Station and are attempting to breach the outer doors to reach police officers sheltering inside. pic.twitter.com/7z2PoiQquJ

— @amuse (@amuse) November 11, 2023
The violence in New York City follows on the heels of a pro-Palestine protester murdering an elderly Jewish man named Paul Kessler at dueling California rallies on Sunday. Witnesses to the altercation claim that the alleged murderer was trying to instigate violence. 
"Jonathan Oswaks, a Jewish-American, befriended Kessler at earlier 'We Stand With Israel' events in Thousand Oaks. Oswaks, also 69, was pictured carrying American and Gadsen flags alongside Kessler hours before the fatal fall in footage provided to Fox News Digital. He said Tuesday that he witnessed the altercation between the two protesters firsthand. 
Oswaks said that, after shouting directly in Kessler's face with his megaphone, the 50-year-old suspect suddenly punched the elderly man in the face with the bullhorn." 
"I clearly saw the megaphone flying through the air [toward Kessler]. The man was holding it, there was a red lanyard attached to it," Oswaks told Fox News. "There's no question, he threw the punch."
Over the same weekend, a mob began attacking Jews outside of The Museum of Tolerance (yes, really) during a screening of "Bearing Witness to the October 7 Massacre," a 45-minute-long compilation of videos shot by Hamas terrorists during their attack. The disturbing footage shows graphic images of murder and destruction, including children being shot and killed in their pajamas.
The pro-murder, pro-Hamas mob was so outraged that there was a screening of the Hamas atrocities that they attacked attendees. At LA's Museum of Tolerance.

If it wasn't so horrifying, it would be ironic. pic.twitter.com/xQ85C17h0I

— Aviva Klompas (@AvivaKlompas) November 9, 2023
The Washington Free Beacon explained that "the attack took place amid a dramatic surge in anti-Semitic violence across the country and throughout the world following the Hamas attack on Israel, which took the lives of more than 1,400 Israelis, mostly civilians.
Two weeks earlier, Los Angeles police arrested a man who allegedly broke into a Jewish family's home and threatened to kill them. The suspect, Daniel Garcia, was filmed yelling 'Free Palestine' as police took him into custody.
The pro-terrorist goons," the newspaper concluded, "were enraged by a film that provides irrefutable evidence of Hamas atrocities that many of the group's supporters have dismissed as Israeli propaganda."
[Read More: Universities Receiving Major Foreign Cash]