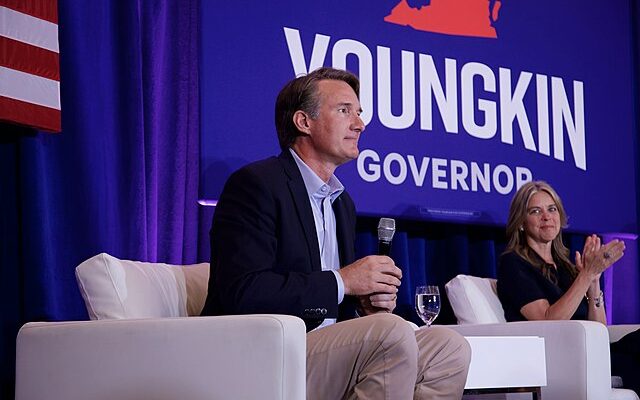 To much of the disappointment of the donor class, the popular governor of Virginia has again reiterated that he will not be throwing his hat in the ring for president, at least in 2024. Glenn Youngkin reiterated in an interview with Maria Bartiromo on Fox Business that he is focused on his home state, not the White House. 
Yougkin is a favorite of Fox News owner and media mogul Rupert Murdoch, who has, according to reports, "repeatedly encouraged Virginia Gov. Glenn Youngkin (R) to run for president in 2024, according to two people familiar with entreaties made in at least two face-to-face meetings.
The previously unreported meetings took place months ago, but Murdoch's ask has taken on fresh relevance as Youngkin continues to lay the groundwork for a potential last-minute White House bid and as Murdoch outlets hyped his presidential prospects this month with a mix of sober Wall Street Journal analysis and buzzy Page Six blurbs."
Poor Rupert will likely not get what he wants. 
Democrats currently control Virginia's state Senate, while Republicans are defending control of the House this November. If the GOP can flip the state Senate, it would allow Youngkin to enact more conservative legislation in Virginia, including restrictions on abortion access, and would aid Youngkin's rising prominence in Republican circles, according to The Washington Examiner.

"Well, Maria, as I've said, there's nothing more important than us holding our House and flipping our Senate in Virginia. That's where my full attention is. And I'm not, I am not paying attention to the filing deadlines, etc.," the governor said. "I'm paying attention to making sure we hold our House and flip our Senate. I think this is so important for Virginians and for the nation to see that this can happen. That we can put to work conservative common sense policies, and we can win. And we can bring together a state that was truly blue. People thought it was purple — we can turn it red."

"I've said over and over again how humbling it is to even talk about my name in this context," Youngkin said when Maria Bartiromo asked him about running for president. "But I am so focused on Virginia elections this year to make sure that we deliver. We've got a giant agenda, and therefore I'm campaigning across Virginia for our House and Senate delegates and senators. I'm not in Iowa, and I'm not in South Carolina, New Hampshire. We're focusing on Virginia."

Presidential speculation for Youngkin began almost immediately after he defeated Democratic Gov. Terry McAuliffe (D-VA) during the 2021 gubernatorial race, the first time a Republican had done so since 2009. Yet Youngkin has so far passed on most of the hallmark steps of a potential presidential candidate. He has eschewed visits to crucial nominating states, including Iowa, New Hampshire, Nevada, and South Carolina.
Glenn Youngkin basically admits to Maria Bartiromo that he will miss several filing deadlines to get on the ballot in early GOP presidential primary states.

Simply put, he's not running, folks. pic.twitter.com/cNlucWYBEM

— Curtis Houck (@CurtisHouck) August 30, 2023
Although Youngkin acknowledged that he will miss important filing deadlines to run in the 2024 primary, which should end the speculation altogether, that hasn't stopped Democrats from using the presidential chatter against him.
NBC writes that "Virginia Democrats are worried the national party isn't doing enough to stop Republican Gov. Glenn Youngkin, raising alarm bells that he could try to use wins on the state level to pull Virginia to the right and, potentially, mount a presidential bid.
Chief among their worries is this fall's legislative elections. Every single seat in the commonwealth's General Assembly, which is currently split between the two parties, is up for re-election in November. Republicans now hold a five-seat edge in the House of Delegates with three vacancies, while Democrats control the Senate by the same margin. Youngkin's statewide operation is aiming at a GOP sweep, which would open the door to a conservative governing package Democrats have largely been able to stymie during his first two years in office."
Spirit of Virginia, Youngkin's PAC, "has become a financial engine the likes of which Republicans have not seen since 2011, when then-Gov. Bob McDonnell, then seen as a rising GOP star, became chair of the Republican Governors Association. Youngkin has raised $9.5 million since the beginning of the year from donors across the U.S., including recent fundraisers on Nantucket in Massachusetts and in the Hamptons in New York, a source familiar with the PAC's finances confirmed. That money is now aimed at arming Virginia's GOP candidates with the resources they need to win in November. And Youngkin is building ties with prominent and connected leaders across the country along the way.
It is an out-of-state money and political machine that Virginia Democrats say they haven't matched. The commonwealth's two Democratic senators are now getting involved, with a specific focus on pushing the national party to pay attention to what is at stake this fall."
Democrats want to stop Youngkin's popularity because it could impact the likelihood of holding the Senate next year. One of the governor's allies recently announced that he would be taking on Hillary's former vice presidential pick, Tim Kaine, in the 2024 Senate race in the Old Dominion. 
"Retired Navy combat veteran Hung Cao, who ran an energetic but unsuccessful campaign last year for a blue-leaning northern Virginia U.S. House seat, has set his sights on the U.S. Senate, announcing Tuesday that he's seeking the 2024 Republican nomination to challenge Democrat Tim Kaine.
A Vietnamese immigrant who spent 25 years in the Navy, including service in combat zones around the world, Cao pledged to be a "fighter" at a time when he said the country had taken a 'dark turn.' explained The Associated Press.
"We are losing our country. You know it. But you also know you can't say it. We're forced to say that wrong is right," he said in his announcement video. 
Expect Youngkin to stay a political force, especially if he continues to focus on being a good governor rather than constantly looking at climbing the political ladder. 
[Read More: GOP Mastermind Experience Yet Another Health Crisis]