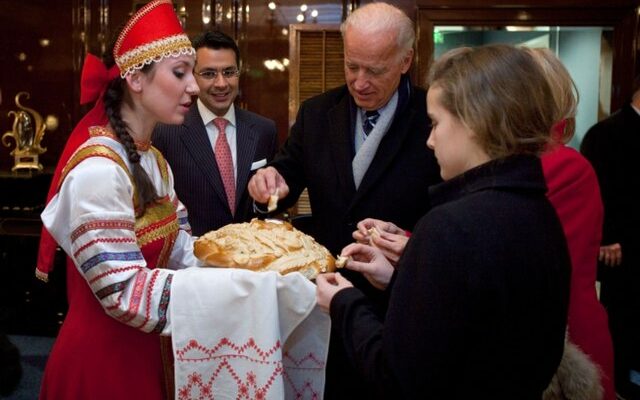 Last week, as residents of Maui picked up the pieces of the worst wildfire in over a century, President Biden and the extended members of the Biden Crime? Family spent a week in Lake Tahoe, Nevada, one of the wealthiest places in the United States. The crew stayed at the $18 million waterfront mansion of billionaire climate investor Tom Steyer.
The New York Post noted that "the home features a 'spectacular lakeside gazebo [that] rests between the park-like grounds and the calming shores of Glenbrook Bay,' the real estate website says.
The president has enjoyed free vacations at the homes of other prominent Democrats, but the White House said that he will pay for the stay at Steyer's three-acre property.
'The First Family is renting a private home for their stay in Lake Tahoe,' a statement read. 'The home belongs to Tom Steyer and Kat Taylor. The First Family is renting the home for fair market value.' 
If there's one thing this family knows, it's "fair market value." 
While the conflict of interest between the climate activist and the president obviously stands out, it also turns out that their stay in Steyer's mansion might have been illegal. A local outlet in the Silver State reports that authorities there have opened an investigation into the trip. 
The Globe received a scoop this morning that a complaint was filed by a Douglas County resident with the Vacation Home Rental (VHR) Advisory Board against billionaire climate investor Tom Steyer, owner of the Glenbrook mansion that the First Family is renting while on a nine-day vacation in Lake Tahoe.

The complaint reportedly cites that Steyer does not have a VHR permit for his $18 million waterfront manse. If found to be in violation, Steyer could be subject to a $20,000 civil penalty per county ordinance.

In 2005, Douglas County enacted measures to control and manage the amount of VHR's in the region by adopting a permit process and related regulations. VHRs are defined as properties that are rented on a short-term basis of 28 days or less; permits are limited to 600 within county limits.

This morning, The Globe reached out to the VHR board via email and received a reply from the Program Manager/Head of Code Enforcement Ernie Strehlow that states: "Several inquires have been received on this address. We cannot comment further as we are actively investigating any Douglas County Nevada code violations on this rental."
The Post noted that Biden's Inflation Reduction Act included spending billions of dollars of taxpayer money on, wouldn't you know it, the exact kind of things Tom Steyer has made billions of dollars investing in. 
"Biden last year signed into law the Inflation Reduction Act, which included an estimated $369 billion in financing for environmental programs and tax incentives.
Senate Majority Leader Chuck Schumer (D-NY) said at a White House event this week celebrating the anniversary of the bill that the environmental provisions could end up totaling between $500 billion and $1 trillion due to unexpected demand."
Earlier in the year it was reported that Steyer would "begin acquiring and upgrading apartments and buildings across the U.S. in an effort to cut greenhouse gas emissions, according to reports.
Bloomberg reported on Wednesday that Galvanize Climate Solutions' latest plan will rest on strategic asset acquisition, proprietary methods of retrofitting buildings and adding solar panels in buildings across the country, and result in the long-term payoff of assembling a portfolio of energy-efficient buildings.
The head of Galvanize Real Estate Joseph Sumberg told the media outlet that the firm will also look into purchasing student housing, self-storage, and industrial properties, focusing mainly on low-density multifamily residential properties that have one to three stories and surface parking, which can provide a great area for solar panels.
'This is a real estate strategy with a decarbonization goal,' Sumberg told Bloomberg. 'Capitalism will look at this successful strategy, and replicate it, creating ripples through the built environment.'" 
Wouldn't you know it, it turns out that Biden's signature piece of legislation, the Inflation Reduction Act, included tax benefits and funding that will send billions of dollars to people exactly like Tom Steyer. 
The IRA, writes RMI, "contains two main types of building improvement financial incentives for efficiency upgrades and electrification: tax credits and rebates.
Tax credits for building retrofits are available now; however, the increased incentive levels (especially for advanced electric appliances) and other upgrades will go into effect beginning January 1, 2023. These credits will be available for a decade.

The state-run efficiency and electrification rebate programs will take some time to design and roll out to consumers (up to 2 years).
The Inflation Reduction Act directs unprecedented levels of funding toward the critical aim of making the US buildings sector climate-friendly, more affordable, healthier, and safer."
Steyer's company states that it is "a climate capital partner, investing across asset classes and capital structures to accelerate solutions that aim to drive material climate impact and achieve compelling returns."
It is not immediately clear how much Steyer will make from his "green investments" that are associated with the Inflation Reduction Act. 
[Read More: Obama State Department Blows Up Biden Alibi]