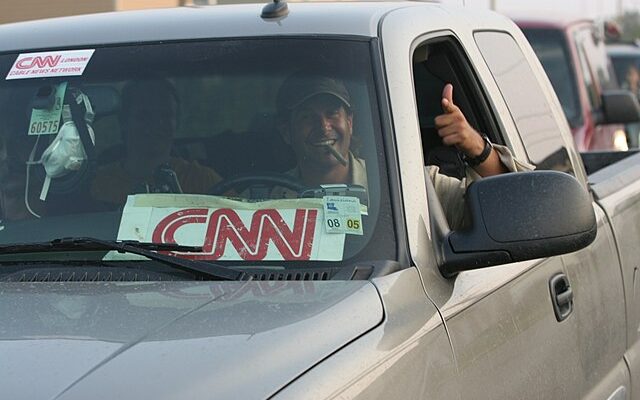 CNN can't get out of its own way. Only a year into his tenure, Chris Licht was fired as chairman and chief executive of the news channel and now its facing a major lawsuit from one of its own reporters. 
"The Most Trusted Name In News" said last month that "Licht's departure capped a tumultuous year for CNN, marked by layoffs, shrinking profits, historically low ratings, the firing of two anchors, and rock-bottom employee morale. The chaos that defined the last year also followed several other gut punches to the organization, including the ouster of previous leader, Jeff Zucker, and shuttering of nascent streaming service CNN+."
Firing their CEO, however, did not solve the oncoming problems at the news channel. While many reports have noted that CNN seemed to be a hostile network for women anchored in the United States, especially those who partnered with recently-fired former star Don Lemon, the news channel's foreign bureau might be the next bombshell to explode in the hands of CNN's leadership. 
A few years ago, a reporter was left disabled following an accident while reporting from Jerusalem on the Israel-Palestine conflict. When she asked to present her stories behind a desk while she recovered from her injuries, she was met with discrimination, she alleges. 
Saima Mohsin was left disabled after an accident while reporting from Jerusalem on the Israel-Palestine conflict. Her cameraman ran over her foot in a car, causing severe tissue damage that has left the British-Pakistani journalist struggling to sit, stand and walk or return to work full-time, reports The Guardian.

After the incident in 2014 the foreign correspondent claims she requested alternative duties and support for rehabilitation but CNN refused. She also alleges that she asked CNN if she could switch to a presenting role in order to reduce the amount of time spent travelling but was told "you don't have the look we are looking for". Three years later the channel terminated her contract.

She said she had decided to bring the employment tribunal claim, which is due to be heard in London on Monday, because the network had failed to support her after the life-changing injury. "I worked hard to become an international correspondent and loved my job with CNN. I risked my life many times on assignment for CNN believing they would have my back. They did not."

Mohsin's claim also alleges race and disability discrimination, as well as a complaint about the gender pay gap at CNN. She claims she was denied high profile on-air opportunities, with managers choosing to put white American correspondents on air even when she was ready to go live on the ground.
A British-Pakistani journalist, Mohsin now works for London's Sky News and has made a program for ITV about living with the invisible disabilities she suffered while working for CNN.
"She told the Daily Mirror earlier this year that after sustaining the injury in 2014, she would stand 'on one leg like a flamingo' on camera, but was eventually bedridden as the pain got worse and her foot turned black, according to an Instagram post Mohsin shared of the newspaper page.
Since 2019, Mohsin has worked with a pain specialist who has helped her treat her crush injury and gotten a blue badge — London's version of America's handicap parking permit, which she says 'was a big market in learning about invisible disability and admitting that, yes, I do have a disability,' writes The New York Post.
"We worked out that my ligaments and tendons had been stretched by the tire going slowly over my foot. I'd lost elasticity and structure, had a lisfranc (mid-foot) injury and complex regional pain syndrome," she said.
According to the most Nielsen figures from March, CNN's primetime ratings have crashed by over 60 percent, marking the largest decrease in viewership compared to the other prominent cable news networks.
[Read More: Biden Spills Military Secrets Live On TV]