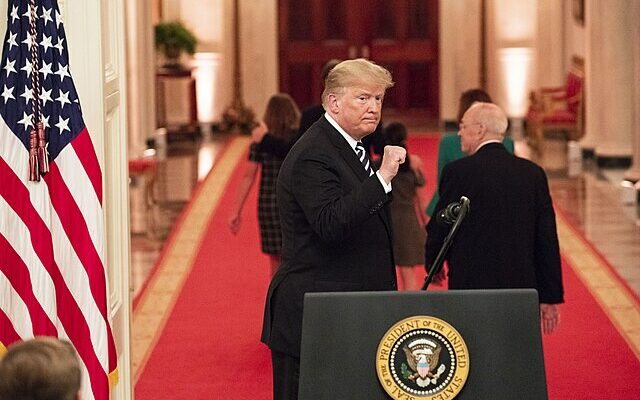 Former President Donald Trump has once again replaced his lawyer. This time mere hours before turning himself in to face authorities in Georgia to face his indictment related to his request that the Secretary of State there "find votes" for him. 
In replacing Drew Findling with Steven Sadow, an Atlanta-based attorney whose website profile describes him as a "special counsel for white collar and high-profile defense," Trump is adding an attorney who has previously challenged the state's broad RICO law, under which Trump and his 18 co-defendants have been charged, reports CNN.

Sadow filed paperwork Thursday morning to formally represent the former president in the case.

A Trump source indicated that this was not about Findling's performance, while another familiar with Sadow called him the "best criminal defense attorney in Georgia." Trump's other Georgia attorney, Jennifer Little, is expected to stay on the legal team and work with Sadow.

"I have been retained to represent President Trump in the Fulton County, Georgia case. The president should never have been indicted. He is innocent of all the charges brought against him," Sadow said in a statement. "We look forward to the case being dismissed or, if necessary, an unbiased, open minded jury finding the president not guilty. Prosecutions intended to advance or serve the ambitions and careers of political opponents of the president have no place in our justice system."
"The president should never have been indicted," Sadow added.
Sadow is known as a legal bulldog who, according to Politico, "has been publicly critical of the way racketeering charges have been leveled by Georgia prosecutors, telling the Atlanta Journal-Constitution in 2021 — as Fulton County District Attorney Fani Willis began her Trump-related probe — that the statute has been 'overused.'
Sadow has represented other high-profile clients in recent years, including a star University of Georgia linebacker who pleaded guilty to sexually assaulting two women, and Sergio Kitchens, a rapper known as "Gunna," who pleaded guilty to a racketeering charge last year. Sadow's high-profile clients have also included figures like Howard Stern, Usher and Rick Ross."
Earlier in the week, the former president posted on Truth Social, his social media platform, "Can you believe it? I'll be going to Atlanta, Georgia, on Thursday to be ARRESTED by a Radical Left District Attorney, Fani Willis, who is overseeing one of the greatest Murder and Violent Crime DISASTERS in American History," Trump wrote in the post on Truth Social.
He continued: "In my case, the trip to Atlanta is not for 'Murder,' but for making a PERFECT PHONE CALL! She campaigned, and is continuing to campaign, and raise money on, this WITCH HUNT. This is in strict coordination with Crooked Joe Biden's DOJ. It is all about ELECTION INTERFERENCE!"
"Trump is expected to be fingerprinted and have a mugshot taken," wrote The Wrap.
Yesterday, "America's Mayor" Rudy Giuliani turned himself in to Fulton County authorities. His bond was set at $150,000. President Trump's has been set at $200,000.
The Georgia grand jury indictment charged Trump and his co-defendants of running "criminal enterprise" to overturn the outcome of the 2020 election. Other alleged crimes include making false statements, impersonating a public officer, forgery and soliciting public law officers to violate their oaths.
[Read More: Biden's Vacation Being Investigated]