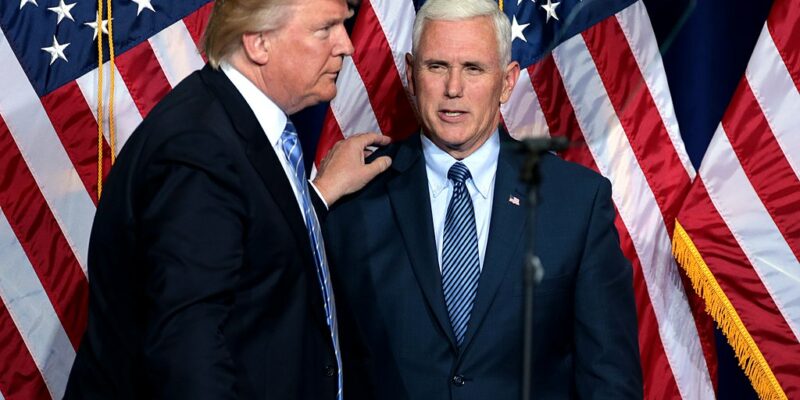 For months, legal watchers have expected Donald Trump to be indicted for his attempts to "find votes" in Georgia following the 2020 loss to Joe Biden. 
Those charges are expected to be filed this upcoming week and reports are claiming that the prosecutors have damning evidence, something they always claim. 
If the claims are true, however, this would be another piece of bad news for Republicans 2024.
"Atlanta-area prosecutors investigating efforts to overturn the 2020 election results in Georgia are in possession of text messages and emails directly connecting members of Donald Trump's legal team to the early January 2021 voting system breach in Coffee County, sources tell CNN.

Fulton County District Attorney Fani Willis is expected to seek charges against more than a dozen individuals when her team presents its case before a grand jury next week. Several individuals involved in the voting systems breach in Coffee County are among those who may face charges in the sprawling criminal probe.

Investigators in the Georgia criminal probe have long suspected the breach was not an organic effort sprung from sympathetic Trump supporters in rural and heavily Republican Coffee County – a county Trump won by nearly 70% of the vote. They have gathered evidence indicating it was a top-down push by Trump's team to access sensitive voting software, according to people familiar with the situation.

Trump allies attempted to access voting systems after the 2020 election as part of the broader push to produce evidence that could back up the former president's baseless claims of widespread fraud."

While Trump's January 2021 call to Georgia Secretary of State Brad Raffensperger and effort to put forward fake slates of electors have long been considered key pillars of Willis' criminal probe, the voting system breach in Coffee County quietly emerged as an area of focus for investigators roughly one year ago. Since then, new evidence has slowly been uncovered about the role of Trump's attorneys, the operatives they hired and how the breach, as well as others like it in other key states, factored into broader plans for overturning the election."
In January 2021, the Georgia's Secretary of State, taped a phone call between him and the then presdient in which Trump seemed to be asking him to commit voter fraud. 
"President Trump pressured Georgia's Republican Secretary of State Brad Raffensperger to "find" him enough votes to overturn the presidential election and vaguely threatened him with "a criminal offense" during an hourlong telephone call on Saturday, according to an audio recording of the conversation, The New York Times wrote.
"Mr. Trump, who has spent almost nine weeks making false conspiracy claims about his loss to President-elect Joseph R. Biden Jr., told Brad Raffensperger, the state's top elections official, that he should recalculate the vote count so Mr. Trump, not Mr. Biden, would end up winning the state's 16 electoral votes.
'I just want to find 11,780 votes, which is one more than we have,' Mr. Trump said during the conversation, according to a recording first obtained by The Washington Post, which published it online Sunday. The New York Times also acquired a recording of Mr. Trump's call.
The president, who will be in charge of the Justice Department for the 17 days left in his administration, hinted that Mr. Raffensperger and Ryan Germany, the chief lawyer for secretary of state's office, could be prosecuted criminally if they did not do his bidding."
The audio was eventually released and you can listen to it for yourself. 
In a recent interview on NBC's "Meet the Press," Trump's defense laywer John Lauro "rejected the suggestion that Trump committed any wrongdoing by asking Raffensperger to find votes and maintained that Trump had the right to petition state governments.  
'President Trump had every right to ask the Secretary of State, 'I believe that this election was conducted improperly. There were deficiencies here, I want to see if there are more than 10,000 votes – or whatever the number was – that were counted illegally. And once again, that's core political speech,' Lauro said.
Lauro denied Trump was issuing a threat to Raffensperger when Trump said there were ballots in Georgia that were corrupt and that Raffensperger was committing a crime by not reporting the so-called 'corrupt' ballots. 
'That wasn't a threat at all. What he was asking for is for Raffensperger to get to the truth. He believed that there were in excess of 10,000 votes that were counted illegally and what he was asking for is the Secretary of State to act appropriately and find these votes that were counted illegally," Lauro said. "That was an aspirational ask. He's entitled to petition even state government.'"
Expect more details around the phone call to be released this week. 
{Read More: Impeachment Filed Against Biden}