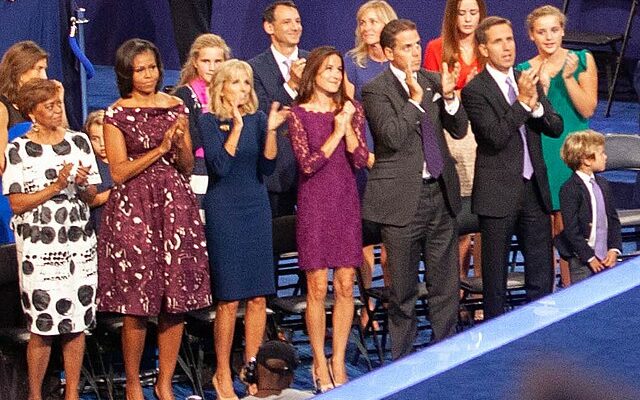 Earlier in the week, James Comer promised earlier in the week that he had more evidence showing influence peddling by the Biden (Crime?) Family, and on Wednesday, he revealed it. 
"The House Oversight and Accountability Committee says the Biden family and its business associates created more than 20 companies and received more than $10 million from foreign nationals while Joe Biden served as vice president, and that some of these payments could indicate attempts by the Biden family to 'peddle influence,'" according to Fox News. 
"Committee Chairman James Comer, R-Ky., released a memo ahead of his press conference Wednesday that includes new information from his investigation into the Biden family's 'influence peddling and business schemes.' The memo said the Biden family appeared to take steps to 'conceal the source and total amount received from the foreign companies.'
The committee has subpoenaed four different banks as part of its probe and received "thousands of records in response.' Those subpoenas were 'tailored to specific individuals and companies that engaged in business activities with Biden family members and their business associates,' the memo said."
News from House Oversight's press conference:

-Biden family received money payments from foreign "business" dealings white Joe Biden was still vice president
-Bidens were doing business in Romania in addition to China, Ukraine, Russia, etc.
-Long list of shell companies

— Katie Pavlich (@KatiePavlich) May 10, 2023
Masterminded by the smartest person Joe Biden claims to know, his son Hunter, it appears that the family business, politics, was turning a nice profit in the summer of 2016. That was the year that Biden believed his time in Washington would be over, assuming that Hillary Clinton would easily beat Donald Trump in the upcoming election. 
The Daily Caller writes, "The Biden family attempted to hide more than $10 million in payments from foreign nationals through a web of privately-held companies, House Oversight and Government Accountability Committee chairman James Comer of Kentucky said Wednesday at a press conference.

Since taking control of the House, Republicans have undertaken wide-ranging investigations into the Biden family's business practices. While Hunter Biden's Ukrainian and Chinese energy deals have been widely reported, the House Oversight Committee has looked at other family members, including the president's brother James and sister Valerie.

"In only four months since gaining subpoena authority, we have made astonishing progress," Comer said, before delving into the Biden family's alleged business in Romania.

"While Vice President Biden was lecturing Romania on anti-corruption policies, in reality he was a walking billboard for his son and family to collect money. Hunter Biden and his associates capitalized on a lucrative financial relationship with a Romanian national who was under investigation for and later convicted of corruption in Romania. The Bidens received over $1 million for the deal and 16 of the 17 payments to their associate's account that funneled the Biden's money occurred while Joe Biden was vice president. In fact, the money stops flowing from the Romanian national soon after Joe Biden leaves the vice presidency. This is a pattern of influence-peddling," Comer said.
The Biden family created 16 different LLC's during the time that Joe Biden was vice president, and according to liberals bending over backward to defend the president, the family patriarch had no idea.
The National Review noted, "At the time, then-Vice President Biden spoke out against Romanian corruption while the Biden family received more than a million dollars from a company controlled by a Romanian national, Gabriel Popoviciu. Popoviciu, who has been accused of corruption, sent the money through a Biden family associate, according to the committee. Sixteen of the seventeen payments involved in the deal occurred while Biden was still in office." 
The money "stops flowing from the Romanian national soon after Joe Biden leaves the vice presidency," Comer said. 
This is not the first time that records have shown the Bidens divvying up foreign funds and passing them around to put into the family coffers. The Romanian distribution mirrors a similar division of a roughly $3 million in early 2017 from Chinese firm CEFC China Energy, about a third of which was shared among Hunter, Hallie, first brother James Biden and an unidentified Biden, according to an Oversight Committee memo from March," according to The New York Post.
'The DOJ needs to get off its ass and investigate,' said Rep. Nancy Mace (R-SC). 'We've done the work for them so they can't screw it up.'
'The Biden family doesn't really have a business,' chimed in Rep. Byron Donalds (R-Fla.) 'There is no business structure around this family except politics.'
'Guys, you in the press, this is easy pickings,' Donalds said after describing a maze of 16 Biden-associated LLCs that allegedly received foreign funds. 'I'm giving you Pulitzer stuff.'"
Comer ended his press conference by specifying nine Biden family members apparently got foreign funds simply out of the kindness of the Romanian oligarch's heart.
The Biden (Crime?) Family story is an excellent example of how biased the media can be. To follow the current political narrative coming out of DC, we must remember: Clarence Thomas going on vacation with a friend he's known for decades is utter corruption that demands impeachment. However, the current president's family receiving millions of dollars from foreign entities they previously had little contact with is just "guilt by association."
Just amazing stuff… https://t.co/80owQ3eOoN pic.twitter.com/SM5J9OiprP

— AG (@AGHamilton29) May 10, 2023
[Read More: Republican Fraud Charged With Fraud]