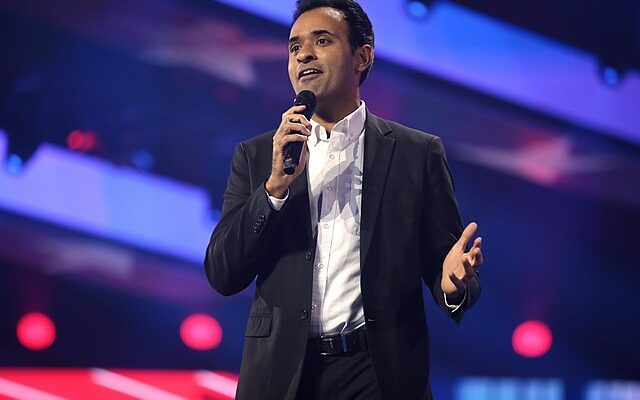 A Republican presidential candidate is looking to radically change the way we vote. Insurgent candidate Vivek Ramaswamy, who is running to be the heir apparent to Donald Trump, despite Trump being in the race, has said that he would propose an amendment to the Constitution that would raise the voting age from 18 to 25.
The GOP candidate spoke to Fox News Digital while he traveled through Iowa on a barnstorming tour. 
Ramaswamy said, "he plans to announce a constitutional amendment to raise the voting age from 18 to 25, unless a person serves the nation in the military or as a first responder or can pass the civics test immigrants take when becoming citizens.

"We're going to be talking about this to a large audience of actually young people in Iowa," Ramaswamy said. "Gov. Kim Reynolds is going to be there tomorrow. There was going to be the perfect place to roll this out tomorrow night to lay out one of the most, I think, bluntly, ambitious proposals we've rolled out in this campaign.

"Which is to say that we want to restore civic duty in the mindset of the next generation of Americans. And how we want to do it is to say that, if you want to vote as an 18-year-old, between the ages of 18 and 25, you need to either do your civic duty through service to the country — that's six months of service in either military service or as a first responder, police, fire or otherwise — or else you have to pass the same civics test an immigrant has to pass in order to become a naturalized citizen who can vote in this country."

Ramaswamy noted that the 26th Amendment was passed in 1971 and that one "of the arguments for that was that if you're going to have a draft, military draft, that brings 18-year-olds in, then they ought to have the right to vote."

"Which, actually said, that this is a relatively familiar notion to us, tying the voting age back then to the age that you could be drafted in the military says that there's a deep and this is a long-standing tradition in our country, tying civic duties to the privileges of citizenship," he said.

The son of Indian immigrants, Vivek Ramaswamy is 37-year-old former tech CEO and entrepreneur. He became known for his work in the biotech industry after founding the biopharmaceutical company Roivant Sciences. 
Ramaswamy has also been recognized for his philanthropic efforts, including his support for education and healthcare initiatives. He is a Harvard graduate and used to manage a hedge fund. 
Vivek has tried to break through the two-person race between Florida Governor Ron DeSantis and former President Donald Trump by taking positions that often seem extreme, such as using the military to "annihilate the Mexican cartel" while promising to end affirmative action via executive order.  
[Read More: Biden Crime Family Gets Outed]