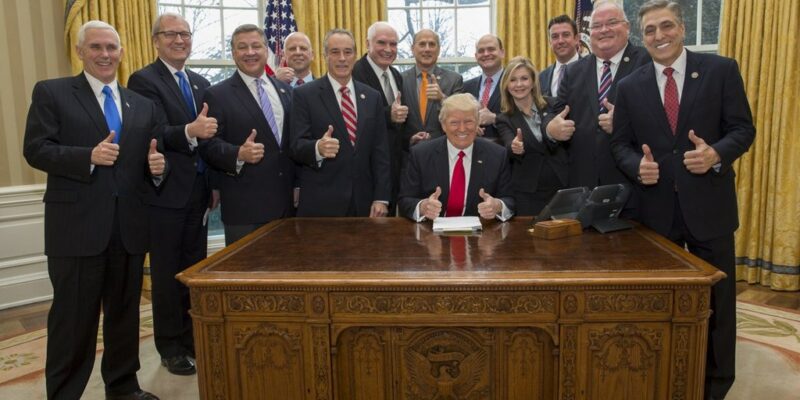 In 2016, Pennsylvania Congressman Lou Barletta was one of the first elected Republicans to endorse then-candidate Donald Trump for the GOP nomination for president. Barletta, while mayor of Hazelton, Pennsylvania, launched a massive crackdown on undocumented immigration and argued that Trump was the right man to take on the corruption in Washington.  
In an interview with Politico, "Barletta, who is known for his own hardline immigration stances, said some of his GOP colleagues had pressured him to not publicly support the real estate mogul. But he said they are wrong to not embrace the impact Trump is having on their party.
'I wish that the establishment, instead of trying to stop Trump, you know, would look at why he's so popular and coalesce around him so that it's one team in November. Donald Trump is bringing a record amount of Democrats and independents…we should embrace that," Barletta said. 'I like that he is willing to stand up and fight for the American people and as I did as mayor.'
'Donald Trump was criticized the same way I was criticized when I was mayor because he addressed an important issue," Barletta said. 'I don't believe the issue would have been addressed if it wasn't for Donald Trump bringing it up.'"
Today, Barletta is saying he's had enough of Trump.
"I'm not supporting him," he said of Trump's 2024 campaign in an interview with Politico. "I was one of his most loyal supporters in Congress. But loyalty was only a one-way street."

Barletta may have personal reasons for ditching Trump. The former president endorsed his opponent in the GOP primary for governor in May. But his sentiments reflect a broader reckoning happening after Republicans underperformed expectations across the country in November.

Having lost high-stakes, expensive races for the Senate, House and governor, there has been a wave of finger-pointing and second-guessing across the party.

In Pennsylvania, several potential candidates are rumored to be thinking about challenging the current state GOP chair, Lawrence Tabas, whose term is up in 2025. And Republicans there are questioning everything from their disdainful approach to mail voting; to whether the state party should have endorsed candidates in the primary; to, yes, Trump himself.
Trump has become viewed in Pennsylvania as an anchor on the party's chances at success, and polling is bearing that out. A new poll of Republican primary voters showed the former president losing to Governor Ron DeSantis in the Keystone State, despite the latter having not announced he was even running for president. 
2024 Pennsylvania Republican Primary

Ron DeSantis – 45% (+5)
Donald Trump – 40%

Commonwealth Partners, N=639, 11/19-21https://t.co/Bi8w3E6G3e

— InteractivePolls (@IAPolls2022) November 28, 2022
Trump has gotten most of the blame for the Republicans' underwhelming finish in the midterm elections because, as the New York Times wrote, "a number of the candidates he had endorsed in competitive races were defeated — including nominees for governor and Senate in Pennsylvania and for governor of Michigan, New York and Wisconsin.
'Republicans have followed Donald Trump off the side of a cliff,' David Urban, a longtime Trump adviser with ties to Pennsylvania, said in an interview.
Former Representative Peter King, a Republican from Long Island who has long supported Mr. Trump, said, 'I strongly believe he should no longer be the face of the Republican Party,"'adding that the party 'can't become a personality cult.'
Donald Trump announced that he was running for president two weeks ago, but there hasn't been much since. No rallies, no major interviews, no shows. Some have noted that Trump's "big announcement" was expected to be seen by tens of millions, but instead had dismal ratings on television, losing to CBS's television show 'FBI.'
Axios called the former president's speech "nostalgic," a "tightly scripted, staff-driven speech reflected Trump's weakened position post-midterms. None of the cocky swagger and energy of his 2016 announcement." The outlet said "Trump has done this schtick so many times before that he seemed bored by the text. It's not unusual for him to be bored by the words in his teleprompter. But his tone was flatter than usual." 
Jeb Bush's son was a little more direct: 
WOW! What a low energy speech by the Donald.

Time for new leaders! #WEAK #SleepyDonnie

— Jeb Bush, Jr. (@JebBushJr) November 16, 2022
You can judge for yourself. Below are the highlights of the "big announcement."
A reason the 2024 version of Make America Great Again may seem stale could come from the fact that Trump's chief advisor, his daughter Ivanka, has announced that she will not be involved in her father's presidential campaign. In fact, she did not even attend the announcement at Mar-a-lago. 
In an announcement of her own, she stated, "I love my father very much. This time around, I am choosing to prioritize my young children and the private life we are creating as a family. I do not plan to be involved in politics. While I will always love and support my father, going forward I will do so outside the political arena. I am grateful to have had the honor of serving the American people and I will always be proud of many of our Administration's accomplishments."
Things have only gotten worse for the 45th president over the past week. Over Thanksgiving he seemingly got played for a fool by the rapper Kanye West. Conservative writer Byron York explains:
"Here is the short version: Just before Thanksgiving, former President Donald Trump had dinner at Mar-a-Lago with Kanye West, Nick Fuentes, and Milo Yiannopoulos. West is the famous rapper, businessman, and reported bipolar disorder patient who says he will run for president in 2024, a campaign he began last month by announcing on Twitter that he was "going death con 3 on JEWISH PEOPLE," a threat that brought him widespread condemnation and the loss of lucrative contracts. Fuentes, who many readers might not have heard of, is a 24-year-old white nationalist self-promoter who has sought publicity and online donations with a long series of racist and antisemitic statements and is now, apparently, working for West's so-called campaign. Yiannopoulos is a 38-year-old British provocateur who has spent a good part of his life doing the same sort of thing that Fuentes does and is now apparently also working for YE24, which is how West, who wants to be known simply as "Ye," refers to his presidential campaign.
What do they have in common? Well, Fuentes and Yiannopoulos are joined in a quest to exploit West's money and fame. But as far as politics is concerned, the greater similarity is that they are all lowlifes who should never be allowed near a former president of the United States, much less a current candidate for president. And yet Trump shared a table at Mar-a-Lago with them. The event quickly leaked because that is precisely what West, Fuentes, and Yiannopoulos intended. The usual suspects in the media and political world immediately denounced Trump. And in this case, they were correct; as a former president recently embarked on another campaign, Trump shouldn't have anything to do with fringe figures such as Ye and his crew. And yet there they were.
Who benefits from this ugly and stupid little event? Well, it was a publicity coup for West, Fuentes, and Yiannopoulos — after all, they don't have any reputations to lose — while Trump looks like he has been played by a trio of clever publicity hounds. And Trump did not make himself look any better with his increasingly panicked-sounding explanations for what took place."
The dinner has cost him the support from some of his closest Jewish allies. The New York Times reported, "Now, even some of Mr. Trump's staunchest supporters say they can no longer ignore the abetting of bigotry by the nominal leader of the Republican Party. "I am a child of survivors. I have become very frightened for my people," Morton Klein, head of the right-wing Zionist Organization of America, said on Monday, referring to his parents' survival of the Holocaust. "Donald Trump is not an antisemite. He loves Israel. He loves Jews. But he mainstreams, he legitimizes Jew hatred and Jew haters. And this scares me."
Just as Barletta was ahead of the crowd in 2016 in endorsing Trump, he may now lead former MAGA diehards off the Trump Train.
What a difference six years, and a couple of losses, can make. 
[Read More: China Melts Down As Biden Buddies Up]